Fintech funding roundup: who's raised money this week?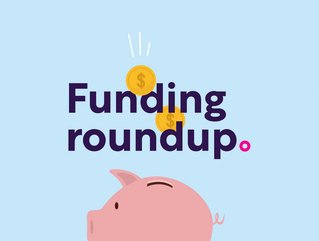 We take a look at the fintech startups raising money this week, including US$50mn for investing app Wahed and a whopping $270mn for neobank Stashfin.
It's been another lively week for fintech funding with a whole host of fintech startups announcing fresh rounds of funding. From payments and credit to crypto and investing, there is a lot of support across the board right now. In our weekly roundup of the fintech funding moves making headlines, we take a look at the companies that have cause to celebrate.
Payments
Indian digital payments fintech PayGlocal has raised US$12mn in a Series B funding round for its cross-border payments platform aimed at merchants. The round was led by Sequoia Capital, Tiger Global and Beenext and follows in the footsteps of PayGlocal's US$5mn Series A funding round last December. The Bengaluru-based company intends to use the money to scale its business and roll out new payment solutions for its customers.
Elsewhere in payments, Formance – a French open-source platform that allows fintechs to build and monitor their own payment flows – has secured €2.9mn in funding. Investors included Hoxton Ventures, Frst, Y Combinator and a number of angel investors including the former VP of Global Business for Revolut. Formance wants to empower fintechs to be able to take advantage of new business opportunities without the need to build new payment flows from the ground up.
Credit
Indian neobank Stashfin has bagged itself US$270mn in Series C funding as it targets expansion into new markets. The company extends credit lines to low-income workers who often struggle to access traditional financial services or get access to credit from mainstream banks. Founder and CEO Tushar Aggarwal says few neobanks share Stashfin's commitment to increasing financial inclusion for unserved and underserved members of Indian society. Despite a population of over 1bn and an emerging middle class, research suggests that just 60mn Indian consumers have access to traditional credit.
B2B fintech startup Finbox has raised US$15mn led by the likes of A91 Partners and Flipkart Ventures. The company's platform works on two fronts: first, it gives fintechs the ability to launch new lending products; secondly, it allows non-fintech brands to launch new embedded finance offerings. Finbox will use the latest investment to scale and expand.
Earlier in the week, Ghanaian fintech Fido announced that it had captured US30mn in Series A funding with a view to launching new products and chasing future expansion. Like Stashfin, Fido is striving to build a neobank that will give more than 350mn adults in sub-Saharan Africa access to credit lines and other financial services traditionally not open to them.
UAE-based proptech startup Huspy has raised US$37mn in Series A as part of its mission to disrupt home financing. The platform gives prospective buyers the ability to visualise loans, receive personalised bank offers, submit applications and get approval in one place.
Investing
Islamic investing platform Wahed has secured US$50mn, with investors including Saudi Aramco Entrepreneurship Center and the footballer Paul Pogba. Wahed lets users invest money while still observing Islamic financial principles. The New York-based firm is planning to launch an ethical neobank on its platform that will combine banking and investing.
Smart investing app Lysa has generated €33mn. The Swedish outfit is seeking to make investing simpler and more straightforward by automating decision-making, meaning consumers only have to deposit a balance and complete a risk profile. It is already trusted by 100,000 consumers and manages assets worth roughly €1.6bn.
Financial services
WeRize has raised over US$15mn in a pre-Series B funding round led by 3one4 Capital. The three-year-old fintech describes itself as "India's first socially distributed, full-stack financial services app". Its platform combines a range of customised lending, banking, insurance and savings products aimed at "small-town India", which it claims has been neglected by existing providers.
Colombian banking innovator Mono has raised US$6mn in funding from Tiger Global. The company is seeking to offer a frictionless bank account for startups and SMEs that provides access to banking services like transfers, both a physical and virtual card, and the ability to add multiple users.
Crypto
And finally, Finnish cryptocurrency arbitrage platform Mosdex has raised US$20mn in Series A funding led by investment bank Evli. The company is eyeing a future European rollout and is planning to expand its operations by purchasing other blockchain-based companies.