Financial Services (FinServ)
Robinhood trading app defends actions and raises $1bn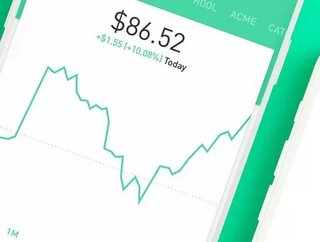 Online trading app Robinhood denies selling user's GameStop shares without their permission and raised $1bn from investors and banks...
It was the stock exchange story of the year. An online trading app used by amateur armchair traders broke Wall Street via David and Goliath tactics.
GameStop stock soared from below US$5 in early January to $350 this week as a band of small-time investors challenged Wall Street giants. On Thursday, the stock hovered between $112 and $483, losing billions of dollars for hedge fund investors.
But yesterday, the story took a turn southwards following the online trading app's decision to cease trading in certain stocks. The move by Robinhood was followed by other trading apps, which resulted in blocked and restricted trades of the now notorious GameStop stocks. 
However, latest reports suggest GameStop shares will surge once more as temporary restrictions on online trading platforms that sell to armchair investors, are lifted today. 
Accusations against Robinhood
Twelve traders have also accused Robinhood of selling their shares without permission – an accusation the broker has since denied. The users claimed the app unexpectedly sold off their holdings in some of the companies where Robinhood restricted trading. 
According to press reports, the small-time traders didn't think they had initiated the sales and said they were unaware of any features on their accounts that could have automatically triggered them.
Robinhood is classed as a free stock trading app that enables users to buy and sell stocks and options. It currently boasts 13 million users, with an estimated 50% of them reportedly owning shares in GameStop.
Robinhood under scrutiny
Robinhood's CEO Vlad Tenev has publicly defended limiting the stock trades, calling the decision 'difficult'. The move was not solely aimed at GameStop shares, as limited trades were also imposed on AMC, Cinema, Nokia, American Airlines, among others.
Tenev told reporters that limited trading would continue until the weekend. Legal experts also say brokerages have the right to stop or limit transactions.
However, Robinhood's actions were criticised by prominent politicians, including Alexandria Ocasio-Cortez.  
Rush Limbaugh also stated that the move by Robinhood and others to limit trading, was simply a way to protect hedge fund billionaires. 
And Letitia James, New York's attorney general says her office is 'actively reviewing concerns' regarding Robinhood's conduct. 
Robinhood investors
The situation has become even more polarised as news emerged of the online brokerage raising over $1bn from investors and tapped credit lines to bolster its purses following the unpredictable week of trading. 
Several hundred million dollars has been drawn through a credit facility with banks involving JPMorgan, Goldman Sachs, Morgan Stanley, Barclays and Wells Fargo, say sources.
A Robinhood spokesperson revealed earlier today that the $1bn haul from its investors was a "strong sign of confidence" that will help it "further serve our customers".
The move seems entirely at odds with the broker's position earlier this week, whereby its facilitation of small-time investors has been called a David and Goliath victory.
However, reports suggest the trading app made the move to protect investors running pension funds. "We made a tough decision today to temporarily limit buying for certain securities," a statement from Robinhood revealed. "As a brokerage firm, we have many financial requirements, including SEC net capital obligations and clearing house deposits. Some of these requirements fluctuate based on volatility in the markets and can be substantial in the current environment."
Mistaken identity
Meanwhile, in Nottingham, UK, the Robin Hood Society received an unexpected boost to its social media platforms as the hashtag 'robinhood' trended globally. 
The organisation, which promotes the legendary outlaw and local Nottinghamshire heritage, experienced a massive surge in its social media following from users who confused it with the US stock trading platform. More than 33,000 people began following the group on Twitter in 24 hours.
A tweet by the organisation this morning read, "Lovely to have all these new followers .. can we just check that you know that you're following The World Wide Robin Hood Society in Nottingham and not the Robin Hood App .. if so .. a big welcome from Sherwood."
But the real saga continues as House and Senate committees prepare to hold hearings into Robinhood's actions. The House Financial Services and Senate Banking committees hearings would be heard regarding investment apps limiting trading following the 'Reddit rally' that surged GameStop and other stocks recommended in online forums.
Representative Maxine Waters, a Democrat who heads the House panel, told reporters the hearing would focus on short selling, online trading platforms, gamification and the impact on capital markets and retail investors.
She said, "We must deal with the hedge funds whose unethical conduct directly led to the recent market volatility and we must examine the market in general and how it has been manipulated by hedge funds and their financial partners to benefit themselves while others pay the price."