Trailblazer: Philip Anschutz, a tycoon extraordinaire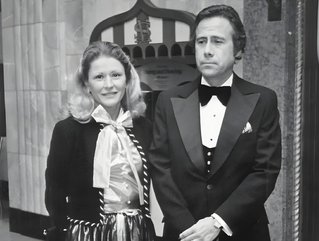 With a personal fortune of US$11.5bn, and a legend in the energy markets, Philip Anschutz is an inspirational figure when it comes to investment strategy
Born on December 28th, 1939 in Kansas, Philip Frederick Anschutz made his debut at a time when the western world was in crisis. Hitler had invaded Poland and was beginning his steady march across Europe. The US would not enter the fray for another four years – but the reverberations of war were rippling toward the US, regardless
At that time, the US midwest was still recovering from the fallout of the Great Depression and, as is customary in the aftermath of the disaster, opportunists were making their mark. One such man was Fred Anschutz, Philip's father, who worked as a 'wildcatter', more commonly described as an 'independent driller of exploratory oil wells'.
The wheels of industry were turning fast in the US at that time, and demand for more power to fuel the growing number of factories and industrial sites – as well as the burgeoning automobile industry – was huge.
The family moved to Wichita, where Fred Anschutz found contractual success and Philip attended high School. A keen student, he then went on to study a finance degree at the University of Kansas, graduating with Honours in 1961.
Delving into industry
With his interest firmly in financial legal matters, Anschutz had planned to complete a postgraduate law degree at the University of Virginia. Prior to starting the first semester, however, he returned to Wichita to take over the family business, Circle A Drilling, which was in difficulty due to his father's descent into alcoholism and the consequent range of health issues.
With his acute business acumen and knowledge of the financial markets, Anschutz soon had the company back on its feet and thriving. But his foray into business management in the energy industry had whetted his appetite for big business – so he moved to Denver, the heart of the industry, to launch his own company, Anschutz Corporation, in 1965.
Crisis hits the company
But the road to success is often beset with obstacles to overcome and, during the early years of Anschutz Corporation, a fire broke out in the Wyoming oil field he was working on. Anschutz had no financial provision for such a disaster.
At that time, the famous firefighter Red Adair was having his biopic filed by Universal Pictures. Anschutz sold the rights to Universal to film Adair extinguishing the fire on his oilfield. He then used his fee ($100,000) as payment to Adair for his services and invested the rest into developing the oilfields.
The move meant he could grow the business significantly and develop more profit streams. By 1975, he had bought oil fields in Colorado, Texas, Montana and Wyoming. He'd also purchased uranium and coal mines as well as developing an innovative seismic drilling technology, which, by 1980, had been responsible for locating a billion-dollar oil field under his own home ranch on the Utah-Wyoming border.
Anschutz sold the oilfield for US$500mn to Mobil – which was the springboard capital that seeded the rest of his investment career.
A move into telecoms and travel
In 1975, Anschutz started to explore other industries – most notably, the railroad and telecoms industry. He decided to revamp older, disused lines and, by 1984, had acquired Rio Grande Industries, which owned the Denver & Rio Grande Western Railroad.
The price at purchase was US$90mn. And he later bought Southern Pacific Railroad for more than US$1bn. However, Anschutz had a clear, long-term vision: after investing in new tracks and trains, he then sold the venture to Union Pacific Railroad for US$5.4bn in 1996, netting himself more than US$1bn in the process, while also becoming one of Union Pacific's largest shareholders.
Internet opportunities
Anschutz always had a keen eye for opportunity, and, using his railroad rights-of-way, he installed fibre optic cables for telecom companies. He also laid extra cables for himself. By 1995, he was able to use his own fibre network to create Qwest Communications, a leader of the decade's dot com boom.
At the height of his wealth, Anschutz accrued a net worth of US$15bn, but all was not well and, when Qwest Communications' stock crashed following the dot com collapse, several of his leading company executives were convicted for insider trading and fraud.
Sports and entertainment
By the year 2000, Anschutz – still reeling from the crash of Qwest Communications – decided to invest in the sports and entertainment industries. He was responsible for establishing Major League Soccer and, at one point, was financially supporting six leading teams. Anschutz still owns the LA Galaxy team to this day. Following these investments, he then started working in the film industry.
He launched Walden Media – a production company that specialises in family-friendly films with a moral message. The studio's box office winners included the Chronicles of Narnia trilogy and Ray.
Anschutz manages his companies under an umbrella group entity called Anschutz Entertainment Group (AEG), which owns several venues and sports teams internationally.
Indeed, AEG Presents is second in the world only to Live Nation and has facilitated some of the world's biggest concerts, from Michael Jackson's ill-fated 'This Is It' tour in 2009 to Coachella.
Hotels and hospitality
Not content with playing a major role in the entertainment industry space, Anschutz moved into hotels. By 2010, he had added news outlets, including the San Francisco Examiner, to his portfolio. In 2009, he bought the conservative political magazine The Weekly Standard from Rupert Murdoch.
His most recent purchases include a raft of American hotels boasting an iconic reputation. He owns the Broadmoor in Colorado Springs and the Xanterra chain of luxury lodges.
A family man
Yet, despite his incredibly opulent lifestyle, Anschutz has never courted media attention, instead leading a surprisingly low-profile existence over the decades. For example, he married his childhood sweetheart, Nancy, whom he met when he was 16. The couple's three children have enjoyed a singularly private existence because Anschutz prefers to maintain a reclusive lifestyle. Currently residing in Denver, he lives modestly, eschewing the idea of having a chauffeur, and can sometimes be seen out at one of his hotels, wearing blue jeans and watching his favourite sports teams without being recognised.