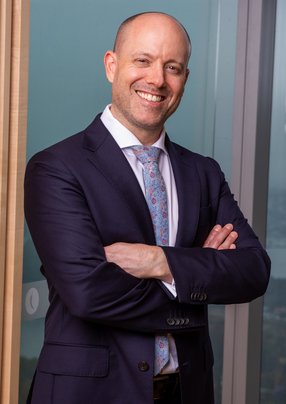 Steven Meek

Pepper Money's rise over the last 22 years is underpinned by its partnership with low-code platform Appian, plus its adoption of automation technologies
You can get a measure of a man from the way he describes his work. When Steven Meek, CIO of Pepper Money, talks to us from the firm's state-of-the-art headquarters in Sydney, it's well past the end of the working day. Still, Meek is brimming with enthusiasm about the role he has, describing it as if it were an honour, not a vocation.
"It's brilliant," he says. "I feel privileged to be leading a very talented team working on digital transformation, data and analytics, and core technology services and solutions. I've been fortunate throughout my career to have worked in multiple industries, from IT services and consumer goods to investment banking, helping all of the businesses I've worked for through periods of major change."
Founded in 2000, Pepper Money began with mortgages, focusing on customers who couldn't access finance through traditional means – they may have an imperfect credit history, unpredictable income patterns or a life event that changed their financial circumstances. Over two decades, it has ramped up its lending solutions with new propositions spanning homes, cars, electric vehicles (EVs), equipment, asset financing, commercial real estate, and personal loans.
"As a business we have industry leading turnaround times, innovative technology that has been established over many years, and a team of more than 1,000 people that have helped 327,000 customers from all walks of life," Meek says. "We're now one of the largest and most trusted non-bank lenders in Australia and New Zealand."
Incumbent, off-the-shelf solutions weren't working
To an extent, Pepper Money has avoided some of the legacy issues that blight incumbent lenders. Today, 90% of its digital architecture flows through cloud and SaaS platforms, ensuring it strikes a balance between resilience, agility and cost efficiency.
"Our digitisation journey took off in 2018 when it was clear we were facing an increasingly digital and competitive market," Meek says. "We recognised early that our incumbent off-the-shelf lending solutions needed a rethink. We made the decision in 2019 to shift towards composable, low-code digital platforms to rapidly transform our origination channels and increase the level of innovation across the employee and customer experience."
Pepper Money partnered with Appian to completely reimagine its digital architecture. The asset finance origination platform that it built, Solana, has led to a 70% increase in business volumes and brings Pepper's proprietary credit decisioning capabilities to the foreground, using AI-driven analytics to give on-the-spot approval for a customer.
The advantages of low-code platforms are fourfold: low-code builders allow companies to reduce their speed-to-market; give seamless integration with existing infrastructure; and, in the case of Appian, offer prebuilt workflows so Pepper Money doesn't have to build from scratch. It will also allow Pepper to improve its talent resilience, empowering teams across the business to build applications, workflows and processes in minutes."
Innovation at the heart of Pepper Money's culture
In today's world, where consumers and businesses alike must grapple with spiralling costs, lenders have a more important role than ever. Innovation is paramount if lenders like Pepper Money are to keep pace with their customers' needs.
Meek explains: "Like many economies around the world, the combined effect of rising inflation and rising interest rates means our customers, brokers and introducers are facing a period of uncertainty."
Pepper Money is supporting its customers with fast turnaround and flexible loan options. As an example, on average, 85% of mortgage applications are approved in less than one day, and 42% of asset finance loans are auto-approved – and the lender is continuing to invest in technology innovations to improve those experiences further. "Intelligent document scanning, digital signatures, biometrics, automated valuations, digital income verification and things like AI-driven analytics for our credit assessors will continue enabling us to evolve our products and serve customers into the future," Meek says.
Read the full story HERE.
The key benefits for us in automation are reducing manual processes, reducing manual mistakes, and improving our efficiencies