Matt Oppenheimer of Remitly talks innovation in fintech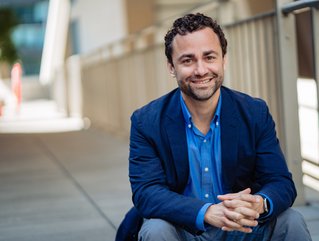 As the CEO and Co-founder of the payment startup Remitly, Matt Oppenheimer is one of the fintech industry's rising stars
Matt Oppenheimer is the Co-founder, and CEO of Remitly – the mobile-first provider of remittances and financial services for immigrants. He tells us how he started his journey, what inspires him, and which tech he can't live without.

Describe your role and your journey into fintech. How did you get here?

My journey started just over ten years ago when I was Head of Mobile and Internet Banking Initiatives at Barclays Kenya. While in Kenya, I discovered how difficult it was for my close friends to send and receive money from loved ones in their home countries. I also saw firsthand how far these remittances went for basic necessities such as food and clothing once they finally did receive them. It was then that I felt like there was a need to transform the remittances space.

While working as an Entrepreneur in Residence at Highway 12 Ventures, I began laying the groundwork for Remitly. Remitly launched from Techstars Seattle, an accelerator program for startups, in 2011, and since then, we have served 5M+ customers in 2,300+ corridors in more than 20 sending/origination countries worldwide. All of this has contributed to significant growth for the company, allowing us to continue to innovate and scale as a business that transforms the lives of immigrants across the globe.

Who was your childhood hero and why?

I met Desmond Tutu in college, and even before then, his compassion and what he did to end apartheid in South Africa really made an impact on me. When I met him, he was so human and full of grace; it felt like we truly connected. It felt like I was the only person in the world when I met him, even though he was such an iconic, impactful leader.
What's the best piece of advice you ever received?
"Fall in love with a problem, not a solution"
For me, the problem I witnessed in Kenya was the friction in the remittance system that had a profound impact on sending and receiving the money to and from loved ones. My first solution was to build an aggregator site that compared remittance services but soon discovered that this would not solve the problem. I wanted to solve the problem and, therefore, I pivoted to the right solution. By their very nature, problems can evolve over time requiring varying degrees and iterations of the solution. As an entrepreneur, it can be difficult if you fall in love with a solution that doesn't have a problem.
What was the last book you read – and how long ago did you read it?
The last book I read is A Good Provider Is One Who Leaves by Jason DeParle. It's about the immigrant journey, specifically the Filipino immigrant journey. It's amazing. I read it a couple of weeks ago.
Name one piece of technology you couldn't live without and tell us why
WHOOP! I love to run and try to do at least one marathon a year. WHOOP gives me a totally new perspective on my body in how I recover from the daily strains in life and training. A healthy body supports a healthy mind, and my WHOOP strap helps me manage sleep and recovery.
Who do you look up to in terms of leadership and mentorship?
I look up to so many people and I'm very, very lucky to have so many great mentors. One person in the fintech space that I look up to tremendously is Nigel Morris, who's a director at Remitly. He is the co-founder of Capital One, he's the managing partner at QED Investors. They led our Series A and I feel so fortunate to work with them. Nigel is an amazing operator an amazing human and an amazing leader – the kind of leader that I'd like to become.
What's the biggest challenge/advantage you've encountered to date in the fintech industry?
The biggest challenge I see in the fintech space today is surrounding the ability of the banking and payments industries to innovate without eroding the trust that's inherently important when it comes to money. Financial services need to be treated much differently than any other industry that has been disrupted because of this delicate concern.
A lack of understanding stems from this challenge. Many of the disruptors today are moving fast and aren't attuned to the nuts and bolts of payments and banking. The complexities are endless, yet, they must all be understood. Otherwise, it could lead to an increase in the chance of failures and, as a result, loss of trust.
Is there a personal achievement from the past 12 months of which you are particularly proud?
As I mentioned, I usually run one marathon a year, but I didn't run one last year. And I actually am proud that I didn't. I'm proud of myself for exploring a wider range of physical activities, including cycling and Pilates. I'm proud of the fact that I branched out because it was better for my body to do a range of exercises like Pilates, yoga, and cycling.
Describe yourself in three words
Empathetic, determined, and global.
What inspires you in Fintech today?
What inspires me in fintech today is anything happening outside of the US and Europe. We are certainly seeing an increase in a focus outside of those markets. I think investors are seeing the opportunity in Africa and Latin America and in Asia, and there's some truly amazing stuff happening there. Additionally, I think investors are finally seeing that potential and backing entrepreneurs in those markets as a result. Some examples include NuBank in Brazil and Chipper Cash in Africa.
What's next for Matt Oppenheimer?
Accomplishing the vision of transforming the lives of immigrants and their families by promoting the most trusted financial services on the planet. Creating more accessibility and equity around the world undoubtedly creates change within the world – and that is what we at Remitly are on a mission to do.