How Fintechs are Enabling Retailers To Go Global in 2022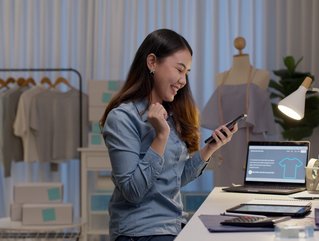 Fintechs continue to revolutionise the e-commerce landscape, providing an automated alternative to traditional financial systems, says Dmytro Spilka
Post-Covid, new forms of financial technology are beginning to lead the future of global retail, constantly delivering cybersecurity breakthroughs for e-commerce providers and breaking borderless payment barriers as the traditional high street continues to decline.
In fact, in 2020 alone, the pandemic accelerated fintech funding growth, acquiring over US$25.6bn in global investments in H1 2020. As both retail giants and start-up competitors continue to move online, investing in fintech is becoming vital, in order to compete with new global spending trends.
Covid-19's pressure on e-commerce
Covid-19's pressure on e-commerce has opened up new challenges for retail competitors. As traditional high street footfall fell by 89% in the height of the pandemic, the shift in consumer buying patterns put pressure on e-commerce providers to deliver impressive digital service, borderless payment systems, and increased cybersecurity.
As the total transaction value of online payments rose from US$4.1trn in 2019 to a whopping $5.4trn within the space of a year, retail competitors have turned to fintech adoption in order to access a global online audience and create a simplified shopping experience that provides accessibility for all forms of digital payment.
Digitalising the future of retail
Fintech is fuelling the future of digital retail. Providing innovative solutions for small business safeguarding and positioning start-up retailers within the global market, fintech adoption within the e-commerce landscape is quickly rising.
In fact, a 2019 study by EY that collected data from 1000 start-up enterprises found that over 25% had adopted fintech-based systems in order to digitalise their payment and insurance processes for faster access to global capital.
Founder of Trolley, Tim Nixon, stated that investing in fintechs provides small businesses with the opportunity to improve seller experience and grow within the global marketplace. "Fintechs are helping enable marketplaces to improve the seller experience, making it easy to get sellers up and running and then grow their businesses — while also helping the marketplace expand and move into new markets. This level of enablement generally hasn't been the focus of traditional banks."
As the driving force behind online retail providers, fintech has become a vital component in the digitalisation of global retail for a number of reasons.
Increased fintech cybersecurity in the retail sector
While Covid-19 may have increased the number of e-commerce competitors fighting for global success, it has also encouraged more exposure to security threats that continue to cause data leaks across the retail sector.
Geoff Forsyth, CISO at PCI Pal claimed that the rise in digital commerce has only increased the rise of digital fraud. In a survey by PCI Pal, he explained that "over three-quarters of those surveyed noted the recent uptick in cybercrime and fraud among their biggest concerns impacting the way they purchase."
Utilising fintech technology is breaking cyber security barriers and making it simpler for consumers to identify themselves online. Financial institutions are eagerly embracing fintech solutions to fight fraud and money laundering, and thus provide securing for both merchants and their customers. For instance, Connectum, a UK acquirer, successfully employs an AI-based anti-fraud system that enables merchants to accept CNP payments swiftly and securely. Utilising the machine learning tools, such anti-fraud systems calculate transaction risk scores on the basis of the observed patterns. They work more efficiently for the ever-evolving fraud than the manual analysis does, or work in synergy with the latter.
The birth of borderless payments
Fintech has quickly become the driving force behind the future of blockchain-based borderless payments. Facilitating the decentralisation of verification and cutting out the intermediaries involved in the global transaction process is making global retail spending fast, secure, and cost-effective.
In addition to this, new fintech solutions such as Square and Shopify in particular are continuing to improve the borderless shopping experience. Working to help broaden the global reach of small businesses using Facebook integration, Shopify is making it possible for e-commerce startups to embed a fully functional buy button within their site for a global audience.
As blockchain payments become the newest trend amongst the e-commerce industry, Fintech services are enabling retailers to provide low-cost and efficient solutions for cross-border transfers. Take Wise, for example, rather than completing traditional forms of verification, Wise completes an image-based verification, using photo ID to verify accounts.
The future of hyper-personalisation and simplified payments
The modern-day consumer requires digital personalisation within their shopping experience. As e-commerce trends continue to shift, fintech will be used to simplify the payment process and create a one-to-one service experience in the same way as traditional retail formats.
Ian Pollari, Co-Leader of KMPG Australia states that financial technology will have to keep up with the hyper-personalisation standards set by large tech players such as Netflix and Uber if they want to truly revolutionise the e-commerce sector.
"Large tech players have done very well in the context of applying data analytics, AI, and cognitive thinking to personalise the customer experience and take the friction out of business processes. When companies like Uber and Netflix can do it, consumers expect all companies should be able to."
As Fintech systems continue to evolve and create new opportunities for global retail, it won't be long until the cross-border transaction barrier is a challenge of the past, and fast, reliable, global e-commerce is the future.
About the author: Dmytro Spilka is a respected industry commentator on all things fintech-related. He is also the founder of Pridicto, a web analytics startup that enables users to forecast web traffic, monitor vital metrics in one place, and set visual traffic aims.