Financial Services (FinServ)
A Brief History of Fintech's Role in the Retail Environment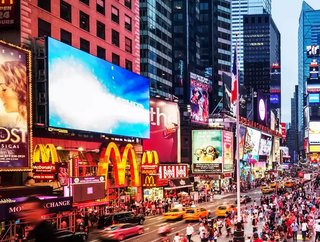 Fintech has contributed to the rise of e-commerce and simplified payments across retail, in addition to improving security and overall customer experience
Fintech has been changing the retail industry since the first-ever credit card in 1950. Of course, at the time, it wasn't called fintech - it was simply technology.
In fact, some people link the first-ever financial technology outside of retail back to 1838, when Samuel Morse revealed the electric telegraph system.
As banks and other financial institutions started to adopt more and more technological innovations, the term fintech came into use.
And with good reason; fintech has been integral in the development of new retail models and the growth of e-commerce for the past few decades.
"Financial technology has the potential to streamline historically clumsy operations because it is focused on numbers rather than on human skills and judgments," said Deepasha Kakkar, Founder and CEO of Crackitt.
It has given consumers an ever-growing array of choices when it comes to how they spend their money and where they do their shopping.
This article looks into the transformative role of fintech in the retail industry and how it has changed consumer behaviour, and businesses models over time.
The rise of e-commerce
Fintech has fueled the growth of e-commerce and enabled people to have greater control over their payments. For instance, by allowing them to split up their orders into several instalments.
Tech giants such as Amazon and Rakuten, among others, owe their success to fintech. Without such technology to fuel online payments, e-commerce would most likely not have been a thing.
"Online marketplaces succeed by fostering strong relationships with their sellers," said Tim Nixon, CEO and Founder at Trolley. "Fintechs are helping enable marketplaces to improve the seller experience, making it easy to get sellers up and running and then grow their businesses—while also helping the marketplace expand and move into new markets. This level of enablement generally hasn't been the focus of traditional banks."
Platforms like Shopify and Square have also been integral in the growth of e-commerce, making it easier for businesses to set up shop online. And overall, it would be an understatement to say fintech has been a driving force behind online retailing. 
Simplified payments
Perhaps the most apparent way fintech has changed the retail industry is through payments. It has made it possible for customers to make purchases in a variety of ways, including with their phones.
"Fintech is significantly impacting the retail sector. As merchants digitise their businesses, it becomes easier to receive payments – which are crucial for economic growth," said Tayo Oviosu, Founder and CEO at Paga.
Inexpensive and efficient payment solutions such as contactless cards or Apple Pay have allowed for a more streamlined shopping experience. Customers no longer need to carry cash; they only need their smartphones.
Cybersecurity
With the increase in electronic commerce, there has been a corresponding increase in cybersecurity threats. As a result, the face of identification has also been changing, from traditional identification methods such as passwords and PINs to biometrics like fingerprint scanning and facial recognition linked directly to payment services.
"The rise in digital commerce since the pandemic has come hand-in-hand with the rise of card-not-present fraud. In a recent survey by PCI Pal, we gauged some of the most pressing shopping concerns this holiday season," said Geoff Forsyth, Chief Information Security Officer (CISO) at PCI Pal.
He went on to explain that "over three-quarters of those surveyed noted the recent uptick in cybercrime and fraud among their biggest concerns impacting the way they purchase. However, nearly half of those same respondents said they planned to shop via websites. This shows that although cybercrime has increased, consumers remain blissfully unfazed by the prospect of becoming a target via compromised card information."
By making it easier for customers to identify themselves online, fintech has made the shopping experience safer than ever before while also saving businesses time and money on manual verification processes, which can be long-winded and laborious.
Hyper-personalisation
Consumers are no longer interested in one-size-fits-all products and services, and they want to be treated as individuals with unique needs and wants. For example, paying as you go and subscription services can enhance customer satisfaction and loyalty by catering to individual needs.
"Hyper-personalisation from banks and fintechs will not only benefit the modern consumer who's accustomed to the Netflix and super app experience, but it'll also benefit small and mid-size businesses," said Dorel Blitz, VP of Strategy and Business Development at Personetics.
Personalised data helps businesses to understand their customers better and recommend products that are more likely to be of interest. It also allows companies to target specific demographics, which can result in increased sales.
Cryptocurrencies
Some industry experts believe that cryptocurrencies will become the dominant form of payment in the retail sector. Nevertheless, most retailers are still reluctant to accept cryptocurrencies as payments, and consumers are not using them for making purchases as much because of the high transaction fees associated with cryptocurrencies.
"High gas fees certainly are a problem for cryptocurrency usage within e-commerce, however just as we saw eventual solutions to the 'last mile problem' which hindered Internet adoption for services requiring high-speed access, I do think we will find solutions such as second layers like the bitcoin Lightning network or ZK snarks and optimistic rollups for Ethereum," said Luke Stokes, Managing Director at the Foundation for Interwallet Operability (FIO).
He added, "There are also some interesting digital ledger technology solutions in the DAG (directed acyclic graph) space which may mature into a post-blockchain world of high performance and security without sacrificing decentralisation. The interesting thing about tokenisation is that these scaling solutions will be incentivised, which further increases the speed of deployment and adoption, continuing the pattern of exponential growth we've seen for over a decade."
Other advantages of fintech for retail
The benefits of fintech for retail are not limited to the examples given above. Fintech has also helped retailers reduce costs, manage inventory more effectively, and improve customer service.
Take a look at some of the other ways fintech has changed the retail industry:
By making it easier for small businesses to get started. A lot of start-ups struggle with getting approved for a loan from a traditional bank. But fintech companies are popping up all over the place, and they're more willing to work with new businesses.
By providing innovative solutions to common problems faced by small businesses, like accepting payments and managing finances.
By helping retailers compete with e-commerce giants. It's no secret that online retail has taken over the world.
By making it easier for consumers to shop around and compare prices. In the past, comparing prices was a hassle - people had to go to different shops, or even different websites, one by one, to get an idea of how much something costs.
By helping brick-and-mortar stores offer services that e-commerce can't, like face-to-face customer service.
By making it easier for retailers to sell their goods and services abroad, which is especially important in today's global market.
And the list goes on!
The bottom line
Fintech has contributed to the world economy in many ways that have gone unseen over the past few decades. However, the impact of fintech on small businesses is something that the retail industry can't overlook.
"As merchants grow their banking services, they will require assistance in positioning, securing, and marketing their goods to end consumers. Retailers trying to get into the financial services industry must act rapidly, especially if they have no prior experience providing financial or credit services to their clients," added Edward Mellett, Founder of WikiJob.
Instead of creating their own payment solutions, it's often better for retailers to partner with companies that have already developed a successful financial technology solution. They could even white-label some of their fintech products or services and present them under their own brand. That way, they can focus on what they do best: selling goods to their customers and increasing their company's bottom line.
In conclusion, the retail industry has been undergoing a transformation thanks to the innovative technology companies have been creating for over seventy years, and there's no sign of it stopping anytime soon. It will be interesting to see how fintech will continue to shape the retail industry in the years to come.