Capital Block advises on Sandbox Metaverse Island purchase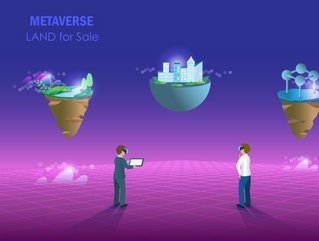 NFT agency Capital Block consulted on Sandbox for QUA Granite, the world's second-largest ceramics business in island acquisition
QUA Granite, Turkey's largest ceramic company, has announced the purchase of an island in the Metaverse.
The sale, which was managed by Capital Block - a leading NFT consultancy, has extensive experience in helping Turkish companies to invest in cryptocurrency and metaverse offerings. Capital Block is also QUA Granite's dedicated agency for all transaction in the DeFi and metaverse space.
Capital Block is also working in close partnership with Galatasaray, the major Turkish sports team, and Boru2039, the film and television production house.
According to reports, QUA Granite has bought one of the 25 islands sold in the metaverse, joining an exclusive list of international superstars who have already purchased their own alternative reality islands.

The Ceramics company now counts PSG star Marco Verratti, FC Bayern Munich winger Kingsley Coman, Swiss Tennis Star Stan Wawrinka, and FC Basel Shareholder Dan Holzmann among its metaverse neightbours.

Investing in the metaverse real-estate market

The news follows on from JP Morgan's recent real estate purchase in the metaverse, and in 2021, the market reached US$500mn, according to CNBC, with the value of virtual land continuing to climb.
The leading investment bank bought its plot in November 2021in Decentraland, which sold for a record US$2.43mn, more than double the prior record high for virtual real estate (US$913,000) just five months prior.
Looking ahead, the market is expected to double to US$1bn in 2022, according to MetaMetric Solutions, and rise at 31% CAGR from 2022 to 2028.
Buying land in the Metaverse is becoming increasingly common, with world-class brands like Gucci and Adidas rapidly investing to take part.

New opportunities for companies in the metaverse
Reports suggest QUA aims to create new interactions, new experiences, and unique benefits for its customer base through its metaverse island purchase. In addition, QUA is the first company in its industry to invest in the Metaverse universe. In doing so it has proved its assertiveness and broad vision both in the global market and in technology.

Speaking about the move, Tim Mangnall, CEO of Capital Block, explains, "We are delighted to have advised QUA Granite, another world-scale company, on a pioneering investment in the Metaverse. QUA Granite is committed to being a forward-thinking, innovative brand, and it is proving that through investment in land in the Metaverse alongside huge names from across the globe."

Meanwhile, Serkan Önem, Member of the Board of Directors and General Manager of Allbatross Venture Capital Investment Trust, within the body of Ercan Group of Companies, believes many more companies will follow suit and spawn a metaverse real estate trend. "Moving to Metaverse for QUA Granite, which will grow even faster in the digital world with its rapidly growing and future-oriented vision, was a step in line with our company DNA. We will offer value-added benefits, new and more natural interaction methods, and brand new experience areas for our investors and customers."

He adds, "I would also like to thank the entire Capital Block team for their support and strategic consultancy on the Metaverse island sale, which was made for the first time in our industry in Turkey, as a further step in these efforts."