JP Morgan is first leading bank to launch in the metaverse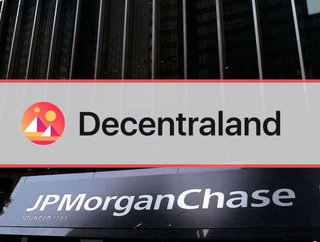 JP Morgan has become the first bank to establish a presence in the metaverse, as it predicts a market opportunity of US$1trn and eyes virtual real estate
JP Morgan has become the first bank to enter the metaverse, opening a lounge in the popular blockchain-based world, Decentraland – one of the most popular metaverses. This marks the banking giant's entry into the metaverse, as it eyes the potential financial gains.
The metaverse is a virtual world where people can interact, attend events, and explore, as digital avatars of themselves.
The bank's Onyx lounge, the name of which references the bank's suite of permissioned Ethereum-based services, offers institutions and businesses an opportunity to enter the metaverse.
Here, in the Onyx Lounge, located in Metaiuku, a virtual version of Tokyo's Harajuku shopping district, a tiger roams the first floor, overlooked by a portrait of the bank's boss Jamie Dimon, while on the second floor a person's avatar can watch experts talk about the crypto market.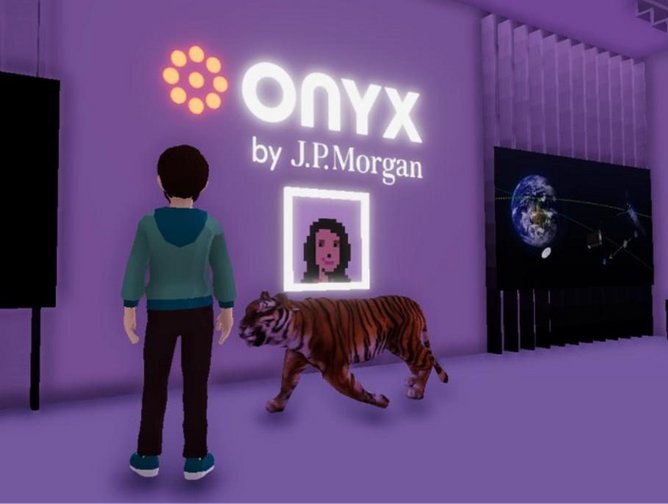 Metanomics – JP Morgan sees limitless opportunities
Along with the unveiling of the 'Onyx Lounge', the investment giant released a white paper outlining to clients the full market potential of the virtual space – describing it as "limitless".
According to JP Morgan's report, the economics of the metaverse – or metanomics – offers opportunities in almost every area and poses a market opportunity of US$1 trillion in annual revenue.
So, what opportunities does the bank see? According to JP Morgan's report, the metaverse offers opportunities to:
Transact – every year, US$54bn is spent on virtual goods, almost double the amount spent buying music

Socialise – approximately US$60bn messages are sent daily on Roblox

Create – GDP for Second Life was around US$650m in 2021 with nearly US$80m US dollars paid to creators

Own – NFTs currently have a market cap of US$41bn

Experience – 200 strategic partnerships to date with The Sandbox, including Warner Music Group to launch a music-themed virtual world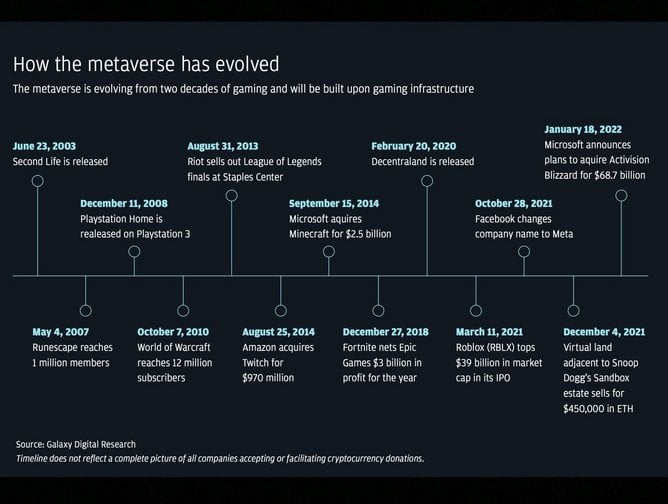 Virtual real estate ownership and virtual gaming
While JP Morgan makes it clear that it does not believe the metaverse will take over all human interactions, it is keen, like other businesses, to explore "the many exciting opportunities it presents for customers and brands alike" and that the risk of "being left behind is worth the incremental investment needed to get started".
Virtual real estate ownership is one area JP Morgan is eyeing, citing the fact that in just six months in 2021 the average price of a parcel of virtual land doubled, jumping from US$6,000 in June to US$12,000.
The bank forecasts a virtual real estate market that could eventually start seeing services much like in the physical world, including credit, mortgages and rental agreements, and from this emerge decentralised autonomous organisations as financial arms for those purposes.
Another is virtual gaming, a landscape with its own population – GDP, in-game currency and digital assets – that parallels the existing global economy. JP Morgan believes this presents an opportunity for the bank to play a major role – given its long-standing core competencies in cross-border payments, foreign exchange, financial assets creation, and trading and safekeeping.
Investment banks predicting metaverse market values
While JP Morgan is the first major bank to claim a stake in the metaverse with the launch of its new lounge, it is not first to acknowledge the trillion-dollar potential of virtual space.
In November last year, crypto investment giant Grayscale said in a report titled 'The Metaverse, Web 3.0 Virtual Cloud Economies' that the metaverse represented a more than US$1trillion annual revenue market, with blockchain's potential to provide infrastructure for digital worlds. While, in December, Ark Invest's CEO Cathie Wood told CNBC that the metaverse is a multi-trillion-dollar opportunity, saying that she believed it will go way beyond the gaming and consumer goods industry and infiltrate every sector of the economy.
It's a belief held by rival investment companies. Goldman Sachs recently predicted the metaverse as a US$8 trillion market opportunity globally, while rival investment giant Morgan Stanley sees it as an opportunity in the future, but for China alone.
In a note to investors, analysts at the bank predict the metaverse's initial total addressable market in China will be around US$4 trillion, as it replaces the mobile internet with a more 'immersive experience', but that once the metaverse starts disrupting offline activity like test-drives, real-estate showings and education, the opportunity would reach US$8 trillion.
With such an opportunity, it's likely more banks and investment firms will make their entrances into the metaverse this year. Watch this space.
Read the JP Morgan report 'Opportunities in the Metaverse'