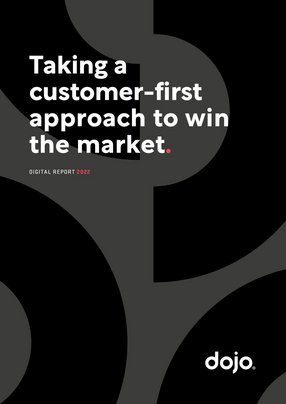 Dojo: Taking a customer-first approach to win the market
London-based payment technology provider Dojo began by eliminating the pain points of customers and developing its product with a customer-first approach.
Dojo evolved from Paymentsense Limited, a company established in 2009. The payment-tech provider, based in London, was created to resolve customer pain points. From the products the team builds to the services they provide, everything at Dojo is built with a customer-first mindset.

"You can't really talk about Dojo without mentioning Paymentsense. We're still Paymentsense Limited," says Chief Technology Officer of Dojo, Nick Fryer. "It's been around a little while and the core goals of the business haven't really changed throughout: to provide businesses with a better deal when it comes to predominantly face-to-face card processing."

Fryer explained that, back in 2009, the choices of payment methods and providers were pretty limited. A small number of major banks offered card acquisition with a payment terminal, but it wasn't a solution fitting for smaller businesses.

The customer service offered by those providers, according to Fryer, wasn't great in that era, either. The company then started to try to improve the boarding process, give these businesses better rates and provide better customer services.

"It's as simple as that. And we've been super successful doing that for over 10 years. Our Paymentsense part of the business is up to about 85,000 customers with about £16-17bn annual card turnover through our systems ‒ but that's working with third parties, that's working with other businesses to provide the actual payment systems," says Fryer.

Despite the success, the people behind Paymentsense started to notice that they could use the approach to help businesses further. They would, however, need a new product.

"It was frustrating that we couldn't change the product, which was very similar to everyone else's, and our key sales tools; our salesforce [were] awesome, but we knew we could do even better by our customers. So we looked at ways of taking control of the product, trying to make it better and more customer-focused," says Fryer.

"In the end, we decided we wanted to do it all ourselves. That's where Dojo was born."

The customers' way, the Dojo way
The company eventually applied to the Financial Conduct Authority (FCA) and became a regulated e-money institution. Once direct relationships with Visa, MasterCard, American Express and Diners Club International were put in place, Dojo was ready to process transactions with these card schemes.

"Then we built the software. But, before we started that process, we went through an exercise of trying to list out all the areas in which our Paymentsense product could be improved, as far as our customer was concerned. We put ourselves in our customers' shoes and said, 'How can we improve the product?' So we listed it off on a whiteboard," explains Fryer.

"We started it off at the top by writing down some of the problems, and then we set about solving all of them. It's quite a bold thing, but it genuinely came from a very good place. We came from a customer's point of view. We wanted a product that we were proud of, apart from anything else.

"We built Dojo with that mission and we pretty much did that. We've solved, if not all of them, almost all of the pain points. As an example, things like settlement time," Fryer says.

For small businesses, cash flow is key. The standard settlement time in the industry was somewhere between plus three or plus two days; Dojo, however, was keen to change that.

"That, in reality, means that if you process on a Friday, do a large part of your weekly sales in your coffee shop or your restaurant or your butchers, you don't see your money until the following Wednesday. That is not great. With Dojo, we pay every day from 10:00 AM. So next-day settlement is becoming a thing. It's normally chargeable; ours [is] free. It's the standard process for Dojo customers," Fryer explains. "So at the beginning of their business day, they have the money from the previous day."

"That's just one example," Fryer adds. "Anyone that takes cards knows about PCI DSS. It's the payment card industry's data security standard that anybody who handles credit card data has to comply with. Whilst it's actually a very healthy thing and a good thing, we realised we could make it simpler for business owners."

"We were asking a kebab shop to have an information security policy ‒ that's not right. Their priority is making kebabs rather than managing and updating their information security document every year. So we deployed a point-to-point security process."

In this system, the data is tightly encrypted right at the source and is not decrypted until it reaches a secure environment back in Dojo's cloud-based systems.

Dojo emphasises that all customers' pain points need to be solved, and the focus continues to be on offering a fairly simple product that people can easily understand ‒ this is what makes them really popular with the customers.

"We have monthly rolling contracts for most of our Dojo customers. If you don't like our service, give the terminal back. Then we call it a day," says Fryer. "There's no typical three-, four- or five-year contracts. We got rid of all that."

"What customers value is speed, simplicity, transparency, and ease-of-use. And we nailed absolutely all of those," Charlie Masters, Head of Product at Dojo, adds. "When it comes to the surrounding pieces of the user experience around the settlement, times fees, transparency and other sorts of contractual or compliance obligations, we make them as easy as we can for businesses ‒ and that is what really adds value to them."

Premises-based businesses and technology implementation
Today, we live in a digital-first world. We click, tap and swipe our way through the day and increasingly demand personalisation, speed and delight when making purchases as a result.

What Dojo is seeing, based on the transaction data of the company's over 50,000-strong customer base alongside recent business and consumer research, is that this is all leading to increasing importance being placed on memorable experiences when spending at premises-based businesses on the High Street.

"Premises-based organisations are not digital-only organisations, but they may have a digital experience. So we're talking bike shops, retailers and then even food and beverage premises, including pubs, restaurants that have a premises-based offering where people will come in, you can see them at tables or you can serve them on your premises, but they also have a digital payments experience," Masters explains.

"So perhaps they're taking payments online via QR codes, or they have an online store and that can be quite useful for customers. Imagine a bike shop: somebody comes in and they are saying 'Oh, I really like the look of this bike'. They don't have it in stock, but they do have an online store or presence, which means that they can actually place a pre-order or an online order for that bicycle and get it delivered. Then they've had that in-store retail experience, but it's also digital."

Dojo is currently empowering over 50,000 businesses across the UK, deploying card machines in over 43,000 locations.

"Customers love Dojo because we provide an amazing experience, super-fast payments and the ability for customers and consumers to connect, to create better experiences for people to enjoy themselves more," says Masters.

"You know, we're all humans. We seek enjoyment. Whenever we want to go to the pub or to a shop, we want it to be a positive experience, even if we don't really realise it. Recently, we've done some research and one in three of us are willing to pay more for a better experience, regularly. And that could be up to 25-30% more."

Based on this research, Dojo believes that this isn't just an evolution: it's a complete redefinition of what the future of the high street looks like. That's why Dojo is focused on empowering the experience economy by creating the tools and technology that help their customers to turn transactions into meaningful relationships.

"It's great for consumers who have a better experience. And it's great for our customers, who can see repeat spending ‒ they see engagement, loyalty, and they can optimise their offering to be more successful," says Masters. "Playing on the emotional, the enjoyment wrapping up into the experience of buying things that we want and things that we need ‒ that is differentiating us in the market already."

More expansions
Dojo takes the standard face-to-face card experience and 'removes all the nonsense', which, according to Fryer, is made up of all the things people don't want. Dojo makes transactions simple, easy and painless.

The plan, however, doesn't stop there.

"We use the term ‒ it's not our term ‒ but we use the term 'experience economy'," adds Fryer. "There are businesses where it's very difficult to put the offer online or purely online. "

"We've recently acquired a business called WalkUp. It's a virtual queuing application. They work predominantly with restaurants, particularly restaurants that don't take bookings ‒ that's their niche, but it's not limited to that."

"Part of our expansion is to build the ordering process into that, so you can order ahead of time," Fryer explains. "You can order whatever you're going to have at the restaurant and then pay for it before you even turn up."

"This is what we are terming the experience economy, the growing part of the high street. But beyond that, we're going to take our great product forward and that's Dojo in its current form."

Dojo plans to take steps into other European countries, with Western Europe as one of its first targets.

"In terms of card markets, the UK is one of the most advanced and one of the most competitive, as well as one of those with the narrowest, thinnest margins. So we've taken on this really quite difficult environment and our customers really value the product we've created," Fryer says. "We are hopeful that we'll do well there, too. So we're going to expand the product out, add more features and then take it abroad."

"Trying things out that we know are succeeding in the UK, in markets in different parts of the world. But that also includes expanding our people teams, our product teams, our technology teams in a way that helps us to facilitate greater success for our customers," Masters adds. "We have such a big ambition to empower businesses to thrive in the experience economy ‒ at home and abroad."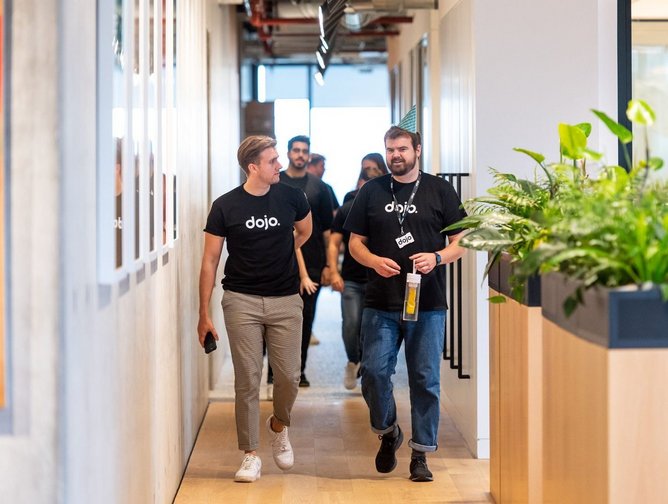 Dojo office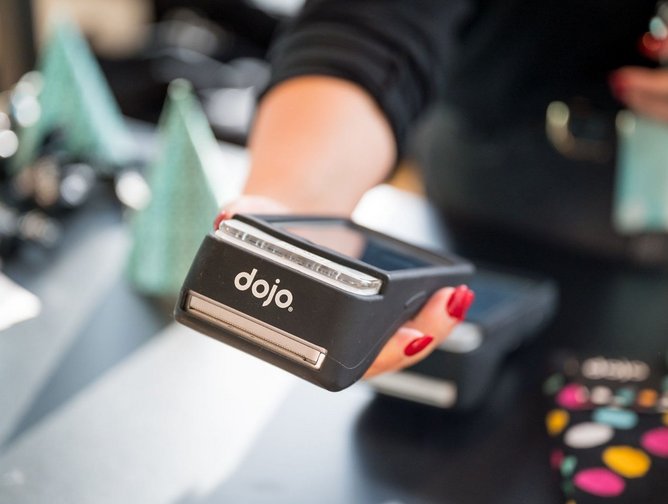 Dojo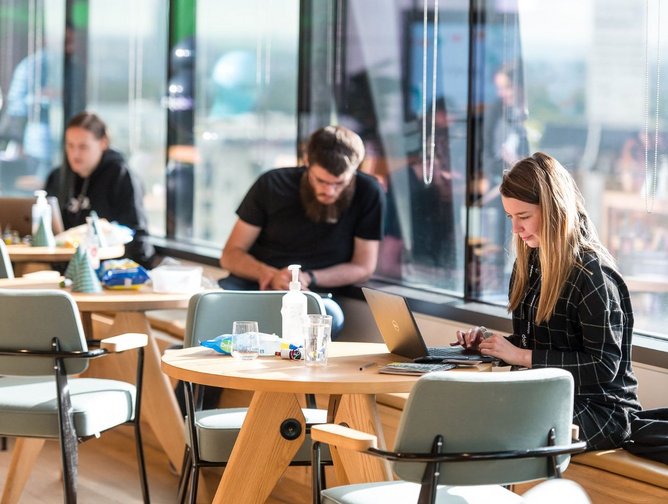 Dojo office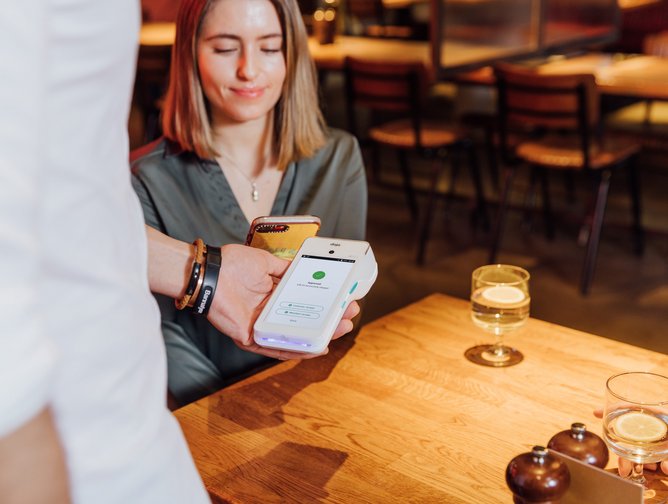 Dojo customer