Crypto firm Bitpanda to invest millions in AI wealth tools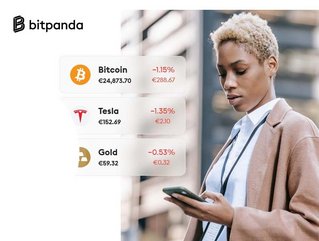 Bitpanda wants to become a leader in AI-driven wealth creation.
Austrian crypto exchange Bitpanda is to invest US$10mn in artificial intelligence with a view to becoming a market leader in AI-driven wealth creation
Austrian fintech unicorn Bitpanda has announced its intention to invest US$10mn in artificial intelligence (AI) as it sets out a goal of becoming an 'industry leader' in the use of AI for wealth creation.
The cryptocurrency exchange will launch a new business division, which will focus on delivering state-of-the-art, AI-driven products and investing features. It plans to launch a personalised wealth manager in the form of a full conversation AI app – the first of many products to be released as part of its AI-driven vision.
Future releases will include personalised investment products, automated portfolio strategies, real-time market analysis, and a fully personalised consumer experience. An AI wealth coach will utilise AI to make investing simpler and more accessible to new users.
The Vienna-based company claims that this latest focus is "a natural next step" in its strategy to deliver financial freedom to everyday consumers.
AI 'will reshape personal finance'
Eric Demuth, Co-CEO and Founder of Bitpanda, says: "Historically, investing was only for wealthy people, but fintechs like Bitpanda made it accessible to everyone thanks to blockchain technology. AI is the next technology that will reshape personal finance.
"Today, personal wealth managers are only for the rich, but we will change that by making them accessible to everyone – AI-driven, fully personalised, and accessible 24/7 from the phones in their pockets."
Bitpanda's investment in AI is the latest example of a fintech democratising access to financial advice and investment products. In November, California-based fintech Arta raised US$90mn to remove barriers to alternative assets and investments usually reserved for the ultra-wealthy. It wants to replicate the so-called 'family offices' of high-net-worth individuals, which employ whole teams of experts and utilise sophisticated financial strategies to tap into exclusive investment opportunities.