Business payments fintech Mail to Pay acquires Belgian peer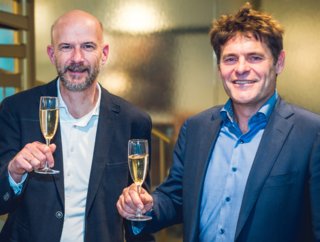 Mail to Pay's Kees Neven (left) celebrates with POM CEO Johannes Vermeire.
Dutch business payments fintech Mail to Pay, which provides businesses with a debt recovery software, is to acquire Belgian counterpart POM
Dutch fintech Mail to Pay, which provides debt collection software for businesses, is to take over Belgian counterpart POM for an undisclosed sum.

The acquisition of Antwerp-based POM – which develops payment solutions to simplify the processing of invoices, fines, membership fees and donations – will create a business with a combined €10mn in revenues. POM currently has more than 1,300 clients, active in a variety of sectors, including energy companies, insurers, schools and sports clubs, and governmental institutions. The firm was founded in 2014.
Part of the driving force behind its success is the use of innovative QR payment codes and payment links, which speed up payment of outstanding invoices or bills. POM predicts that up to 40% of customers receiving a payment request through their system pay their bill within 24 hours, with a mix of payment options on offer depending on the customer's profile.

Mail to Pay, an intelligent credit management software that automates the invoicing process of large organisations, already has clients such as Vodafone and Univé. The company says that the acquisition of POM "fits within its strategic plan".

Merger will 'increase Mail to Pay's presence in Belgium'
Mail to Pay Group CEO Kees Neven says: "By uniting POM and Mail to Pay, we are combining two technological frontrunners. Our primary focus is to unburden companies of the invoicing process. Combining automated credit management software with innovative payment options creates new ways for organisations to receive payments faster, more efficiently and in a more customer-friendly manner.

"We already have an office in Belgium servicing our existing Belgian clients, but this acquisition will substantially increase our presence in Belgium. Our ambition is to gain more clients, increase our international exposure and introduce a new innovation every year. Ultimately, we want to obtain a leading role in billing and debt automation in Europe."
POM CEO and Co-Founder Johannes Vermeire says: "In these times of high inflation, this offers great advantages. An increasing number of people are struggling to pay their bills on time. Offering payment in instalments or a deferred payment can make a significant difference. By merging our activities with those of Mail to Pay, we are taking another step forward. We broaden our offering with invoice tracking solutions and thus offer even more added value."