US Fintech Cross River's Latest Funding Round Tops US620mn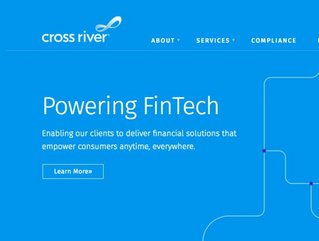 Cross River's raised capital will be used to fuel the fintech's expansion programme and was led by Eldridge and Andreessen Horowitz
The New Jersey-based fintech Cross River has announced the news that it has raised US$620mn in its latest funding round. The event, which will be used to drive forward Cross River's expansion plans, was led by Eldridge and Andreessen Horowitz and saw participation from funds and accounts advised by T. Rowe Price Investment Management, Whale Rock and Hanaco Ventures.
Several of Cross River's existing investors and partners also participated in the round.
The New Jersey-based firm, as well as controlling its bank, provides core infrastructure and embedded financial solutions.
The cash will go towards Cross River's ongoing tech-focused growth strategy, which includes building out its payments, cards and crypto offerings, hiring new employees, expanding internationally and supporting strategic partnerships.
According to reports, the new capital will also accelerate Cross River's ongoing technology-focused growth strategy. The plan includes four core initiatives, such as building out the Company's leading embedded payments, cards, lending and crypto solutions.
Cross River plans to invest in staff and community initiatives
Cross Rover will also place further investment in its team and communities by continuing to carry out plans for its international expansion. The strategy includes bolstering strategic partnerships that underscore Cross River's commitment to reshaping global finance and promoting financial inclusion. In a statement released by the fintech company, it said that the funding "underscores Cross River's commitment to reshaping global finance and promoting financial inclusion."
Currently, Cross River's technology platform facilitates lending and payments for over 80 collaborating partners including Affirm, Best Egg, Checkout.com, Coinbase, Divvy, Freedom Financial, Pay.com, Rocket Loans, Stripe, Trustly, Upgrade and Upstart.
The news follows on from the announcement by Cross River in 2021 that it had acquired the data and risk analytics firm PeerIQ for an undisclosed as a strategy to provide more advanced AI services through API-based platforms.
Speaking about the latest funding round, Cross River CEO and president Gilles Gade explained, "Our latest funding will enable us to accelerate the growth of Cross River as the foundation of modern finance."
Todd Boehly, Co-founder and CEO of Eldridge, added, "As a technology company with the established expertise of a bank, Cross River is providing essential infrastructure for the future of finance and enabling companies to empower customers with a full suite of fintech solutions. We are excited to support Gilles and his team with their continued global expansion."