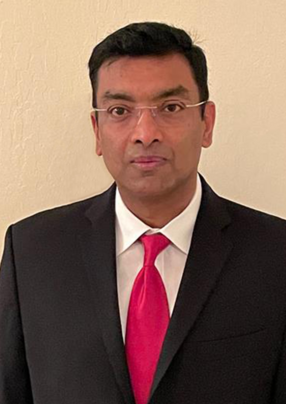 Rakesh Nambiar
Senior managing director and chief digital officer

Rakesh Nambiar reveal the community ties influencing EWB's digital journey, the power of consistency, and its dedication to the underserved
Founded in 1973, East West Bank (EWB) opened as the first federally chartered savings institution primarily focused on serving the financial needs of Chinese Americans in Los Angeles at the time.
In the years since, EWB has grown along with this market and expanded to become a mainstream commercial bank with over 120 locations across the US and China – cementing it as "the financial bridge between the East and West".
Developing a strategy and growth execution
Shi and Rakesh Nambiar – senior managing director and chief digital officer – have been integral components of the bank's journey thus far, with their respective roles inherently connected.
As COO, Shi is responsible "for the overall strategy of the bank, managing the bank's enterprise operations and technology, and leading the bank's retail banking business", a role that requires him to don a multitude of different hats throughout his working day. Such a broad focus means Shi is required to oversee and digest a certain amount of vital information daily, which must be difficult to maintain, surely?
​​"That's part of the training I've had for many years as a consultant," Shi says, referencing his over 20 years' experience at major consulting firms such as McKinsey and Accenture. "I used to work with a variety of clients simultaneously on a range of topics, meaning constantly switching between topics is something that I actually truly enjoy being able to do, preventing me from getting bored and allowing me to work on a variety of things at the same time."
Part of Shi's role includes liaising with the other leaders to "keep [him] informed and engaged" of any key issues throughout the day. Nambiar – who focuses on realising "the overall growth execution and the operations of the digital banking business" – regularly reports to Shi, keeping him abreast of identified issues and their solutions.
"There are three main areas that I am focused on regularly: the first is to make sure that our customers have the best possible experience when they onboard and service their accounts digitally; two is to expand our digital product sets to support our customers ever-expanding needs and meet their financial goals," explains Nambiar. "Third is to ensure that we can support the bank's digital transformation by leveraging our current platform across all its businesses."
In 2021, EWB was recognised as the No. 1 Performing Bank in the $50 billion and above asset category in Bank Director's 2021 Bank Performance Scorecard, cementing its position as one of the best managed banks in the U.S. and highlighting the bank's dedication to serving the community.
Embarking on a digital banking journey based on innovative R&D
Back in 2017, EWB had spotted the benefits both itself and the community it serves could reap from digitisation.
"We'd recognised the growing consumer trend of seeking digitally-delivered services that were traditionally delivered in person – that's why we embarked on an innovative R&D process and made a commitment to providing the right user experience," Parker outlines.
This process included developing and evaluating a digital bank platform, generating omnichannel capabilities, and ensuring consistency throughout.
To do this, however, the bank first had to consider the entire customer experience, the balance of products and services available, and ensure best-in-class digital and in-person spaces for consumers; data has been a core facet of the overall process.
Projects on the horizon – expanding digital and physical banking footprint
EWB's digital banking transformation began back in 2017, establishing it as a front-runner in 'going digital'. In that time, it has created a well-structured and architected digital platform that can be easily expanded. But what exactly does the future hold?
"Our goal for the future is to build on top of the platform and add more curated products," says Parker. "To some degree, we want to be a little bit like Costco: whereas it may not have everything in the world, like Walmarts tend to, every single thing in their stores is going to be curated by Costco – which will be something that customers are looking for in the future.
"We want to be able to do the same and build a financial Costco for our customers on top of the digital platform."
Read the full story HERE
You can only be successful and impactful on innovation when it's linked to the mission and strategy of your organisation.