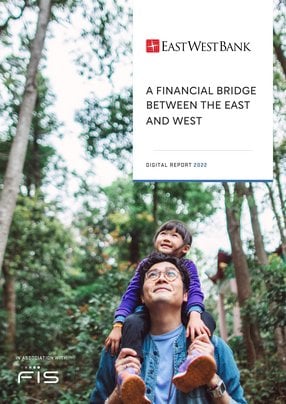 East West Bank: a financial bridge between the East and West
Parker Shi and Rakesh Nambiar reveal the community ties influencing EWB's digital journey, the power of consistency, and its dedication to the underserved
All around the globe, billions of people use and access their bank accounts daily without even a second thought. From checking bank balances and transferring money to depositing funds into savings accounts and applying for loans, it's never been easier to take charge of your money – for large swathes of the world's population, anyway. The recent shift to digital banking platforms alongside the creation of fully digital neobanks has only served to enhance accessibility further.
But what about those people living on the fringes of society, whose access is limited to both physical and digital banking? Well, it's in these spaces that financial institution East West Bank has firmly situated itself.
Founded in 1973, East West Bank (EWB) opened as the first federally chartered savings institution to base its operations on serving the financial needs of the Chinese American community in Los Angeles.
In the years since, EWB has grown along with this market and expanded to become a mainstream commercial bank with over 120 locations across the US and China – cementing it as "the financial bridge between the East and West."
Over the intervening decades, the bank has pivoted to expand its remit to include other underserved communities, such as international students in the US and the Filipino diaspora, while also establishing a digital footprint to serve the younger populations and changing lifestyles of customers.
"We're evolving to meet customers' changing lifestyles and banking needs by providing them best-in-class user experiences, through both branch and digital touchpoints," explains Parker Shi, EWB's Executive Vice President and Chief Operating Officer.
In short, strategic growth and digitisation to serve the underserved has been EWB's North Star, so to speak – and we think you'll agree that the bank has more than succeeded.
Using technology to build bridges and serve the community
Shi and Rakesh Nambiar – Senior Managing Director and Chief Digital Officer – have been integral components of the bank's journey thus far, with their respective roles inherently connected.
As COO, Shi is responsible "for the overall strategy of the bank, managing the bank's enterprise operations and technology, and leading the bank's retail banking business", a role that requires him to don a multitude of different hats throughout his working day.
Part of Shi's role includes liaising with the other leaders at EWB to "keep [him] informed and engaged" of any key issues throughout the day. Nambiar – who focuses on realising "the overall growth execution and the operations of the digital banking business" – reports to Shi regularly keeping him abreast of identified issues and their solutions.
"There are three main areas that I am focused on regularly: the first is to make sure that our customers have the best possible experience when they onboard and service their accounts digitally; two is to expand our digital product sets to support our customers' ever-expanding needs and meet their financial goals," explains Nambiar. "Third is to ensure that we can support the bank's digital transformation by leveraging our current platform across all its businesses."
Founded to address underserved communities, EWB also serves as a cultural, as well as a financial, bridge to aid those new to the US or without English as their native language, such as international students, new immigrants and tourists. The bank uses technology to enable and simplify this, providing in-language digital services, a broader range of products to aid students and their families with fee savings, as well as cross-border payment capabilities. Another unique aspect to EWB's service is the exclusive campaigns it initiates.
"Earlier this year, we completed a Lunar New Year promotion," says Parker. "Those customers who made new deposits via our digital platform and met the requirements could receive an East West Bank exclusive, limited-edition gift.
"In prior years, those customers had to go to our branches to make their gift deposits for the Lunar New Year; this year, many of our customers learned about the promotion by talking to our branch staff and, during the promotion, they actually chose to complete their deposits using our mobile app or online banking portal."
In 2021, EWB was recognised as the No. 1 Performing Bank in the $50 billion and above asset category in Bank Director's 2021 Bank Performance Scorecard, cementing its position as one of the best managed banks in the U.S. and highlighting its dedication to serving the community.
Embarking on a digital banking journey based on innovative R&D
Back in 2017, EWB spotted the benefits both itself and the community it serves could reap from digitisation.
"We'd recognised the growing consumer trend of seeking digitally-delivered services that were traditionally delivered in person – that's why we embarked on an innovative R&D process and made a commitment to providing the right user experience," Parker outlines.
"We realised that daily banking services could also be delivered to consumers via digital platforms, particularly as many of our existing East West Bank customers live outside the footprint of our branches. Some may even live overseas."
To do this, however, the bank first had to consider the entire customer experience, the balance of products and services available, and ensure best-in-class digital and in-person spaces for consumers. Data has been a pivotal facet of this overall process.
"Data is at the core of all things the digital bank works on," establishes Nambiar. "Our core principle during the building of the platform was to ensure that we had a clear data strategy that we were building towards; we needed to make sure that data was available real-time, all the time."
Without the strategic use of data to guide decision-making and progress, developing a fully functioning digital platform with fluid omnichannel capabilities would have been impossible.
"We needed to make sure that the platform could grow and scale with the business. More importantly, we had to ensure that data was constantly being applied to tangible use cases," Nambiar continues.
"To this end, we engineered the platform to always be collecting data. This was critical because, as we initially started to leverage data, it was largely to build a better transaction experience as a customer navigates through the platform. Over time, though, it proved that the data was valuable for risk and fraud related use cases."
In terms of the changing regulatory landscape – both domestically and internationally – data is integral to the reporting structure for banks situated in multiple countries, with multiple languages and a broad spread of user groups – hence why it has been the backbone of EWB's digital transformation and banking platform.
The platform has multiple capabilities specifically geared towards the primary customer base of EWB: it supports multiple languages; has a wide range of functionality, including deposits, business banking, and applying for loans; and a variety of unique products aimed at international students, new immigrants, the Chinese American population, and the Filipino diaspora in the US.
"COVID-19 actually proved our strategy. With lockdown initially, we were able to continue to support our customers both locally and internationally, so this is why we're going to continue investing in digital banking and shift even more into omnichannel banking," says Parker, establishing EWB's aim to be best-in-class through the utilisation of its unique strengths.
An omnichannel future where consistency is key
In addition to building a digital bank from scratch, EWB has been focused on improving and expanding the avenues of communication that consumers can utilise, as Shi explains: "Our goal is to provide a consistent omnichannel user experience."
"As we take these customers into an omnichannel banking experience, trying to travel through complex services – whether deposits or wealth management, home, or business banking – the permutations in which we interact with them are many.
"Our goal is therefore to make sure that we can work with every customer as a segment of one and meet them during their interaction with us to provide that optimal experience," states Nambiar.
With his extensive experience at some of the most influential organisations in the world, Shi is well-aware of the importance of consistency, particularly with regards to omnichannel capabilities. Demonstrating reliability and friendliness helps to generate steadfast customer loyalty, regardless of whether they are visiting brick-and-mortar EWB locations or accessing its digital banking platform.
Developing a partnership ecosystem
All of the progress that EWB has made in recent years, in terms of digitisation and the customer experience, would have been impossible without a sound ecosystem of partners each fulfilling a vital role in the journey.
"Our ability to succeed in digital required us to have an ecosystem of partnerships that became a part of what we call our 'digital core'," says Nambiar. "This need was important for us – for a bank that we build in the cloud to be able to have partners who are nimble enough to make necessary changes, be digital-first in their thinking and bring a huge amount of their expertise to the table from the very get-go."
Three organisations with a considerable role in developing digital banking capabilities, omnichannel communication, and digital onboarding are: SalesForce, FIS and Wipro.
"SalesForce has been a pretty critical partner for us. They have a purpose-built industry functionality that we've been able to fully leverage, allowing acceleration in our pace of innovation," Nambiar continues. "Initially, they started out purely as a digital onboarding platform for us, but their ability to have complex use-case management for workflows and case management that could be configured led to its use in our fraud management systems. Now, our focus is around product growth and commercial banking."
In regard to EWB's partnership with FIS, there are three different dimensions that Shi explains in detail.
"Dimension one is that FIS is our core banking system, our system of record for all of our deposits and long-term information. Number two is we're starting to also be exploring some of the newer capabilities that FIS has; for example, we're evaluating their specialty loan system for our use and completing a wire system replacement using FIS' technology.
Parker adds: "Lastly, in regard to FinTech, we are also working with FIS to explore new innovations and capabilities that they're building. So, for example, we know that they're investigating how to incorporate crypto into their ecosystem. Once that's stable, we're definitely going to be working with FIS to see if that is something we can also explore.
"We're looking at them as a strategic partner to help us continue to evolve our core systems and transaction processing capabilities."
In addition to being a strategic consultant for EWB's digital transformation journey, Wipro has also been the bank's delivery partner. This allowed for the acceleration of EWB's digital bank launch, while also providing the opportunity to review the new product sets by the Capco team, which is part of Wipro.
This partnership with Wipro has, in Shi's words, helped "ideate new growth strategies" and exposed "some new revenue opportunities to extrapolate" in terms of EWB's digital banking system – so it's going to be interesting to watch the evolution of this relationship in the future and the doors it will help open.

Projects on the horizon – expanding digital and physical banking footprint
EWB's digital banking transformation began back in 2017, establishing it as a front-runner in 'going digital'. In that time, it has created a well-structured and architected digital platform that can be easily expanded. But what exactly does the future hold?
"Our goal for the future is to build on top of the platform and add more curated products," says Parker. "To some degree, we want to be a little bit like Costco: whereas it may not have everything in the world, like Walmarts tend to, every single thing in their stores is going to be curated by Costco – which will be something that customers are looking for in the future.
"We want to be able to do the same and build a financial Costco for our customers on top of the digital platform."
This plan has three dimensions to it: developing digital capabilities for consumer banking and wealth management; simplifying business banking and the customer experience; and expanding cross-border payment capabilities for companies and corporations.
"We are continuing to use data to transform our customer experience, and we'll have many more exciting things to take to market in the near future," Nambiar concludes, reminding us that none of this would be possible without the strategic use of data.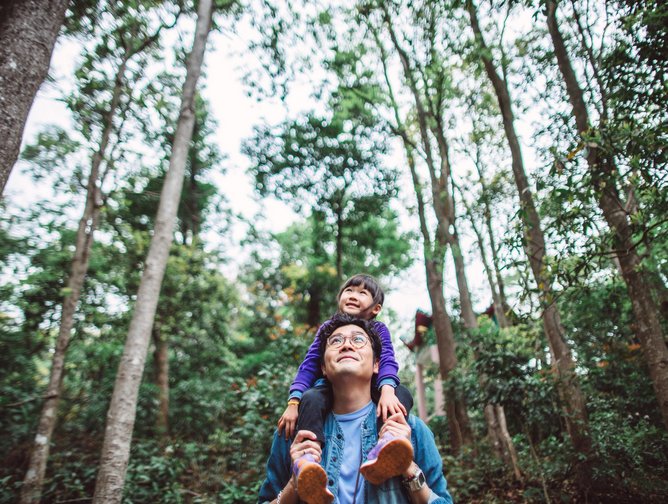 East West Bank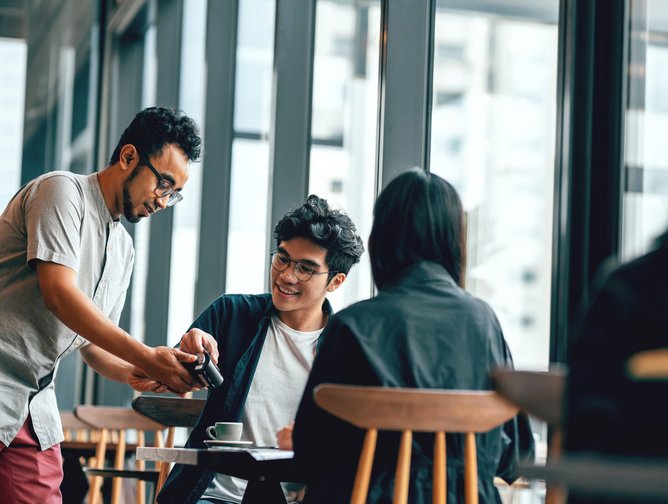 East West Bank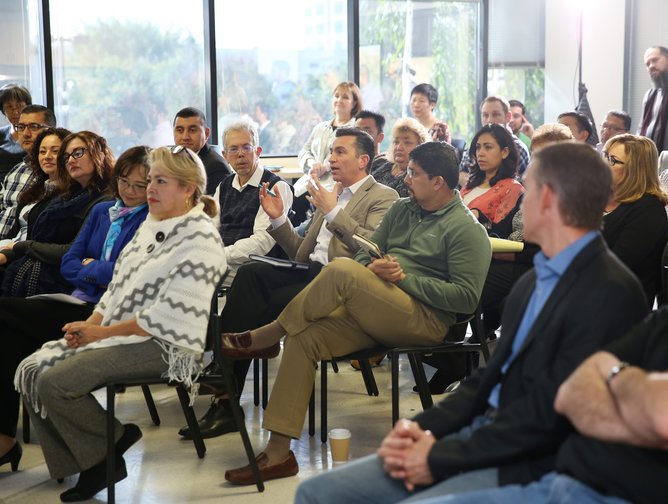 East West Bank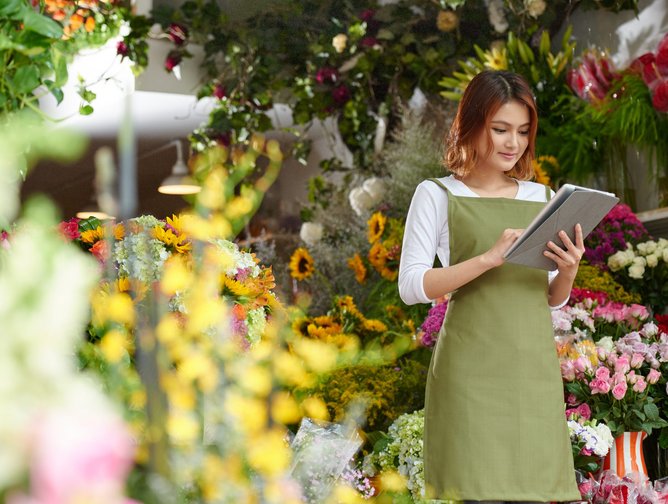 East West Bank