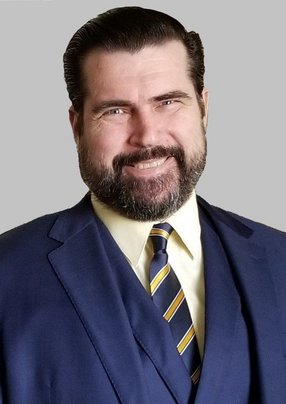 Victor Newsom
SVP Product Management, Payment Solutions

Leadership at Everi cannot be separated from integrity in daily life, says Victor Newsom
As Everi's SVP of Product Management, with responsibility for payments at Everi – a fast-growing US$550mn company – Victor Newsom carries an awesome financial responsibility. But he came into the business by an unusual route, having started adult life as an officer of a nuclear submarine with a Marine Engineering degree from Annapolis (USNA). He could have gone other ways, but, in the late 1990s, banking claimed him and proved a good platform for him to develop his passion for innovation. He recalls developing a product that enabled people to write a cheque against a stock market account, something unheard of at the time.
Moving on through startups in the health insurance and retail fields, Newsom ultimately landed the role of Chief Operating Officer for a prepaid processor that moved to Las Vegas, where he is now based. "This was where I really hit my stride. I got the bug not just for innovation, but also for technology and how that could really make a difference. By 'difference', I mean things like financial inclusion – helping the unbanked, underserved people in the USA, EU, Asia, and Africa that don't have access through the traditional ossified banking system."
It was nine years ago that Victor joined Global Cash Access, now Everi. "They brought me on board to help transform the gaming industry for payments, with its burden of legacy infrastructure and frameworks."
He is a man of action, hugely into hiking, weightlifting and martial arts, in which he holds a black belt, and that aspect of his personality fitted well at Everi. "My job is a huge opportunity to transform how we do business, how consumers interact safely and more. That's what got me here; that's what keeps me energised and motivated, continually pushing me forward."
As a child, he confesses that he was a bookworm, remaining a voracious devourer of two genres in particular well into his adult years. "Science fiction and fantasy have been my imaginarium since I was a child." That fed into his innate optimism and, at the same time, helped him develop the concept of community service that led him through the Eagle Scouts and eventually into the Navy.
"I still follow up on innovation from my previous stops, such as nuclear-powered batteries and salt reactors, as well as the latest technology for payments like blockchain and cryptocurrencies."
As a leader, and in a personal capacity as well, integrity is a core value. "People, families, relationships matter. I think that's a foundational element that we can lose sight of very easily. Another principle for me and my team is: 'You can do more than you think!' – I had a high school basketball coach teach me that, and I apply that principle personally as well as at work. Put another way – Robert Browning said 'Man's reach should exceed his grasp'. I do expect people to understand and share the dream, or at least get the vision."
Why? "I can describe an outcome, but if people connect with the journey, they will be 1,000 times more effective as a team member – so my goal is to ensure that, whether it's my leadership or my team members, we all connect to a vision and understand that we're on a journey together, because then they will surely think of solutions that I could never have come up with."
This attitude ties in with the work of integration that Victor has spoken of doing at Everi, as well as the gaming industry as a whole. If people only do something because he tells them to do it, the result will be to grow in a linear fashion; if, however, they work in a parallel and mutual understanding of the goal, exponential growth and scaling will be the result.
Read the full story HERE.
You can only be successful and impactful on innovation when it's linked to the mission and strategy of your organisation.