Financial Services (FinServ)
Apiture Digital Banking on Credit Union Transformation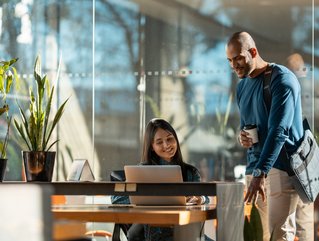 Chris Cox, the COO of Apiture, discusses the ways in which credit unions are navigating the challenges thrown up by the pandemic and digital banking
Chris Cox, the COO of Apiture - a leading digital banking solutions provider - outlines the challenges and changes that have disrupted the credit union space over the past two years, and why many have re-evaluated their strategies and turned to digital transformation as an answer to these issues.

How has the Credit Union sector changed over the last two years?
Like many businesses, Credit Unions were forced to determine the best way to support members when the pandemic disrupted operations. As Credit Unions closed branches and shifted employees to a work-from-home environment, they faced tremendous challenges to remain operational. For example, before the pandemic, member support representatives typically worked in call centers in an office setting. An entire world on lockdown forced Credit Unions to adjust their support model and learn how to operate in a remote environment.
Many Credit Unions also reevaluated their digital banking platforms to ensure their online and mobile capabilities could effectively support members when branches were closed. Those lacking a strong digital transformation strategy looked for digital banking partners who could help them provide robust online and mobile banking services to their consumer and business members.
What effect did the pandemic have on the credit union space
When pandemic lockdowns first occurred, Credit Unions faced many short-term challenges and uncertainty. Member support was particularly challenging, as Credit Unions struggled to establish a remote support platform. However, one of the positive trends that emerged during this timeframe was the acceleration of digital transformation initiatives due to closed branches. What progress might have otherwise taken years occurred in mere months as Credit Unions worked to establish support processes in work-from-home settings.
At the same time, some Credit Unions were dealing with Covid 19 outbreaks in their employee base, leaving these Institutions short-staffed and stretched to meet support needs. Some Credit Unions worked with vendor partners to outsource member support. For example, Apiture's User Direct service was a direct result of this need. Leveraging our knowledgeable support representatives, we offered call-center outsourcing services to our Credit Union clients as a temporary stopgap or permanent solution for their customers.

Fintech and digital banking is booming. How has this impacted the space?
Credit Unions have benefitted greatly from the innovation emerging in today's technology ecosystem. Fintechs are offering valuable digital products and services for Financial Institutions, and with the right Fintech partners, Credit Unions can take advantage of these new offerings to enhance the features available to their members.
For example, one Fintech company, Glia, offers a digital customer support tool that integrates chat, video, screen sharing, and other interactive support features into a Credit Union's digital banking platform. Having comprehensive support tools available to members was particularly important as many were using online and mobile banking features for the first time. As members become accustomed to the convenience and reliability of digital banking processes, Credit Unions who take advantage of innovative options like enhanced digital support tools can thrive.
What challenges going forward are credit union entities facing?
The degree of innovation that exists today is unprecedented. The landscape is crowded, and Credit Unions will likely find it challenging to keep up with the many Fintechs that continue to emerge. Credit Unions can best meet this challenge by finding a technology partner who can help them navigate the complexity and provide a seamless way to integrate different partners into their digital channels. The right technology partner can provide choice and flexibility while helping identify the best-of-breed Fintechs for their needs.
Are credit unions keeping pace with the disruption?
Many Credit Unions have a loyal base of members, which can help them weather disruption. However, because the financial industry is changing so rapidly, and members have more options for banking than ever before, Credit Unions must find ways to continue to support and engage their members through innovative and in-demand offerings. For example, peer-to-peer payment options are becoming more popular than ever, and both consumers and small businesses will come to expect this feature in their digital banking solution. Credit Unions who don't offer this option may face member churn.
Credit Unions also have a distinct opportunity to extend their superior member service capabilities – which can be a competitive differentiator – via technology. A seamless merging of in-person and digital servicing creates a chance for Credit Unions to explore unique member experiences.
Security and fraud are a major concern. What action is being taken to protect credit unions?
Security must remain a priority for Credit Unions, particularly for their digital channels. Credit Unions must ensure that their digital banking partner is laser-focused on security and fraud-prevention tools. Apiture has partnered with DefenseStorm, the leading cloud-based cybersecurity, cyber compliance, and cyber fraud provider, to address cyberthreats and compliance demands facing Credit Unions today.
What new trends and technologies are emerging and why?
Credit Unions who embrace leading-edge financial technology and services are positioned well to grow in the marketplace. Some of the exciting new products in the digital support space, like Apiture's partnership with Glia, can elevate a Credit Union's member support by including chat, video, text, social media, and screen sharing capabilities. By integrating a digital support tool into the digital banking platform, the entire member interaction is seamless and will pay dividends with member satisfaction.
Outsourced support centers are another exciting development that emerged from a need for a fully remote workforce. Apiture's User Direct solution is a fully outsourced support team that was put in place to meet support demands from Institutions experiencing Covid shutdowns and employee illness. The reason why User Direct works so well is that it can be scaled up and down as needed and uses a support team already knowledgeable about the digital banking platform. Credit Unions found that this kind of service could supplement or even replace their own support staff.
What does the future hold for credit unions? How do you see them developing?
Growth will no doubt be a priority for Credit Unions over the next few years. As part of a growth strategy, some Credit Unions are reinventing themselves, moving away from traditional segments that have a purely vertical focus and rebranding to enable growth beyond that vertical. For example, SC Telco Federal Credit Union rebranded itself to Spero to reflect a focus beyond a specific telco and enable a broader member focus.
Credit Unions are also looking at generational issues and focusing on how to attract younger consumers, particularly Gen Z members. Understanding how to best serve members in the digital age will continue to be a priority in the next decade as consumers expect a full range of services through digital channels.
Additionally, Credit Unions will increasingly look at the commercial and small business segments as a means of growth, as they recognize that small businesses represent an important part of the community.