Fintech future: How soon will the world be cashless?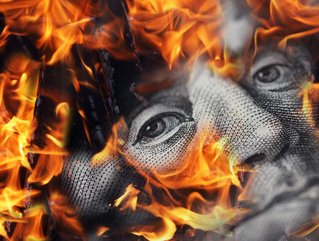 The diminishing role of cold, hard currency is transforming the way the world does business. We take a look at the pros and cons of a cashless economy.
A mere decade ago, a world without coins and notes as currency was unthinkable. Sure, the digitally forward among us could foresee a day when cold, hard cash was no longer a necessity. But it seemed, by and large, to be a pipe dream – because the vast majority of people, globally, held so much faith in cash.
Despite the fact that even as far back as 2012, the lion's share of transactions taking place was carried out via debit and credit card transitions, cash remained king.
Then along came COVID, and everything changed. Although digital payments had made significant inroads by 2020, a cashless world was apparently still decades away. According to a study by the UK charity Age UK in October of that year, an estimated eight million people in Britain alone would have struggled with the concept of a cashless world.
Today, with financial inclusion as a leading strategy for the vast majority of digital banks and fintechs, living without the clinking sounds of pocket change could very soon be a reality. But what are the pros and cons?
Are we ready to go cash-free?
Despite the advances in blockchain technology and flurries of Central Bank Digital Currency news being released, many leading experts in the field believe we are still some way off from a wholly digital global economy.
Udo Mueller, CEO of Paysafecard at Paysafe, does not foresee the event occurring any time soon: "The current reality is that we are not and may never be ready for a truly cashless society. If cash were to disappear tomorrow, it would only worsen the hardship faced by the most vulnerable members of society, and the levels of financial exclusion would be damaging to the economy.
"When government policies in India moved towards encouraging a cash-free society, farmers became unable to buy seeds for their crops and low-wage earners were forced to choose between a day's work and spending the day queuing to exchange their cash at the bank.
"Even countries such as Sweden, where there are higher levels of equality and financial inclusion, had to introduce measures to slow down the change towards going cashless to ensure vulnerable and rural people weren't left behind. This shows that, although the role of cash may change, not even the pandemic has been able to accelerate us towards a truly cashless society."
Expert Market advisor Zara Chechi concurs: "Whilst most people rely on cashless forms of payments, such as Apple Pay and online payments, they can still access their cash by popping into a cash machine. In a cashless society, this won't be an option anymore and there is a sense that people will struggle without the security of knowing they can physically access their money again."
The cons of a cashless environment
Whether we like it or not, access to cash is becoming increasingly challenging for consumers. Banks are withdrawing from their traditional role of supplying or accepting cash in person, particularly in rural areas. Mueller, however, points out that physical currency is still vital for accessing certain services and the wider banking system.
"Many are concerned that cashless payment methods are dependent on technology, which comes with its own set of risks," he says. "For example, if there was a disaster causing large-scale power outages or broadband failure, the economy would be paralysed with no one able to make payments.
"For others, using cash is simply a preference, a choice that enables consumers control over their finances even when making online payments. Furthermore, cash also gives a sense of control over personal data, with many people becoming increasingly concerned over how their data is collected and shared by corporations – cash payments are a way to limit their data trail."
The lack of trust in current technologies is not unjustified. With cyber-attacks and fraud incidences becoming increasingly commonplace, security for online financial transactions requires ever-increasing levels of protection. This now commonly stretches to biometric methods that track voice intonations, eye markers, fingerprints, and more.
Sahar Salama, CEO, and founder of the full-service mobile payments platform TPAY MOBILE, notes that increased digitisation of the economy is creating a divide between the technologically savvy and disenfranchised groups. She says this requires appropriate government policy so that everyone can benefit from the new possibilities of the digital world.
"As our society becomes increasingly cashless, some advocacy groups have raised concerns about the inclusion of vulnerable groups in the digital economy. While these concerns are warranted and it's true that not enough is being done to include everyone in the digital economy yet, the solution should be a collaborative one that involves governments, regulators, financial services, and fintech providers all playing an active role, rather than a rejection of the concept of cashlessness.
"For a cashless society to be truly successful, digital payments must be accessible and appealing to everyone."
The challenge of eradicating cash
So, while technology is innovating at warp speed, making digital payments faster and more efficient than ever before, it is the reticence of consumers on the ground that makes going completely cashless currently impractical.
Mueller says: "Consumers still see cash as an important part of the payments landscape with research showing that 28% of customers wouldn't consider shopping in a store that didn't offer cash payments. Not only would a cashless society require a complete economic overhaul to ensure significant groups of the population weren't left behind, but it would also require a significant shift in consumer attitudes – even for those with access to other payment methods."
He points out that eCash is a solution with the capability to bridge the gap. eCash provides a barcode-based cash-in/cash-out infrastructure utilising existing retail locations like supermarkets or kiosks – locations well-integrated into the daily lives and routines of consumers – offering a lifeline to cash-reliant consumers in a digital economy.
"Lower- to middle-income populations, who are often, especially reliant on cash as part of their income (e.g. taxi drivers, hospitality staff, teenagers receiving pocket money, owners of SMEs such as cafés and bars), need an easy and cheap way to digitise their cash to make digital financial transactions and pay for products and services online," Mueller says.
And it's not just about whether or not a cashless world can be achieved, it's also about listening to what customers want.
"We believe that, when it comes to payments, the choice is critical and access to cash – as well as the rights of consumers to continue paying in cash – should be protected.
"The pandemic certainly opened up the payments landscape, but just 10% of consumers said they'd plan to be completely cashless within the next couple of years, which was only a 1% increase on pre-COVID figures, and 50% of consumers plan to make at least 25% of their transactions using cash in the future."
He concludes: "Cash still has an important role in society, especially in terms of financial inclusion. At present, industry figures show 1.5 million adults in the UK are unbanked and 2.2 million rely on cash for day-to-day spending."
Top 6 countries about to go cashless
#6 United Kingdom
#5 Finland
#4The Netherlands
#3 Norway
#2 China
#1 Sweden
Leading contactless payment methods
Credit/Debit cards
Mobile payments
Cryptocurrency