Kraken MD talks CBDCs, FTX, & crypto winter expectations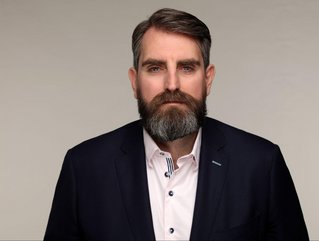 Blair Halliday, Managing Director UK for Kraken, gives us his take on CBDCs, the fall of FTX and when the crypto winter might end
Blair Halliday is the Managing Director UK, for Kraken - one of the world's leading crypto exchange platforms. As the crypto winter persists and the marketplace experiences continued changes and events - such as the fall of FTX - we asked Halliday for his take on the latest crypto developments, CBDCs, and the state of DeFi in 2023.
You're the UK MD of Kraken - one of the world's most reputable crypto exchanges. Describe your current role and your journey to it.
My journey into crypto started in the traditional finance world. Having cut my teeth with NatWest Group in their financial crime division, I discovered the crypto ecosystem and recognised the opportunity at hand to tangible improve the world through digital assets. From there I had several roles in prominent fintech and crypto firms, including Gemini, Circle, Paysafe Group and CashFlows, largely in compliance and financial crime before moving into more broader business management.
I joined Kraken earlier this year as Managing Director for the UK Business, one of Kraken's most active trading markets and prominent jurisdictions.
In this role I'm driving regional growth and managing our extensive range of commercial, regulatory, and political relationships. I'm thrilled to be at Kraken, as one of the world's largest crypto exchanges, and proud to be playing a role in accelerating the adoption of crypto assets in the UK.
What are the biggest changes we will see in crypto over the next twelve months?
The next year will be a restorative one for the crypto industry. After 18 months of volatility, bull market mania, and predatory practices from rogue industry players, I expect this year to be more grounded as developers focus resources on developing products and services that offer utility, not hype.
There will undoubtedly be a regulatory response, both in the UK and other jurisdictions, to the fallout of FTX's insolvency. The high-profile nature of this collapse has catalysed conversations amongst regulators and legislators on how to ensure consumers can be adequately protected from risks posed by bad actors and from those operating outside the regulatory perimeter. The UK Government encouragingly recognised that crypto adoption is the future quite early on, and is developing a regulatory landscape for crypto in the UK. We anticipate the next twelve months to be crucial in these efforts and hope that focused minds can result in a sensible, workable framework that protects consumers while not stifling innovation. The UK is striving to become a technological hub for crypto adoption and we're happy to support their efforts to get there.
Finally, I believe we're going to see greater use of cryptocurrencies as a force for good once trust is restored in the crypto industry. In 2022, Ukraine showcased a great example of how this innovative technology can offer a rail of last resort for citizens who are left behind by traditional finance in their moment of need. But cross border payments is not the only use case of crypto, and I expect we'll see more practical applications emerge as smart minds in the industry find ways to use the technology to solve real-world problems.
Is there any end in sight for the current crypto winter?
This is hard to call when the industry is clearly in the depths of crypto winter. However, I would argue that we will not emerge from crypto winter merely if prices of popular assets rise in the short term. There is likely still contagion in the market and trust has been broken with multiple stakeholders. This will take time to heal regardless of price volatility.
That said, Kraken is bullish on the crypto space for the long term. We're true believers that the innovation of crypto will revolutionise and democratise access to financial services and improve lives. This isn't our first bear market and we're fully focussed on continuing to be a gateway for people to get involved in the digital asset future.
How has FTX's demise impacted the rest of the industry?
FTX's insolvency has undoubtedly set the industry back several steps on its journey to mass adoption. Whether we're talking about legacy finance or crypto assets, it's simply unacceptable for clients to lose their assets due to a custodian's mismanagement. Regrettably but understandably, this may have a negative effect on how some UK investors view this asset class for years to come.
The first crucial step will be to rebuild trust with the crypto community. For this, centralised custodians, such as Kraken, have a role to play in educating people about the red flags that were missed with FTX, as well as how FTX's collapse was not a failure of crypto technology, but simply a bad actor that has been alleged to be fraudulent. Education must also be combined with industry efforts to become more transparent if it is to succeed long term. Proof of Reserves has been a valuable first step in this journey, but ultimately more is needed. So my 2023 prediction is that we'll see innovative solutions from centralised players to improve transparency and demonstrate they have their client's assets backed 1-1.
What's your prediction on the launch of CBDCs – and how will they impact the DeFi space and when will we see them introduced?
Today, more than 100 countries are in various stages of developing CBDCs and around 10 have successfully launched to the public. There are mixed opinions regarding how CBDCs will impact the De-Fi space, as well as how closely CBDCs align to the underlying principles of crypto assets.
Though the applications are endless, it is possible that CBDCs could provide governments and banks with the ability to track transactions and provide real-time censorship to individuals that disagree with their viewpoint. While this might seem outlandish, it is not beyond the realms of possibility, so the industry is carefully watching the CBDC roll out across various countries to assess whether they are acting as a force for good or providing tools for control.
What can we expect from Kraken in terms of new products and services over the coming year?
Our biggest launch of the year has been our NFT marketplace. We opened our public Beta earlier this month allowing enthusiasts to securely explore the NFT ecosystem while removing many barriers that were hampering the industry's growth during the last bull market. For example, we recognised That ETH gas fees had become onerous when the network was clogged and effectively prevented many people from participating because they were priced out. As such, Kraken NFT enables transactions to take place with zero gas fees on the platform. We also allow clients to pay for their NFTs with cash or crypto assets in their account, as well as track the rarity of their NFTs on the platform. We believe this will change the game when the market turns around!

In 2023, we've got several products on our roadmap that we believe will drive forward the digital asset space and improve the user experience for those already in the pro trading and retail crypto ecosystems.