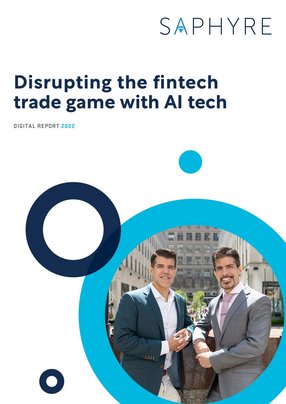 Saphyre: Disrupting the fintech trade game with AI tech
Twin brothers Stephen and Gabino Roche are driving Saphyre to new heights as its AI-powered trading technology breaks barriers and disrupts trading
There must be something in the coffee in New Jersey. No matter what time of day or where in the world they have just flown back from, twin brothers Stephen and Gabino Roche are brimming with infectious energy. I guess that's what comes from running an award-winning, game-changing organization like Saphyre.
We catch up with Stephen and Gabino in the middle of a series of announcements that the disruptive fintech is making – from new hires to high-profile partnerships. Saphyre is clearly on the rise.
Stephen and Gabino admit they have entrepreneurship in their blood, so it was almost inevitable that after successful 'solo' careers they would come together to form a Roche supergroup.
"We were excited to try to get into this finance space," recalls Stephen. "And one thing that we noticed is there's a lot of old, archaic systems in there – things are still in Windows 95 and MS DOS or manual processes. They're using faxes.
"So one of the things that Gabino brings to the table, his expertise with the team that he's built here in Saphyre, is building software products faster. That's one of the biggest secrets to success that we have, because when clients want a new feauture, functionality or want to see a solution, Gabino and the team are very quick at bringing it out – within weeks, not months, not years."
"We're bringing Silicon Valley tech to finance."
For anyone unfamiliar with Saphyre (where have you been?), the company leverages patented AI technology to digitize all pre-trade data and activities.
Saphyre's platform maintains memory of data and documents, and expedites flow in a digitally structured manner so that it can be consumed and understood by any permissioned counterparty in the finance industry. This allows firms not only to assess risk faster but they can speed their onboarding processes, get real-time ready-to-trade statuses per account, and eliminate 70%-75% of redundant or inefficient post-trade activities.
So how did it all begin? Let's rewind to 2017. Gabino's experience working at JP Morgan and alongside other leading financial institutions led him to a revelation. He realized that the opportunity existed to create what he calls the 'connective tissue' between these financial titans.
"In finance, some of the culture that happens is a bunch of sticks – everyone has to follow these rules because you've got to make sure things don't break, and so people don't question the status quo and that's why the innovation doesn't happen," says Gabino.
"I believe, and there's several in the finance world who are with us, that we partner with, when you can challenge the status quo and think outside of the box then you can actually deploy the technology quickly. That's where you change the game. That's where you change the industry."
With disruption at its heart, Saphyre is certainly trying to change the industry for the better, but what exactly are they hoping to achieve, and what do these current series of announcements have to do with their so-called 'endeavor'?
Stephen explains using the analogy of the Windows operating system of finance, that connective tissue that links all of the industry's "one-trick ponies". He uses another analogy of cars – one of Stephen's passions outside of work.
"People are making different components of transportation like a vehicle, right?" he says.
"They're trying to build a car, but they don't know what it is yet, so one company will make the wheels. Another company will make the transmission. Another company will handle the seats. But Saphyre is coming in and saying guys – we really need to bring some intelligence and power in here. We're kind of the chassis and the combustion engine and then here's a car, but people can't envision the car yet because they only see the wheels, or they only see the transmission, or the seats.
"So that's what we're trying to bring together. We're not trying to make the wheels too, and put other people out of business. We may have our generic version just to show what a car concept looks like. If you are Michelin and you make great tyres, we prefer your tyres. We want to be interoperable.
"The thing is, some of these companies are afraid of that. They're afraid of what may come from connecting to something that builds something better, and we've been trying to evangelise over the last five years that things can be done differently, much more efficiently, and more intelligently. That's really the mission."
This mission was started by Gabino, with Stephen adding his own skill set to the mix. Now the company is expanding, and the industry has taken notice – with big-name executives signing up for the Saphyre ride. Gabino always knew it would take time, but now it is Saphyre's time.
"The penny is starting to drop. It's that snowball effect," says Gabino. "I knew in the very beginning the foundational work we did to build our technology wasn't going to be appreciated until we had built upon the foundational technology infrastructure to show these financial institutions. Think for a minute. A lot of these institutions have armies of people manually doing stuff in Europe, North America, Asia Pacific. There's been a trend lately in finance that offshoring was the answer, but inflation is making the gross profit margins not much more achievable when you still have the overhead offshore.
"So they're not getting that straight through processing experience and now these institutions see that you do it one time upfront in the pre trade space and you create this connective tissue.
You get all these efficiencies end to end. Now they're willing to put their names behind it because they know that as they make this more public and people become more familiar and comfortable with the Saphyre brand that they get the network effect, the big benefit."
The Series A announcement was a big part of this reputation building, and was a process that took five hard years. Gabino and Stephen admit there were times when they considered cashing out, when the road became particularly tough. When you have friends and family among the initial investors, the pressure intensifies.
It was tempting to work with people who had different visions or ideas, who wanted to control them, or simply wanted the technology for their own purposes, but they stuck with the original vision. They met with more than 200 lead investors before finally settling on HCAP Partners. That Series A round of US$18.7 million was announced in March 2022, led by HCAP Partners, with JP Morgan and BNP Paribas participating.
"In any startup endeavor, it's very easy to get enamored by these big institutions," recalls Gabino. "This is not just in finance. They may back you but then you may not get the profitability you're looking for to grow your company. Ultimately, they want to minimise their costs and look at their upside, so there's a fine balance on how you manage that; playing the long game and finding ways to fund yourselves in the short term until you can get to more like a true Series A like we did.
"I knew if I gave this up and just sold it off then this whole vision would never be fulfilled."
After the Series A, Saphyre got to work sourcing a new Chief Operating Officer, and secured Raymond Shivers – formerly of BlackRock and with more than 20 years of experience in finance. It helped that Saphyre does a lot of work with BlackRock so Shivers already had knowledge of the business and the brothers.
"Having him as our COO is extremely beneficial for us and powerful moving forward as we look to scale and grow our company," says Stephen. "He understands how big financial institutions work with other fintech firms or vendors, how to scale those businesses appropriately, and he's able to predict some of those things. He hit the ground running and was definitely a great key hire, and not the only one. There will be other key hires coming out shortly as well."
Going back to that snowball effect, the likes of Shivers joining Saphyre has caught the eye of other senior executives within the financial industry, and there will certainly be more heavyweights added to the team. As Saphyre's metaphorical stock rises, is it fair to call them the hottest property in fintech right now? Gabino and Stephen prefer to talk about what they consider to be Saphyre's special sauce.
"Well, we started off by talking about how we're bringing Silicon Valley tech to finance. With all these manual processes, people have not appreciated everything outside of trading, and when they did try to address things around trading and operational support, it has been on the post trade side and that's what's making things all work backwards," says Gabino.
"To be honest, they're basically trying to piece together a crashed plane. You cannot fix your failed trades in the post trade as well as if you just prevent the issues from occurring in the first place, in the pre trade. The pre trade has not been appreciated but it's just like having a good batting swing – if you have the right fundamentals, you're going to be able to hit that ball more consistently, more accurately.
"And that's what we're doing here. We try to explain this and some think we're trying to boil the ocean. But if you just set things up properly in the pre trade space, we'll realise benefits during trading and post trade. That evangelisation that's been occurring over the last five years is being realised over the last 12 months."
Saphyre is now able to show people the specific benefits in the post trade. While others are struggling to get into T+1 from T+2, Saphyre is, in some cases, already achieving T zero. T+2 means trade plus two days, and has been an accepted standard for decades, for those not familiar with the term.
What that effectively means is that manually putting percentages of a block deal into different pots takes time – so you sit around for two days with nothing to show for your investment.
"A number of the big institutions that work with us are seeing a potential 70% operational efficiency, not really changing what they offer their clients, just seeing that operational efficiency gives them a huge gross profit margin and creates a competitive advantage.
"They can even lower their fees, drive more volume to themselves. That's what makes this the hottest fintech product out there."
It sounds like a classic no-brainer. Partnering with Saphyre can significantly improve efficiency and deliver a competitive advantage. So what would stop someone from joining this endeavour?
"Politics," says Gabino. "Some people may not understand the vision yet. And trust me, once the other big players announce that they're doing it, then the others won't want to be left out, to be at a competitive disavantage.
"It's highly regulated, so people are afraid to question these concepts that are out there. But once bigger leaders start adopting the solution and they don't want to be left out, they're going to be quick to run and catch up with those leaders, so they're not left out."
It's time to form an orderly queue. It's time for Saphyre to shine.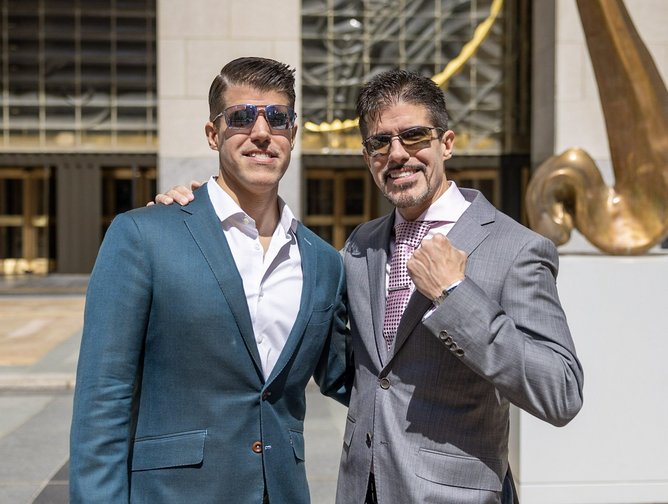 Stephen & Gabino Roche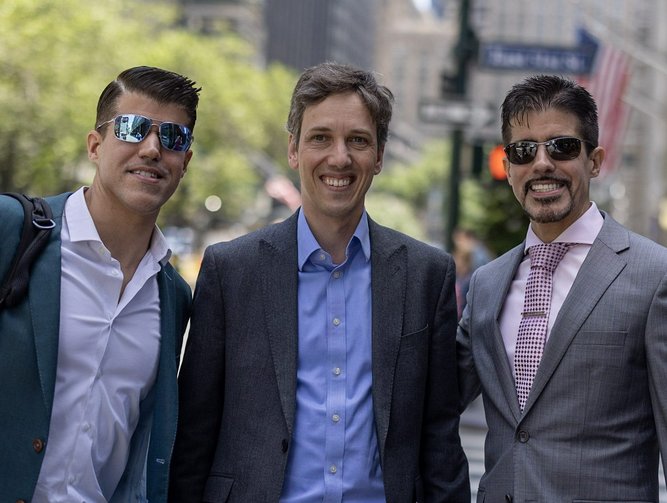 Saphyre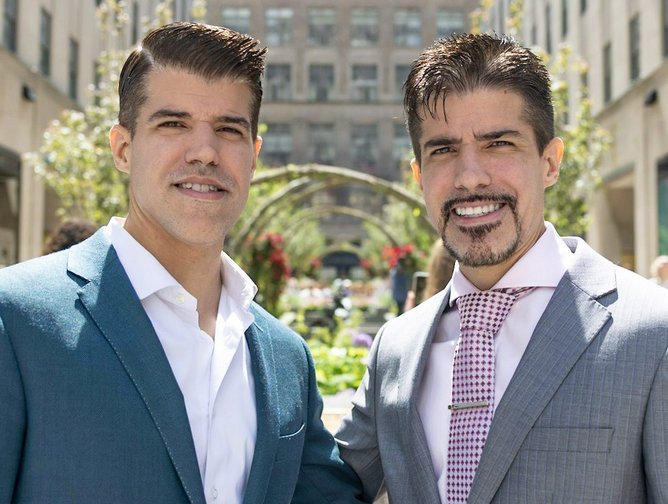 Stephen & Gabino Roche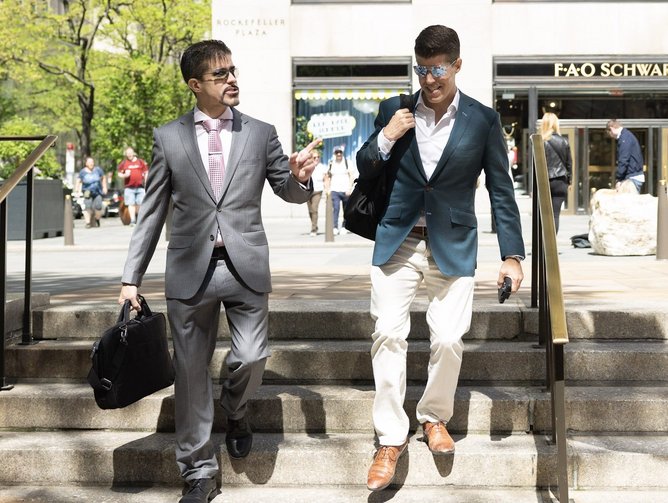 Stephen & Gabino Roche