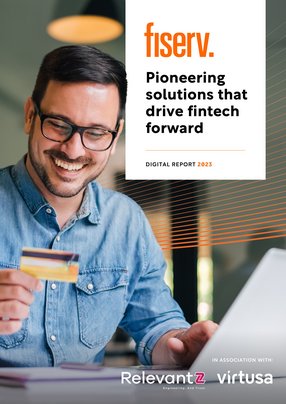 Fiserv: Pioneering solutions that drive fintech forward
Chief Information Officer of Payments at Fiserv, Umasankar Nistala, discusses how Fiserv stays at the peak of fintech innovation
From India's Odisha region to Chief Information Officer (CIO) of Payments at Fiserv, Umasankar Nistala's life spent across the US and India has helped him form an illustrious career in the financial services industry.
With two master's degrees behind him, one in computer science and the other in business administration for finance and international business, Nistala has forged a nearly three-decades-long association with financial technology.
Spending his formative years in the US, Nistala joined JPMorgan in 2002. Although admitting he was open to joining any industry following education, Nistala enjoyed working for the company, and "ended up spending almost 16 years" with JPMorgan; six in the US and another 10 years in his native India.
Eventually leaving JPMorgan for BNP Paribas India Solutions in 2018 – where he was CEO – Nistala once again found himself back in the US when joining Fiserv as CIO of Payments just 15 months ago.
He says: "When I decided to come back to the US, there was no better opportunity than joining Fiserv. It is one of the world's largest fintechs."
Providing solutions for banking, global commerce, and merchant acquiring – Fiserv's mission is to move money around the world. Transferring funds for thousands of financial institutions and millions of people and businesses, Fiserv is a leader in financial technology.
In his new role, Nistala leads a team of around 2,000 people globally to drive the technology agenda for payments businesses, covering debit and credit card payments, as well as bill and digital payments.
Serving nearly 10,000 financial institutions and six million merchants globally, Nistala joins the company at an exciting time.
Financial services: A career-long dedication
"If you look at the financial sector and the impact it has on people; for me, this makes it the most important and influential sector," says Nistala.
He adds: "Knowing that the solutions we provide impact consumers' ability to transact and go on with their day-to-day life without worrying about the complexity of underlying processing is a big responsibility. For me, it's the ability to provide a service that makes financial services the best sector to be working in."
In Fiserv, Nistala has found an organisation that reciprocates the values he holds for prioritising customer satisfaction, quality service and innovation.
It is the alignment of these values that has given Nistala the platform to thrive at Fiserv. In his 15 months at the company, Nistala has streamlined operations between Fiserv's thousands of global associates in different time zones, as well as improved the stability and the control environment at the fintech.
"These things are very critical to get right for a financial services company," says Nistala. "A large number of clients look at us for the quality of our products and the stability and security we provide. The progress we have made in this field is what I'm most proud of at Fiserv in my 15 months here."
A shifting landscape: Financial services through the Fiserv lens
Nistala's input alone is just one aspect of growth at Fiserv, which must keep adapting to an ever-shifting landscape.
As Nistala puts it: "In the last 15 months, I've seen the company make positive strides to improve service levels, make our systems and platforms more stable while continuing to innovate for our clients."
One of the ways Fiserv has kept this level of innovation up is by continuing to streamline its real-time payments (RTP) offering, something Nistala feels is a significant topic in financial services right now.
"If you look at the market, it continues to tell us that the demand for faster digital payments is only increasing day by day. RTP is an area in critical need of further development, and the question of moving money faster is something brought up by our clients every day in a variety of different use cases.
"Three in four consumers say it is important to be able to receive payments and have access to funds instantly. And if you look at certain demographics, there are a lot of consumers who are dependent on money coming into their account just so they can live their life, and buy the goods and services they need. So continuing to move money quickly, and innovating so it can move at ever-increasing speed is of critical importance."
With technology evolving at a quickening pace, Fiserv is keen to remain at the forefront of innovation, with market-leading applications such as its NOW Network. In addition, with the upcoming release of the US Federal Reserve's FedNow service, Fiserv hopes to tap into innovation to boost its RTP offering for clients.
Utilising FedNow will be important for Fiserv to stay at the forefront of technological capabilities in the financial services industry; Nistala explains: "With FedNow, businesses and individuals will be able to send and receive instant payment at any point in time during the day, and recipients will have full access to funds immediately."
Fiserv: 360° payments
To better gauge the scale and extent of services Fiserv offers, one must simply remember that leveraging FedNow to boost its RTP offering is just one facet of the broader payments service that it offers.
In fact, the fintech's own proprietary solution, Payment 360°, means just that – streamlining all payment options into one product for Fiserv's partners to leverage and scale how they wish to.
Nistala notes: "Financial services is no longer one size fits all. It is about how you make sure you cover the full gamut of services at one location. Payment 360° is our vision of how to bring these products together into a more seamless and compelling experience for our financial institutions and consumers. Our solutions are better together now.
"So, Payment 360° will enable financial institutions to offer a different payment experience that streamlines and simplifies payment interactions and delivers a heightened level of ease and convenience for our end users."
It is this focus on an all-in-one payments offering that Fiserv feels differentiates itself from the competition, as it strives to be a holistic partner. Nistala focuses on two key assets partnering with Fiserv offers to its partners – "time and simplicity".
He adds: "Consumers feel they are limited by time and they want to be able to do things quickly and seamlessly. An integrated payments offering will provide that, especially when there are so many services available."
Producing for the future of financial services for SMBs
Improving time and increasing simplicity through Payment 360° is not the only means through which greater customer satisfaction can be attained through a Fiserv partnership – the fintech's SpendTrack service offers a credit card and expense management platform for a variety of use cases.
In particular, Nistala feels SpendTrack is important for SMBs, as they look to keep a close track of their expenditures through tough economic times.
"Serving SMBs is at the heart of what Fiserv's SpendTrack service offers. Providing them with solutions so they can easily work and track their expenditure could be key to survival in these economic times.
"The service allows SMBs to optimise business operations, streamlining information delivery so businesses know where and what they need to fund. As a self-service product, this allows SMBs to reduce the overhead they couldn't otherwise afford."
Always striving to stay on top of the latest innovations in payments, Fiserv will soon be releasing an SMB payment solution, targeted at financial institutions, which can integrate the service to offer third-party support to SMBs.
"This new solution will go beyond basic bill payments. It is an integrated SMB solution that will enable all local businesses to compete with best-in-class payments capabilities, and manage all invoices, bills and payments in one place."
Launching a new product such as this keeps Fiserv ahead of the competition in an evolving landscape of financial services. But this wouldn't be possible without the extensive payment ecosystem the fintech has fostered to pinpoint the latest innovations on the market.
"Payment ecosystems are very effective because there is a lot to be done to identify solutions and opportunities," Nistala adds. "Therefore, being part of an ecosystem eases the burden of this, and now we can be excited about the opportunities coming our way that we have been able to leverage through our ecosystem of partners."
One such partner is Relevantz, which innovates together with Fiserv to achieve "new levels of excellence for clients, and inspiring excellence" in Fiserv's innovations.
Ever keen to grow the network, Fiserv has recently moved from the Nasdaq Stock Market to the New York Stock Exchange (NYSE) and has plans to publish the first small business index, a monthly snapshot of consumer spending.
This latest partnership will help its clients get insights "into what is happening in different types of SMBs across the US", says Nistala.
Nurturing partnerships for an ever-evolving industry
Nurturing these partnerships is of vital importance to Fiserv. "Nobody can operate in a vacuum, deliver and be successful", notes Nistala, with "partnerships and collaboration is key" to the success of the company. Over the next five to 10 years, Nistala believes it is "convenience, connectivity and security" that will be the driving force of innovation.
"The pace of change that is happening is very fast, and this rate of change is accelerating expectations for a frictionless payments experience for every single consumer. There will be greater connectivity between platforms and services in the future to make this happen.
"Throw in AI, and all of these combined innovations will accelerate at a pace to drive convenience for consumers, businesses and financial institutions. Even over the next two years, innovation will really push for connection, this is why partner ecosystems are so important.
"This is why at Fiserv, we must continue to stay committed to being at the forefront of these advancements, listen to our clients, understand their needs, and see how we can get new solutions to the market for them."
One such solution Fiserv launched earlier this year is AuthHub, an intelligent data engine that connects Fiserv-managed consumer financial channels and touchpoints.
Combined intelligence gathered from debit and credit card transactions, online and mobile banking activity, ACH transactions, ATM interactions, Zelle transactions, bill pay activity, wires activity, card tokenisation, rewards programmes and contact center interactions creates an in-depth profile of an individual's financial services behaviours and patterns to better identify fraudulent activity before it occurs.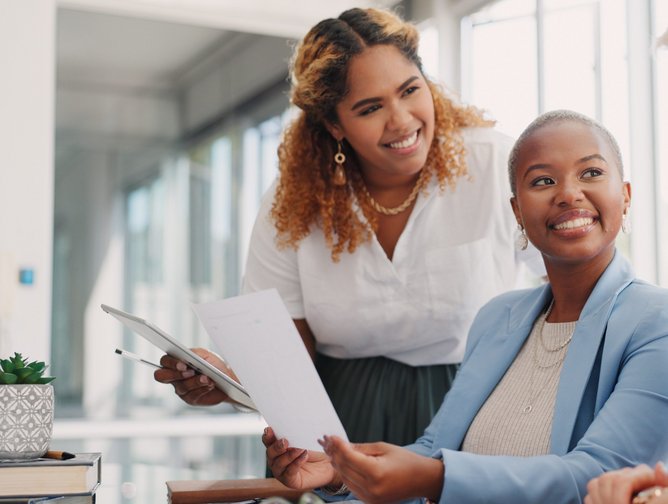 Fiserv
Fiserv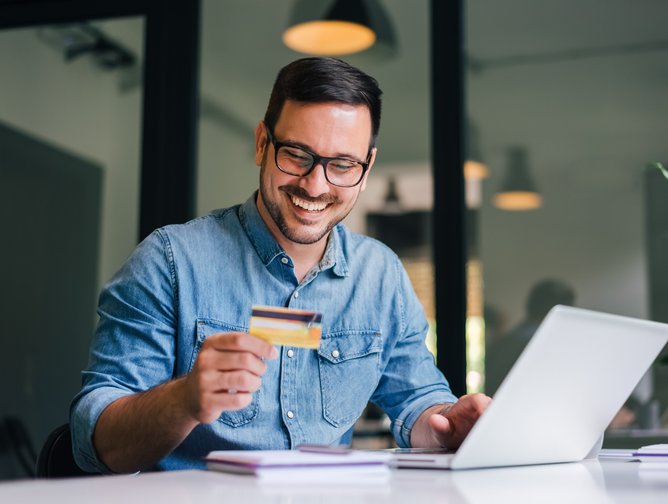 Fiserv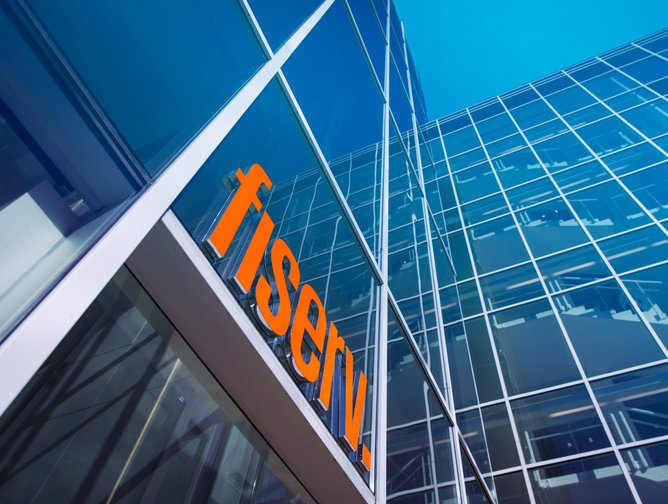 Fiserv