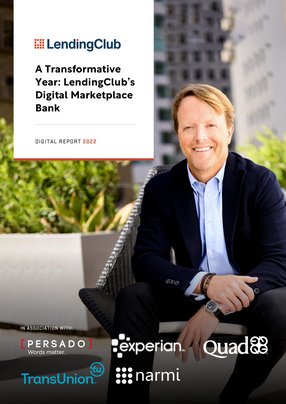 LendingClub's Digital Marketplace Bank
As customers look to make their money work better for them, LendingClub is disrupting traditional banking with a new approach
The financial health crisis is here. People are suffering amid a rising cost of living and debts are mounting as disposable incomes shrink to cover spiralling living costs. Saving money and lowering outgoings for millions of households, globally, is now a necessity.
Innovation in finance is driven by disruption, and one contender leading the charge began life as a technology company specialising in data but has now transformed into one of America's fastest growing digital banks.
Strictly speaking, LendingClub defines itself as a technology/financial services company. Founded in 2006, innovation and marketplace disruption is embedded at its core, says Scott Sanborn, CEO, who joined the company in 2010. A passionate advocate of the work LendingClub does, Sanborn says its services have never been needed more than they are now, as consumers find themselves pushed to – and, in some cases, beyond – their financial limits.
Lower-cost financial options for borrowers
At its core, LendingClub offers lower-cost lending services to borrowers than traditional banks. It's able to do this because it acts as a broker pairing institutional investors with would-be borrowers. Customers can take advantage of an array of lending products from personal and business loans to auto refinancing and patient solutions.
The system is remarkably effective – and, says Sanborn, routinely cuts loan repayment interest charges significantly, because it puts the customer interests first regarding their finance requirements.
He explains: "Imagine you're going to buy a car from a dealership. Currently, in the majority of the sales, you are going to pay more for the finance than your risk would indicate. The dealer adds a markup. There's no cap on how big that markup can be. And they are not required to pass you to the lender that gives you the best deal. They may also be passing you to the lender that gives them the best fee break or rate or incentive. So, you spend all this time picking a car, negotiating the price, but you don't negotiate the cost of your financing. You drive off the lot paying more than you otherwise should.
"That's where LendingClub comes in: using its technology platform, it can match borrowers with the best lending plans, making them vital savings in the process."
Sanborn says that, at a customer level, LendingClub makes significant monthly savings on outgoings. "On average, we're saving customers about $80 a month versus their car loan. Imagine – you drive the same car, pay it off in the same time frame, but have $80 more a month in your pocket."
Expanding financial services through M&A
Clearly, the formula is working. To date, the fintech has helped more than four million customers and is the U.S. market leader in one of the fastest-growing categories of lending: credit.
In 2021, LendingClub also bought into the banking sector through its acquisition of Radius Bank, where it obtained their bank charter. This event has seen the company expand significantly, transforming its identity within the fintech industry. So, is it a fintech, a digital bank, or something else entirely?
"I would say we are a technology company… but we're a technology company with a banking charter making us a fully digital marketplace bank. We are something truly different. There are some direct-to-consumer banks, but we are becoming a digital marketplace bank at a time where there's a lot of change in consumer preference."
Sanborn points out that, a decade or more ago, what drove customer preference for banking was the location of a bank branch. The landscape is now significantly different. "Consumers now see banking as a thing you do, not a place you go, and they are increasingly saying that the strength of the mobile experience is what should be the driver of choice. So, our transition to digital banking is at a time when consumers are valuing the digital experience, and we can therefore provide a tremendous amount of value to our customers."
The disruption of traditional lending
LendingClub has a history of disruption within lending and Sanborn believes the disruption of traditional credit models has been long overdue because, fundamentally, it charges the customer far more than it should. "If you look at credit cards as an example, credit card companies separate their customers into two categories. Revolvers – those are people who don't pay off the credit card balance; they have a loan. And then there's transactors – those are the people who use the card as a convenience mechanism and they pay it off every month. Those transactors are getting benefits. They're getting rewards, miles, cashback, and all of those things. The revolvers have to pay for that.
"So, you have one half of the customer base paying for the other half of the customer base. That's structural inefficiency. If you just looked at that customer and said, 'Hey. What is the true cost of credit that you need?', you'd find that it's lower. That's what we do with personal loans."
Meeting customer needs
As well as taking a dynamic approach to lending, LendingClub is unusual in that its core business model increases financial inclusion by expanding access to lower cost credit. The company takes the approach that current customers and the system are ripe for a revamp. While LendingClub's marketplace model enables it to seamlessly serve a broad range of customers, its core customer has a relatively high FICO score of around 700 and an annual income north of $100K. The team focuses on providing borrowers that are charged over the odds by lenders, such as women and minority groups, with a far better deal.
"Our customer is highly banked," he says. "In fact, they're 100% banked. They're just not well-served. It's working out better for the banks than it is for them. What we are doing for them is providing a nationwide digital solution that disproportionately helps people who are living in areas where bank branches are closing, because more and more bank branches are closing every year."
Sanborn points to the flurry of global bank branch closures and the fact that certain demographics are penalised by the current system using auto loans as an example, although it is true of all credit. "It's been long documented that women and minorities end up paying a higher price at the used car dealer for their financing than others. So, we're addressing some of those systemic inequities. But, primarily, we're making it easy to access low-cost credit that is structured in a responsible way."
Becoming a digital marketplace bank has driven this process forwards. "We don't have to support bank branches, which is another structural inefficiency. We don't have any of that – and it creates savings in our model. We also have the highly profitable marketplace and can pass those savings back to the consumer and still be highly profitable. The combinations of our bank, marketplace and large and loyal customer base is truly unique in banking.
The importance of digital partnerships
LendingClub's stratospheric success has been bolstered by the fintech's robust network of partners. Currently, they are collaborating with a handful of partners including Persado, Experian, Narmi, TransUnion and Quad, all of which are providing essential services that aid LendingClub as it disrupts traditional banking.
"The amount of innovation happening everywhere, including in financial services, means that being effective requires constant examination of the landscape to see where innovation is happening – and how you can harness it. Persado helps us unlock that with personalised language and content that's driving incremental activity, which is good for the company and – given the nature of our products – it's also good for the customer," says Sanborn, who embraces the notion that a digital ecosystem serves the needs of an evolving environment.
"No one company can possibly do everything. There's so much happening in optical character recognition of documents, fraud prevention and data aggregation using differentiated sources. Part of excellence is being able to have a finger on the pulse of where innovation is happening while also creating a culture, a structure, that can identify partners and implement with them to drive the business."
Essentially, Persado offers a powerful platform that helps LendingClub pinpoint what is motivating customers so they can find the right product and put out the right message that is tailored to the right audience. "Persado enables us to be predictive in what we're doing, to drive the right outcome," he says.
LendingClub has been partnered with TransUnion – acting as LendingClub's primary credit bureau – since it was founded. Recently, they also added Experian to the space where they are embarking on the next growth horizon focused on providing transparency, confidence and relevancy to the consumer.
Other partners include Narmi, a provider of digital banking technology, and Quad – which provides a postal marketing service – that is, Sanborn says, remarkably effective. "Some analogue marketing is still very important. People are often surprised by that, but it's a great consumer experience."
A banking outlook for the future
As the fintech and all-digital banking continues to expand globally, there are no shortages of opportunity for companies offering disruptive services. LendingClub, since its acquisition of Radius Bank in February of 2021, is now positioned perfectly for growth. At this point of post-acquisition, the digital marketplace bank has all its lending products in-house and is now issuing them through the bank. "We're funding personal loans, auto loan refinance, and our purchase finance business through the bank," says Sanborn.
"We also have launched high-yield savings accounts and CDs. That's gathering deposits to help fund the loans that we hold on our balance sheet. The next big frontier will be working on a core set of banking experiences that are really targeted at our consumer."
It's a bright future – not only for LendingClub, but also for their customers, who are reaping the benefits of choice in a climate where controlling outgoings has never been more crucial to daily survival.
"Our core consumers are highly banked with a high-income, usually of over 100,000. They have a high FICO score, between 700 and 710. But they're also high debt. We help them lower the cost of their debt, manage their spending and help them find savings."
He adds: "We're moving towards a banking experience that makes it easy for people to spot where in their lives they could find additional savings. If they squirrel away those savings, they won't need to use their credit card if an emergency happens. That's our core aim – and the big series of investments we'll be making next."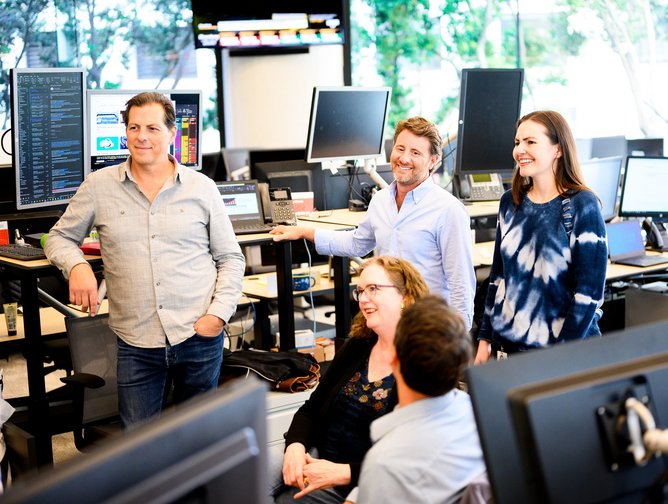 LendingClub
LendingClub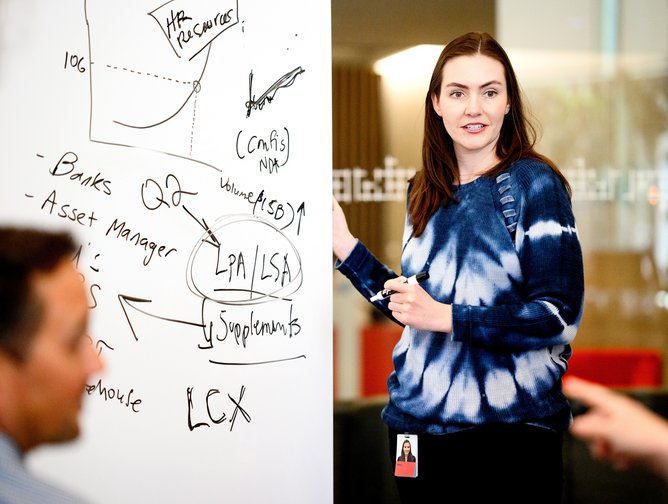 LendingClub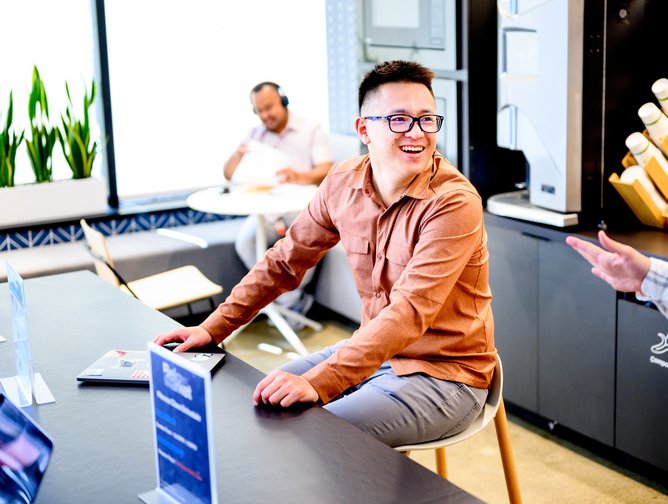 LendingClub