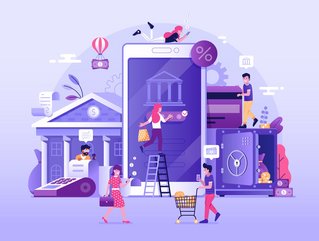 As neo and challenger banks disrupt traditional global incumbents, we rate the leaders of the pack
Neo and challenger banks are transforming the traditional banking industry from a stodgy, slow moving space to one that's innovative, dynamic and forward-thinking.
But it's not just the processes that have improved – it's the services to customers, too. All-digital banks provide, in general, lower-cost products that are delivered faster than those offered by their incumbent counterparts. So, we take a look at the top 10 digital banks operating today.
One of the newer market entrants, Australia-based Judo Bank is based in Melbourne and was founded in 2018 by Co-CEOs Joseph Healy and David Hornery.
Already serving over 10 thousand customers, Judo Bank is also one of Australia's most recent unicorn fintechs. It serves business customers as well as individuals, following the awarding of its banking licence in 2019.
Judo Bank raised $216mn at a funding round in December 2020 – and was valued at $2.6bn in November 2021. This is a 100% increase on JudoBank's 2019 valuation.
Headquartered in New York and founded in 2013 by technology experts and Wall Street bankers Dee Choubey, Chee Mun Foong, and Pratyush Tiwari, MoneyLion is a rising star in the banking world.
Initially launched to provide financial services, investment and lending products, the fintech has since moved into the digital banking space , with scaling success swiftly following.
By 2021, MoneyLion partnered with Fusion Acquisition Corp and launched its IPO, revealing a combined equity valuation of $2.9bn.
With its most recent valuation placing it at US$1.6bn, London-based Monzo serves five million customers across the UK and US.
Founders Tom Blomfield, Jonas Huckestein, Jason Bates, Paul Rippon, and Gary Dolman, launched the bank in 2015. By 2016, the digital banking app set a record when it raised over $1mn on Crowdcube.
Blomfield stepped down as CEO in May 2020. The current CEO, TS Anils, stepped in to hold both the UK and US titles until Carol Nelson joined the US leadership team in 2021.

Launched by banking veteran Anne Boden in January 2014, Starling Bank is a digital challenger based in London that specialises in current and business accounts.
In April 2022, Starling completed an internal fundraising round of US$152.5mn, with a pre-money valuation of over $2.9bn. Investors include Goldman Sachs, Fidelity, RPMI Railpen, Qatar Investment Authority and Harold McPike.
Starling bank currently serves 2.7 million customers and saw revenue increase by 600% in its most recent set of financial accounts.
Germany's biggest all-digital bank, N26, is headed up by young entrepreneur and banking whizz Valentin Stalf. He founded the bank in 2013 in Munich through the Rocket Internet accelerator programme and has since seen it grow from a small startup to one of the most impressive neobanks in Europe.
N26 left the UK marketplace citing Brexit as the cause – and is now focusing on Europe. N26's direct competitors are Revolut and Monzo, and it has seven million customers across 24 countries.
San Francisco-based SoFi was founded in 2011 by celebrated CEO Anthony Noto.
SoFi, which stands for 'Social Finance', initially launched with a US$2mn loan programme that could connect newly-graduated Stanford students with alumni. The four founders were Mike Cagney, James Finnigan, Ian Brady and Dan Macklin.
By October 2020, SoFi acquired full-service national bank status and now has a valuation of $5.26bn. However, in early 2021, pre-IPO predictions suggested SoFi was worth almost double that at $9bn.
Founded in 2013 by dynamic CEO Chris Britt, Chime is headquartered in San Francisco and was valued at US$14.5bn following a $485mn funding round in Q3 of 2020.
Chime specialises in retail banking and serves an estimated 12 million customers, making it the most valuable retail-serving fintech startup in the US.
In a surprise move, Britt publicly launched Chime in 2014 on the highly popular Dr Phil talk show. The host reportedly gifted his guests a Chime card, each loaded up with $5,000. The bank saw a 50% growth expansion during the pandemic as its large customer base became much more reliant on digital channels.
One of the longest established digital banks, Moscow-based Tinkoff was founded in 2006 by Oleg Tinkov – who then went on to launch the fintech by reportedly investing $70mn of his own money in the project.
It's currently led by CEO Oliver Hughes and has 13 million customers. Data from its London Stock Exchange (LSE) listing places Tinkoff with a valuation of US$17bn. Indeed, despite the challenges of the past few months, Tinkoff's total assets have been growing year-on-year since 2018. It recently reported total assets worth RUS1.318bn – a figure that is expanding by 50% a year.

Founded in 2015 by Russian-born financial whizz Nikolay Storonsky, Revolut has taken Europe's banking industry by storm. Headquartered in London, with a recent valuation based on its latest funding round of US$33bn, Revolut also recently partnered with fintech heavyweight Stripe as part of its strategy to expand offerings and provide a wider range of products and services to the business world.
It hasn't always been a smooth rise for the all-digital bank, though. In 2021, Revolut pulled out of Canada, citing difficulties in obtaining the licensing to operate as a full bank within Canada's incumbent financial space. The move followed the successful launch of Revolut's beta version in Canada some 18 months previously. However, the withdrawal is considered a temporary retreat as Revolut investigates and expands within other global marketplaces.
Storonsky said at the time: "We didn't have enough resources to launch all the products in Canada, so, as a result, we paused it for a year until we had more resources. We just decided to limit the amount of countries we're launching in at the moment."
Launched in 2013 as a direct reaction to the undeserving, over-charging incumbent banks of Brazil, Nubank was founded by David Velez, Cristina Junqueira and Edward Wible, having since grown to become the most successful digital bank to date.
The trio of founders decided to brand their new digital banking entity as Nubank for two reasons: first, because it reflected their desire to create something entirely new; and, second, 'nu' in Portuguese translates as 'nude' – another concept they wanted to impart to reflect the pared-back nature of Nubank's products and services.
With a predicted valuation of US$126bn by 2025 on its current growth trajectory, the challenger bank currently serves an estimated 70 million customers. Nubank's NPS rating of +87 (Itaú's is +14 and considered acceptable) is just one aspect that reflects its popularity among customers.