Luvleen Sidhu on founding and leading BM Technologies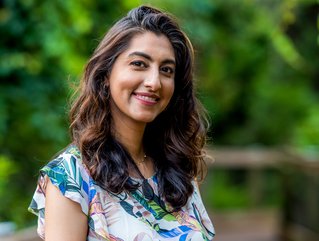 Luvleen Sidhu is the founder and CEO of BM Technologies - a leading digital banking platform in the US. She describes her journey into fintech and banking
As one of the leading figures in the US banking space, Luvleen Sidhu is the Chair, CEO, and founder of BM Technologies, Inc. The company is one of the largest digital banking platforms in the US and provides access to checking and savings accounts, personal loans, and credit cards. As a member of the BM Technologies (BMTX) Board of Directors and Director and founder of the BankMobile Foundation, Sidhu identifies and funds budding entrepreneurs and organisations that promote financial literacy. We caught up with her to find out more.
Describe your role and your journey into fintech - is there a story there?
I began day one of my career in 2008 at Lehman Brothers. Witnessing firsthand the fragility of the traditional financial landscape instilled in me a passion for using digital means to create a strong financial foundation for millions of Americans. Prior to founding BM Technologies (BMTX), I was a management consultant at Booz & Co. in their financial services practice and also worked as the Director of Corporate Development at Customers Bank.
I founded BMTX in 2015 with a mission to financially empower millions of Americans by providing a more affordable, transparent, and consumer-friendly banking experience. Even more so, I aspire to help Americans achieve financial stability, engaging the millions of unbanked and underbanked individuals in the US Many of these people are locked out of the system by monthly fee requirements and have an inherent skepticism of traditional banks. By offering a low-to-no-fee digital banking platform focused on technology and financial empowerment, we aim to provide an alternative. I believe in breaking the traditional mold and partnering with global brands and universities to distribute financial products that foster inclusivity and build wealth that enables real people to live better lives.
What is it about your chosen sector that attracted you?
The inspiration for BMTX came when I walked into a bank branch for the first time to open a checking account. I was astounded to find that this process took me 25 minutes. I couldn't understand why it was so difficult. Just the day before I had booked an online ticket to Australia, halfway across the world, and it had taken less than five minutes. I was shocked that this bank was so out of touch with the technology that I took for granted. In an age in which we can see almost any movie the moment we want to see it rather than trekking down to the video rental store, or book airline travel and hotel stays right from our phones, why should banking be as difficult and inconvenient as it is? I decided to do something about it.
In addition to making banking more accessible, it was the opportunity that I saw in 2016 when I shifted BMTX's direction to a B2B2C approach, and started implementing BMTX's award-winning Banking-as-a-Service (BaaS) model. BMTX was a first mover before BaaS became the industry buzzword it is today. BMTX's BaaS model is a proprietary, API-driven platform and white label interface through which it powers brands and FinTechs to expand access to digital banking products and launch fully branded financial services products at a fraction of the cost. This leads to attracting new customers, adding new revenue streams, and providing a more personalized experience to their customers.
In terms of diversity, are you finding the fintech space a more inclusive environment than it was when you first entered?
There are many opportunities for women interested in finance and tech, but companies must also provide an inclusive environment for employees to flourish. According to PwC research, 85% of female millennials prefer working for companies with strong employer policies on diversity and workforce inclusion. However, 71% of them report that even though companies talk about diversity, the opportunities in the workplace are not equal. Opportunities for women have come a long way in the FinTech industry, but there is still much to do for full equality and economic parity.
What can the industry as a whole do to attract more women into finance?
When it comes to attracting more women to finance, understanding the needs of the modern woman is important. Providing flexibility in the form of hybrid work models is essential to allow women to balance work and personal responsibilities. According to Deloitte's report on advancing more women leaders in financial services, there isn't a "one-size-fits-all" path to achieving greater gender equity. However, organizations that prioritize and advance gender equity internally can position themselves to influence public policy, shape or reshape cultural norms, and differentiate themselves across their spheres of influence: their workforces, the marketplace, and society as a whole.
What advice would you give to your younger self if you had the opportunity?
I would tell her to embrace challenges and turn them into opportunities instead of letting them be a source of discouragement. Challenges have helped me grow, and as a result, made me stronger and more prepared to face new opportunities.
In terms of your recent achievements, BMTX's Q2 earnings have been fairly significant. Can you tell us about that?
We had a record earnings quarter in Q2 of 2022, with US$15.1mn of EBITDA, an increase from 8% last year despite the absence of last year's stimulus tailwind and this year's macro environment.
In 2022, BMTX moved from the execution of a term sheet to a signed contract to provide technology to a significant new BaaS partner. This partner has global operations and tens of millions of U.S. customers. BMTX was awarded this relationship through a competitive RFP process, underscoring the competitiveness of its BaaS offering in the marketplace. With the addition of this partner, BMTX has expanded its roster of large well-known brand-name partners. This relationship may become even more valuable if BMTX can vertically integrate this new partnership with the addition of a banking charter which it is in the process of doing with its pending acquisition of First Sound Bank.
The current economic climate is impacting the industry - what do you think are the biggest challenges banks face?
Brick and mortar banks are facing increased competition with many disrupters and the demand for more personalization using technology. With increased skepticism in banking systems as a whole during a challenging economic climate, the need for banks to embrace technology that meets the demand of consumers right where they are is paramount for the industry to stay ahead of these challenges.
BaaS has so much to offer - what can we expect in terms of trends, going forward?
BaaS continues to evolve at a rapid speed. I believe that we will continue to see more uses of AI, blockchain, and machine learning in BaaS and embedded finance. Additionally, according to a survey by Business Insider Intelligence, nearly 80% of respondents who have used mobile banking say it is the primary way that they access their accounts. This provides more opportunities for BaaS providers to be first movers when it comes to innovative services that will elevate the experience of banking customers.
What does the future hold for Luvleen Sidhu?
I am looking forward to continuing to drive strategic growth and innovation at BMTX. In November 2021, we announced the signing of a definitive agreement to merge with First Sound Bank, a Seattle, Washington-based community bank. This is a thrilling milestone for us and is a major step forward in executing our vision to create a disruptive FinTech bank. BMTX is joining the likes of a few other innovative fintech's that have taken a similar step of combining a FinTech with a charter such as Square, LendingClub, Varo, and SoFi. The transaction is subject to regulatory approvals and other customary closing conditions and is expected to close in the second half of 2022. As a public company, we continue to be customer-centric while also focusing on the creation of new, innovative digital banking products and features within the following pillars: banking, lending, financial advice, investing and insurance, and crypto.