Five minutes with Kim Van Esbroeck of Aion Bank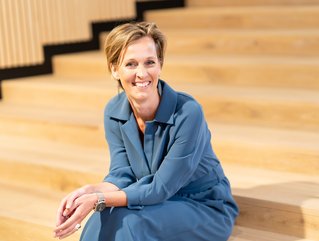 Kim Van Esbroek is the Country Head for Belgium, Aion Bank. We caught up with her to find out more about her role and expertise in the space
Kim Van Esbroeck is responsible for growing Aion Bank's business through commercial activities and business development, directly managing Aion Bank's Belgian sales and partnerships teams, as well as its flagship branch in Brussels. We caught up with her to find out more.
Describe your journey into Fintech. How did you get here?
My career started in the payments industry. I held several different positions from test engineer to head of card marketing at Integri and Clear2Pay, then, at Belgian payment leader Bancontact, I was Chief Operations Officer, then was promoted to Chief Commercial Officer before being named CEO in January 2017.
In 2020, I was looking for a new challenge, and Aion Bank was entering the Belgian market with an entirely new banking concept – fully end-to-end digital, powered by the latest in cloud technology. I was drawn to the company's mission to offer a better way of banking to people, and its technology is at the forefront of the industry. Looking back, I really didn't do any career planning, but I followed my gut, and, if a train passed that I found interesting, I jumped on it.
Who was your childhood hero and why?
I was a big Madonna fan when I was a teenager. Obviously, she's an iconic performer, but I loved her attitude. She was defiant to carve her own path, no matter who challenged or disagreed with her. She created a new template for what a pop star could do and say. Looking back at her career, I understand now that, as a woman in the 80s, she needed to adopt an f* you attitude to the male-dominated industry in order to get her voice heard. She is a true power lady!
What's the best piece of advice you've ever received?
The most amazing things lie outside of your comfort zone, so force yourself at any moment to step out.
Name one piece of technology you couldn't live without and tell us why
I love the park-assist functionality in my car. The camera and sensors that have spatial awareness sound like simple technology because we use them every day, but, very soon, that same tech will advance, so our cars will be able to park themselves!
Aion Bank is moving from strength to strength – did you ever think your plans would take you to this point when you first started out?
Anyone who has worked at a start-up knows that where you start is almost never where you finish. When I joined Aion, we were just about to launch our marketing efforts for our retail banking business. The big challenge was building a new brand in the middle of a pandemic and lockdown. Across the past two years, our business has grown and evolved, but the core of what we want to achieve has not changed - we want to democratise better banking for people, making it more accessible and fully digital.
Is there a personal achievement from the past 12 months of which you are particularly proud?
I am proud of the tenacity and flexibility of my team. We went through a few shifts and pivots over the past two years – everything from strategy to tactics, to prospects, to marketing, to sales. This can be distracting, but my team kept pace and continues to deliver.
Describe yourself in three words
Perfectionist and control freak with a never-give-up attitude
What inspires you in Fintech today?
Fintech is constantly changing and disrupting business models. The exciting thing about the next generation of fintech is that Banking-as-a-Service is fuelling further innovation. With BaaS providing the underlying tech, licence, compliance and regulatory needs, fintechs can focus on what they do best – making people's lives easier with completely new front-end solutions.
What's next for Kim Esbroeck?
We plan to further invest in our BaaS strategy. What sets us apart in BaaS is our combination of banking expertise and innovative technology. We offer one of the most comprehensive Retail and SME banking platforms powered via hundreds of open APIs. This platform is also a '360' ecosystem that taps into fast-moving fintech innovation by integrating nearly 90 of the best fintechs. The growth of BaaS leverages strong tailwinds of Open Banking and modern cloud engineering.
Our ability to offer a technical solution alongside our ECB licence, regulatory and compliance expertise uniquely positions us to become one of the top European BaaS players in the next two or three years.