Wearable tech: would you make payments using your ring?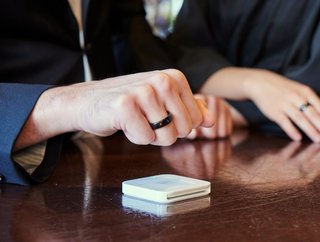 The ring is similar in concept to other wearable paytech, like smart watches.
A new type of wearable payments technology, or paytech, gives users the chance to pay using their ring – but are consumers wedded to the idea?
A wearable paytech company has launched a Visa-powered ring that lets you pay for goods and services – but it raises the question, how far will wearable paytech go and do consumers actually want to pay for goods and services using their jewellery?
Described as "sleek" and "refined", McLEAR's RingPay 2 will allow users to complete transactions using nothing more than a wave of their hand.

It can be connected to any existing Visa card or Mastercard using the ring's purpose-built mobile app, meaning it can be used anywhere that existing contactless technology is accepted – including public transport, bars and restaurants, and major grocery stores. It has no battery and it's waterproof – so you don't have to worry about getting caught in the rain, or removing the ring every time you wash your hands.

It's actually the second generation of McLEAR's RingPay technology, re-released to improve the ergonomic design and improve the functionality.
The rise of mobile payments technology
There's no doubt that mobile payments and digital wallets are surging in popularity, driven by their convenience. During the COVID-19 pandemic, they were seen as an added layer of hygiene too, and their increasing adoption has continued ever since.

Contactless payments now account for 32% of all volume in the UK – McLEAR's home market – according to the industry body UK Finance. This includes "continuing growth in popularity of mobile contactless payment services such as Apple Pay and Google Pay," UK Finance notes. This figure would include wearable tech; about 15% of Brits and 20% of Americans are believed to own some sort of wearable like a smart watch, which have payment capabilities linked to a physical or virtual card.

When it comes to other payment methods, 48% of payments in the UK are made using debit cards while 15% still involve cold, hard cash.

This research is augmented by separate findings from Juniper Research: there were more than 780mn users of contactless mobile payments technology globally in 2022 – a figure that is expected to surpass the 1bn mark next year.

Indeed, many consumers would rather be without their wallet than their phone. It's even coined a medical condition, nomophobia, to describe the fear of being separated from your device.
Do consumers want to pay using their ring?
The fact that contactless payments still only account for less than a third of all UK payments may surprise some people. Clearly, it still represents a viable and profitable segment of the market – and it will continue to rise. But it also demonstrates the relatively slow rate of progress towards a cash-free society, if indeed we will ever get there.
So with mobile payments and even other wearable tech – like smartwatches – offering the ability to pay in a split second, will consumers really come round to the idea of 'pay-by-ring'?

"RingPay eliminates the necessity of carrying a smartphone for payments, making it the ultimate standalone payment device," McLEAR explains in a statement.
"It is an interesting product that has some niche benefits," continues Alessandro Hatami, Managing Director of strategic consultancy Pacemakers and co-author of 'Reinventing Banking and Finance'. "But it will definitely be in the 'nice-to-have' rather than the 'need-to-have' category.

"I can see a real benefit using it in places where I cannot carry my phone with me," Hatami tells FinTech Magazine. "It's the ideal beach holiday product. The key differentiator is whether it can be extended to go beyond payments and become an authentication product – but that would suggest the need for a deep overhaul of the technology. Without that, RingPay is a nice proposition but it is not dramatically better than phone and watch payments."