Swedish fintechs Doconomy and Dreams to join forces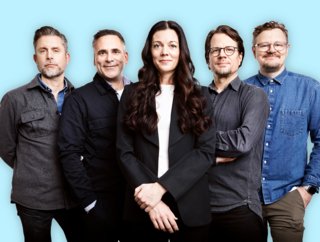 The leadership of both companies including Mathias Wikstrom (second left) and Henrik Rosvall (second right)
Sweden's Doconomy is to acquire Dreams, combining the two companies' individual expertise in climate change action and behavioural financial wellbeing
Climate tech startup Doconomy is acquiring fellow Swedish fintech Dreams Technology, whose 'engagement banking platform' utilises behavioural psychology to improve consumers' relationship with money.
The deal will allow the two firms to "bridge the unique intersection of behavioural economics and climate impact", with Doconomy, which was founded in 2018, working with banks and financial institutions to help them understand and reduce their environmental impact.
Doconomy will adopt Dreams' proprietary platform, offering its customers an extended product driven by behavioural science that will include modules for climate smart savings, debt management and investments. The combined proposition "will be the first to deliver a best-in-class digital experience that promotes financial wellbeing, encourages sustainable consumption choices and effectuates climate action at scale", the companies say in a statement.
The emergence of fintech has coincided with an increasing awareness of climate impact, driven by ever-demanding consumers. According to Mambu's Green Banking Report, 60% of consumers say they want every financial service they use to be sustainable. Individual action can still have an enormous impact: according to Doconomy, more than 70% of global emissions are attributed to household consumption yet nearly three-quarters (73%) of consumers would change their buying behaviour to reduce their impact on the planet.
Two companies 'built to motivate and shape behaviour'
Mathias Wikström, CEO & co-founder of Doconomy, comments: "Doconomy and Dreams Technology are a perfect match. Both companies are built to motivate and shape behaviours in an innovative way that is key to sustainable and lasting change. The acquisition will allow us to embed the unique methodology Dreams Technology has built over the years, together with their suite of proven products.
"This will expand our offering, merging our team of experts in climate impact with the behavioural economics talent of Dreams Technology to achieve urgent and measurable results. We're confident that our joint forces will accelerate climate literacy while giving a major boost to the financial industry's transition to net zero - making every transaction count for both people and the planet."
Henrik Rosvall, CEO & co-founder of Dreams Technology, adds: "By joining forces with Doconomy, we see a substantial opportunity to promote financial wellbeing and climate action at scale with the first holistic offering in the market. At Dreams Technology, our solutions operationalise over 100 behavioural science insights and are designed to drive sustainable behavioural change in banking customers by closing the intention-action gap, creating positive and impactful financial behaviours, and making money more emotional, accessible, and effective for everyone. It's a match made in heaven using innovation and behavioural expertise to empower banks in their journey from transaction engines to global change agents."
As part of the deal, Rosvall will join the leadership team at Doconomy.