Financial Services (FinServ)
Lending fintech Plend gets £40mn to unlock affordable credit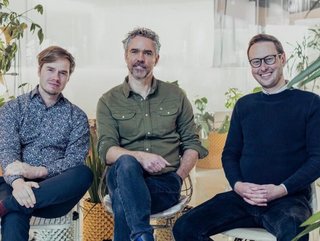 Plend co-founders Jamie Pursaill (left) and Rob Pasco (right), plus chairman Luke Lang (centre).
Affordable lending fintech Plend has secured £40mn in seed funding to help fix the UK's 'flawed credit system', a matter of months after it first launched
Affordable lending fintech Plend has raised £40mn in funding – including angel investment from the founders of UK fintech juggernauts Monzo and Starling Bank.

The London-based firm is on a mission to create an alternative to traditional credit that takes into account a consumer's full credit picture. It was founded by New Zealander Rob Pasco, who was forced to rely on high-interest credit cards when he moved to London nearly a decade ago because, despite having a successful job, he was excluded from affordable credit by lenders who didn't understand his circumstances.

Even though it only launched in July 2022, Plend has already processed over £40mn's worth of loan applications and its loan book is currently increasing 20% month-on-month. The company has now received £40mn in seed investment, retaining the backing of pre-seed investors Ascension, Tomahawk VC, DD Venture Capital and Haatch while attracting the overtures of new investors like Active Partners.

Plend will use the capital to scale the business into 2023, focusing on acquisition of new customers via new partners and reaching new audiences who find themselves excluded from the current credit system. It also wants to ramp up its growth to date, aiming to more than double its lending by the end of this calendar year.

Plend seeking to 'end financial exclusion' for good

It's a problem that is increasingly prevalent, given the difficulties consumers face with high inflation rates and a rapidly evolving economic landscape.

Rob Pasco, CEO and Co-Founder of Plend, says: "This new round of funding caps off an amazing year for Plend. Since launching our first affordable credit product to consumers this year, we have been able to help so many people get access to the money they need to get on with their lives at affordable and fair rates. We are thrilled to be working with our newest investment partners to provide a truly ethical alternative to the broken credit scoring system that locks so many people out of the market, especially during these times of economic turbulence and rising interest rates."

Nick Green, Seed Investor at Active Partners, adds: "We're delighted to be investing in Plend. With their innovative technology, they are creating a fairer lending environment and improving the lives of many consumers currently burdened with high-interest loans. Rob, James and the team have impressed us with their passion, creativity and ambition and we look forward to supporting them in their next stage of growth."

And Emma Steele, Partner at Ascension, continues: "Everyone deserves equal access to financial services and a chance to unlock their ambition, which is why paving the way for an affordable alternative to the flawed credit system is so important. Plend's work to offer sustainable loans at fair interest rates has been impressive in a short amount of time and we are excited to see more going into 2023."