Financial Services (FinServ)
From bootstraps to jetpacks: fintech's top 10 founder-CEOs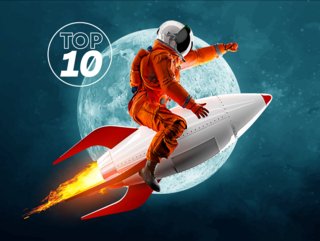 We round up the Top 10 fintech founders who, having built their business from nothing, have then steered them through multi-billion dollar growth.
It takes a completely different skill set to run a multi-billion dollar fintech than it does to make a startup successful. That's why it's all the more impressive when founder-CEOs remain at the helm, even after many years of growth.
For this month's Top 10, we're looking into fintech founders. To keep it fair, we're only considering founders and co-founders who still lead their business, and we're excluding crypto or blockchain – we covered that in the August issue. So here they are: the Top 10 founders ranked by market cap with one exception – you'll find out why when we get to it.
1. Patrick Collison
Based in: US

Company: Stripe
Market cap: US$95bn

Patrick Collison, the CEO and Co-founder of Stripe, set up the company in 2010 with his brother John. But their first business venture together is a world away from this Silicon Valley payments unicorn. Born in rural Ireland, the brothers set up an auction software company called Auctomatic and sell it for US$5mn in 2008. They use the money to fund university degrees, John going to Harvard and older brother Patrick studying mathematics at MIT.
With time to reflect on how difficult it is to set up an online business, the Collisons set out to simplify the process of accepting payments online. They start Stripe before they can finish their studies and it proves successful enough to compel them to drop out. Today, Stripe processes US$600bn in payments every year and is one of the world's most valuable privately held companies. Patrick Collison continues to lead the company, the most successful founder-CEO of any fintech.

2. David Vélez

Based in: Brazil

Company: Nubank

Market cap: US$41.5bn

In 2013, frustrated with the state of banking in Brazil, David Vélez decides to build an entirely new financial services startup. He raises US$2mn in seed money from Sequoia Capital and Kaszek Ventures, partnering with co-founders Cristina Junqueira and Edward Wible. Nubank is born. After less than a year in development, the company launches its first product – a no-fee credit card that consumers can manage through an app – before raising another US$15mn from the same investors.

With Vélez at the helm, Nubank goes from strength to strength. It raises around US$400mn between 2015 and 2018, including an investment from Chinese technology company Tencent, and uses the money to roll out new products – a digital savings account, business accounts, insurance products and retail investment options. International expansion is accompanied by another US$400mn raise, this time in the guise of a Series G round, which gives the São Paulo-based business a valuation of over US$40bn.

3. Pieter van der Does
Based in: Netherlands
Company: Adyen
Market cap: US$41.4bn
Adyen was founded in 2006 by a group of entrepreneurs, including Pieter van der Does, who had previously been CCO at Bibit. The Dutchman is a veteran of the payments space, leading Amsterdam-based Adyen to double-digit growth on average every year for the past 15 years. It's that track record which has propelled Adyen to its most recent US$41bn valuation. The company employs 2,000 people, has offices around the world and processed volume of €500bn in 2021.
4. Guillaume Pousaz
Based in: UK
Company: Checkout.com
Market cap: US$40bn
Swiss-born Guillaume Pousaz studied mathematics and economics before founding Checkout.com in 2012. In the space of a decade, he has grown it into a fintech giant, raising more than US$1.8bn in funding – the last of which was a US$1bn Series D round in January that secured a US$40bn valuation. For his part, Pousaz is still modest about his fortunes, choosing to fly economy when he travels and giving money to initiatives that improve access to education.
5. Jack Dorsey
Based in: US
Company: Block
Market cap: US$48.1bn
The co-founder of Twitter launched Square alongside Jim McKelvey in 2009, aiming to make it easier for merchants to accept card payments. It originally worked by turning a mobile phone into a card reader, but today it offers both hardware and software solutions for merchants in five major countries. Last year, it changed the name of the holding company, which includes Square and Cash App, to Block. Block has a market cap of US$48bn, although some of that is derived from non-fintech ventures.
6. Nik Storonsky
Based in: UK
Company: Revolut
Market cap: US$33bn
Revolut's Russian-born CEO co-founded the business in 2015. As the name suggests, Revolut was designed to revolutionise financial services and has become synonymous with super-app functionality, with features including payments, currency exchange, stocks and shares, and more recently pet insurance. In just seven years, Storonsky has made Revolut one of the most formidable fintechs, raising US$1.7bn in funding and securing a valuation of US$33bn. He is a keen kite surfer, and was a championship swimmer in his youth.
7. Chris Britt
Based in: US
Company: Chime
Market cap: US$25bn
Chime CEO and Co-founder Chris Britt can count himself unlucky to be so far down this list. Although the challenger bank has a valuation of US$25bn, its much-rumoured IPO is likely to rate it more highly. When he launched Chime nearly a decade ago, he had extensive experience in financial services with Visa and Green Dot. So it's no surprise that he's built the most popular banking app in the US and attracted US$1.7bn of backing in the process.
8. Zach Perret
Based in: US
Company: Plaid
Market cap: US$13.4bn
Open banking fintech Plaid has built up a network spanning 12,000 financial institutions across the US, Canada, UK and Europe. It was founded in 2013 by William Hockey and Zach Perret, who continues to lead the business to this day. Perret is rarely pictured without a smile beaming across his face, and for good reason – he has transformed Plaid into a US$13bn business and attracted over US$730mn of investment, earning himself a place inside our top 10.
9. Henrique Dubugras
Based in: US
Company: Brex
Market cap: US$12.3bn
Pedro Franceschi and Henrique Dubugras initially conceived Brex as a VR startup, despite knowing nothing about it. The pair, who had already built and exited a payments company together in Brazil, enrolled in Y Combinator and were soon put back on the right course. Brex's Brazilian co-founders, who share CEO duties, have built the US-based business into a fintech decacorn that supports startups and new businesses with the financial services they need.
10. Eynat Guez
Based in: Israel
Company: Papaya Global
Market cap: US$3.7bn
Under normal circumstances, Papaya Global would be an anomalous inclusion in this list. Such is fintech's gender inequality, the world's 80-something most valuable fintech is, by our calculations, the largest with a female founder-CEO. Not that this fact detracts from Eynat Guez's achievements. Along with her two co-founders, she launched Papaya after spotting a technology gap in global payroll. She has transformed it into a trusted partner for over 700 businesses, with US$3bn in payroll under management.