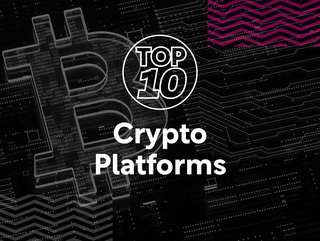 FinTech Magazine ranks our Top 10 crypto platforms from across the globe
FinTech Magazine ranks its Top 10 cryptocurrency exchange platforms. Which platform takes our number one spot? Read on to find out…
Whether you trade cryptocurrencies or not, there is no denying that crypto's popularity is only going one way – up. According to Statista, the cryptocurrency market is projected to reach US$38bn in 2023.
A hefty figure, this is expected to grow at a compound annual growth rate (CAGR) of 14.4%, taking the valuation of the crypto market to a staggering US$65bn by 2027.
With this in mind, we look at the Top 10 crypto platforms on the market today – platforms shaping the future growth of crypto across the globe.
Founded in 2015, LBank is a leading cryptocurrency exchange licensed by the NFA, MSB and Canada MSB. Offering a range of products including crypto trading, derivatives, staking, NFTs and investments, LBank supports over 50 fiat currencies in addition to various cryptocurrencies. With operations led from Indonesia, LBank has offices all over the world, and accepts over 20 different payment methods from Mastercard to Visa, Google Pay to ApplePay. The crypto exchange platform says it supplies its customers with secure, professional, and convenient products.
Gate.io is a leading cryptocurrency exchange that supports over 1,700 cryptocurrencies and stablecoins. Boasting over 13 million registered users worldwide, the exchange says it processes up to US$4.45bn in trading volume daily. A centralised exchange, Gate.io offers many services, including options, futures, and derivatives in addition to typical spot and margin trading. Founded in 2013, the Gate.io platform offers 24/7 customer support and manages a robust mobile app.
Registered in the British Virgin Islands, Bitfinex is a cryptocurrency exchange owned and operated by iFinex. Founded in 2012, the crypto exchange was originally a peer-to-peer Bitcoin exchange, but later updated its platform to support other cryptocurrencies. Offering high-volume trading as well as spot and derivate products, today Bitfinex supports over 170 cryptocurrencies on its trading platform with the likes of Ethereum, Bitcoin, and Tether all included. Bitfintex claims to be the most liquid major crypto exchange on the market today.
Bitstamp was a crypto exchange started by Nejc Kodrič in his garage in 2011, or so the story goes. Co-founding the crypto exchange alongside Damijan Merlak, the business soon moved to London before eventually settling in Luxembourg. Since its inception, Bitstamp has been through major periods of growth, and in 2018 it was majority-bought by Belgian investment firm NXMH. Bitstamp is the world's longest-running crypto exchange and allows trading between fiat and multiple cryptocurrencies including Bitcoin, Ethereum, Litecoin, and Ripple.
Founded in 2018, Bybit is a cryptocurrency exchange founded in Dubai. The platform allowed customers to buy, trade, and sell Bitcoin, altcoins, and NFTs, among other digital assets. Founded by Ben Zhou, Bybit offers its own banking card, allowing customers to seamlessly convert and pay with crypto worldwide. Its Unified Trading Account allows customers to trade spot, derivatives, and options from a single source – it is also pioneering its products with an eye on web3, as it looks to take crypto asset trading into the next generation.
OKX is a cryptocurrency spot and derivates exchange and is today the second-biggest crypto exchange by trading volume with 50 million customers across the globe. Founded by Star Xu in 2017, OKX is owned by the OK Group, which also owns the platform's native cryptocurrency Okcoin. OKX is a truly global exchange, with operations in APAC, the Middle East, Europe, and the US. The crypto exchange has some high-profile partners too, including the Formula 1 team McLaren and the Australian Olympics Team. Its most recent partnership was with Premier League football club Manchester City.
Launched in 2017, KuCoin is an international cryptocurrency exchange with headquarters in Seychelles. The platform offers over 700 digital assets to buy, trade, and sell. Users can engage in futures trading, spot trading, margin trading, P2P fiat trading, futures trading, staking, and lending – and there are 27 million of them on the platform. In 2022, KuCoin raised over US$150m through a pre-Series B funding round, meaning the company has raised over US$170m to date at a valuation of US$10bn – not bad for a company that only turns seven years old in September 2023.
Digital asset exchange Kraken has fast become one of the world's largest cryptocurrency platforms. Operating in over 70 countries, Kraken says it aims to accelerate cryptocurrency adoption worldwide and proliferate knowledge around blockchain technology. A fully remote company, Kraken has launched a string of blockchain-related products since its launch, including Kraken NFT, on-and-off-chain staking, and instant Bitcoin transfers using its Lightning Network. Most recently valued at US$10.8bn, Kraken has generated US$130.1m in total investment over 15 rounds. The crypto exchange launched an app in 2021, before the release of its NFT marketplace in Q4 2022.
Founded in 2012, Coinbase offers a cryptocurrency exchange platform and digital wallet that gives merchants and consumers a way into cryptocurrencies – allowing them to transact with new digital currencies such as Bitcoin, Ethereum, and Litecoin. The company is based in the San Francisco Bay Area and is led by CEO and Co-Founder Brian Armstrong, who is no stranger to exciting startups; he was previously Technical Product Manager at Airbnb during the short-stay rental site's growth years and also had a short stint at Deloitte. At Coinbase, Armstrong guided the company through a direct listing two years ago that gave it an initial market cap of around US$85bn; at the time of writing, that figure is more like US$23bn.
Our Top crypto platform is Binance, the cryptocurrency exchange that allows customers to buy, trade, and hold over 350 different cryptocurrencies on its platform. Founded by Changpeng Zhao in 2017, Binance is the world's largest crypto exchange in terms of daily trading volume. As of its founding, Binance launched two of its own cryptocurrencies, Binance Coin (BNB) and BinanceUSD (BUSD). Initially starting as an Ethereum token, BNB later moved to Binance's proprietary blockchain, Binance Smart Chain (BSC). This later merged with the older Binance Chain, creating the BNB chain. BNB Chain operates a unique "Proof of Staked Authority" model, a combination of proof of stake and proof of authority.
******
For more insights from FinTech Magazine, you can see our latest edition of FinTech Magazine here, or you can follow us on LinkedIn and Twitter.
You may also be interested in our sister site, InsurTech Digital, which you can also follow on LinkedIn and Twitter.
Please also take a look at our upcoming virtual event, FinTech Magazine, coming on 18-19 October 2023.
******
BizClik is a global provider of B2B digital media platforms that provides executive communities for CEOs, CFOs, CMOs, Sustainability Leaders, Procurement & Supply Chain Leaders, Technology & AI Leaders, Cyber Leaders, FinTech & InsurTech Leaders as well as covering industries such as Manufacturing, Mining, Energy, EV, Construction, Healthcare, and Food & Drink.
BizClik – based in London, Dubai, and New York – offers services such as Content Creation, Advertising & Sponsorship Solutions, Webinars & Events.