Fintech funding roundup: over US$600mn raised this week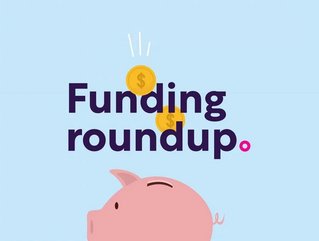 This week we're celebrating the half-way point of the year with another bumper week of fintech funding announcements – more than US$600mn in total!
We're halfway through the year already but there's no let-up in the rate of investment in the fintech sector. Hundreds of millions of dollars have poured into the fintech space in the last week alone, showing that it continues to enjoy robust support from investors and venture capitalists.
We've chosen our pick of the top fundraises announced in a week where more than US$600m's worth of funding rounds were announced.
Financial inclusion
Buy-now-pay-later (BNPL) unicorn Zilch has secured an additional US$50mn in funding at a US$2bn valuation, which takes the total raise for its Series C round to US$160mn. The company offers consumers two ways to pay for goods – they can either spread the cost interest-free over six weeks, or pay upfront and earn 2% back in Zilch rewards. The additional funding will allow it to fund further growth with a particular focus on the US, where it recently launched with more than 150,000 pre-registered customers.

London-based financial wellbeing app Cleo has raised US$80mn – the latest step on its mission to help empower young people to form better money management habits. The company, which was founded in 2016, intends to use the money to fuel further growth in the US, accelerate product development, and recruit a further 60 staff.
Progcap, a fintech aiming to level India's financial services landscape by focusing on digitising supply chains and facilitating access to finance for last-mile retailers, has raised US$40mn as part of a Series C extension. As part of the round, the company has announced that tech giant Google has become an investor for the first time, joining existing investors like Tiger Global and Sequoia Capital.

Mapan has raised US$15mn in Series A funding as the Indonesian fintech bolsters its mission to reduce financial barriers for low-income households in the country. Mapan's unique approach is inspired by Arisan – a type of informal social gathering – and aims to amplify purchasing power for Indonesians who lack access to traditional banking and lending, particularly women.
Insurtech
French cyber insurtech Stoïk has raised €11mn in a Series A funding round as it prepares to build out its team and expand into new markets. The Paris-based startup offers a 'digital broker platform' which is designed to facilitate the sale of cyber insurance, as well as cybersecurity tools aimed towards the SME end of the market. It comes at an important time for small businesses across Europe, who are increasingly deprioritising cyberinsurance amid rising cost pressures.
Personal injury insurtech Spot has raised US$33mn million in funding led by Ensemble VC. The company is attempting to offer a solution to the US' broken healthcare insurance system, giving consumers access to insurance at the times they need it most. It provides accidental injury cover specifically targeted towards active pursuits, which can either be used on its own or as a complement to traditional health insurance.

Crypto
Blockchain analytics company Kaiko has raised US$53mn in Series B funding led by Eight Roads. The new funding will allow it to strengthen its institutional data products and infrastructure as well as expanding its global presence. Founded in 2014, the company claims to enhance transparency and operational efficiency for institutional companies, DeFi participants, and Web3 enterprises.
Crypto exchange Unizen has received what it calls a US$200mn "capital commitment" from private equity giant GEM. The CeDeFi pioneer will use the financing to grow its team, bolster its innovation and marketing pipelines, and accelerate its execution of the trade aggregation ecosystem.
PolySign, a digital assets fintech providing blockchain-enabled infrastructure for institutional investors, has bagged itself more than US$50mn in Series C funding from the likes of Cowen Digital, Brevan Howard and GSR. It comes roughly a year after the New York-based company closed its Series B round.
Payments
Danish fintech startup Vibrant has raised €4mn in seed funding for its app that lets merchants accept contactless payments straight from their Android phone. According to research from Visa, less than half of European businesses currently accept card payments – and one of the obstacles is the cost and time of delivery and installation. Vibrant allows business owners to jump that hurdle by using their phone as a card terminal.
Mexican payments platform UnDosTres has raised has secured US$30mn in a Series B funding round led by IDC Ventures. The company is on a mission to revolutionise the country's payments landscape by offering a new way to pay for mobile phone top-ups, utility bills and movie tickets.