Financial Services (FinServ)
DFINITY: VC funding is in decline; how can Web3s raise now?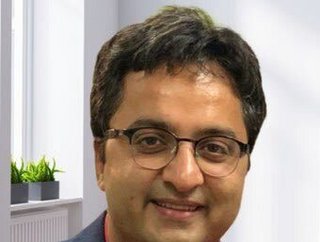 Lomesh Dutta, VP of Growth at DFINITY, says: " Thanks to the abilities afforded by blockchains and smart contracts, there are multiple ways that new startups can generate funding without ever needing to utilise powerful individuals or companies but instead tap into the power of their own communities"
FinTech Magazine speaks to Lomesh Dutta, VP of Growth at DFINITY, about what Web3 startups can do to raise funds amid a low ebb in funding industry-wide
Fundraising has long been a staple to get startups up and running. But amid current macroeconomic conditions, funding is in decline.
For those not basing their offering on AI, this is made worse by the majority of VC backers placing their investments in new AI startups.
So what should fintech startups, and other Web3 players do to raise the necessary capital for sustained growth?
We speak to Lomesh Dutta, VP of Growth at DFINITY, who details how startups can raise funds without the backing of VCs.
Are investors scared?
The web3 space has seen a mere US$500m raised for decentralised projects this year — 98% less than was raised throughout 2022.

And it's not overly surprising. Investors are spooked by a multitude of factors, including a litany of scandals within the space, the most prominent of which was the collapse of the FTX exchange.
These debacles subsequently raised the ire of regulators, with enforcement actions unfolding in the US as a result.
VCs are also becoming distracted by the booming AI space, with funding ballooning from around US$400m in 2018 to US$4.5bn in 2022.
AI is becoming the next industry where most expect massive growth, with many investors rushing to get in while there is still an enormous upside.
Factor in the broader economic crisis, and it's understandable VCs are less than enthused about the promise of web3.
Even when funding is available, there's also concern surrounding the fact that VCs can have a profound impact on the projects they back.
Given that they're delivering a significant portion of the capital, It's easy to see why investors might want to have a say on how the project evolves.
However, it can also be problematic when a development team hands over significant decision-making to an external backer who may not share the same vision.
Can Web3 fund itself?
Fortunately, the decentralised asset industry also offers a solution to these problems. Web3 projects no longer need VCs as their primary source of funding, which stands to revolutionise how these services are built.
Thanks to the abilities afforded by blockchains and smart contracts, there are multiple ways that new startups can generate funding without ever needing to utilise powerful individuals or companies but instead tap into the power of their own communities.
This isn't new to the Web3 space either. As far back as 2016, projects would fund themselves by creating new tokens and selling them in "Initial Coin Offerings," or ICOs.
However, one of the more recent and successful fundraising strategies comes from what are known as Decentralised Autonomous Organisations, or DAOs.
DAOs are governance models where every member has a stake and a vote in how the broader project evolves. That stake amounts to investment, but instead of coming from a single or small pool of VCs, literally anyone can get involved.
All funds go into a shared treasury, which can be used for building out the project. In exchange for their investment, supporters get "governance tokens", which give them voting rights on all future developments.
Now, there are hundreds or thousands of backers, and they all get a say in the path forward, but no one of them holds a dominant sway.
There are many unique DAOs already in operation, with some of the most prominent being the Uniswap DAO, which runs the popular decentralised exchange, the Decentraland DAO, governing over the Metaverse platform; and OpenChat DAO, which manages a decentralised community-governed chat app.

One project taking this to the next level is the Internet Computer (ICP). Over US$10m has been raised within the IC ecosystem in the last few months via the protocol's novel "decentralisation swaps," — proving the power of community-led decentralised fundraising.
Decentralisation swaps allow developers to hand over their d-apps to decentralised, token-based governance systems via a Service Nervous System (SNS) — an advanced algorithmic DAO.
In contrast with traditional DAOs — which only control smart contract logic — SNS-based DAOs are managed solely by the community.
This means that governance token holders can freely propose and vote on all changes made to the project, including code updates.
These are just a few examples of how Web3 projects can move beyond the traditional VC funding model.
In time, the power of this technology will allow for even more means to generate income for new companies.
What's important is how this breaks the industry away from the whims of backers with deep pockets who subsequently want to control how a project is built.
These funding models keep control either in the hands of project leads or, perhaps even better, the community surrounding it.
Either way, it's more in the spirit of the decentralised space and represents an opportunity for new and innovative development in the years to come.
******
For more insights from FinTech Magazine, you can see our latest edition of FinTech Magazine here, or you can follow us on LinkedIn and Twitter.
You may also be interested in our sister site, InsurTech Digital, which you can also follow on LinkedIn and Twitter.
Please also take a look at our upcoming virtual event, FinTech LIVE London, coming on 8-9 November 2023.
******
BizClik is a global provider of B2B digital media platforms that provides executive communities for CEOs, CFOs, CMOs, Sustainability Leaders, Procurement & Supply Chain Leaders, Technology & AI Leaders, Cyber Leaders, FinTech & InsurTech Leaders as well as covering industries such as Manufacturing, Mining, Energy, EV, Construction, Healthcare, and Food & Drink.
BizClik – based in London, Dubai, and New York – offers services such as Content Creation, Advertising & Sponsorship Solutions, Webinars & Events.