Financial Services (FinServ)
B2B spend fintech Qashio launches in Saudi with Alinma Bank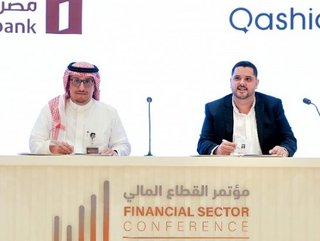 Alinma Bank's Abdullah Khalid Alsalloom (left) and Qashio's Armin Moradi seal the partnership.
B2B spend management fintech Qashio is launching in Saudi with a partnership that will see its platform offered to Alinma Bank's corporate customers
Dubai-based fintech Qashio is partnering with Saudi's rapidly growing Alinma Bank to offer spend management services to customers in Saudi Arabia.
The partnership will see Qashio roll out its SME and Enterprise-grade spend management platforms to customers in the kingdom – meaning Saudi businesses will be able to issue corporate cards to be used for their employees in the country. The two firms say it is the first time that a Saudi bank has joined hands with a fintech company to provide solutions to its corporate banking customers.
The Saudi fintech space is enjoying an upward trajectory at the moment, spurred on in part by the country's Vision 2030 agenda. Some of its goals by the end of 2025 include enabling emerging companies such as fintechs to drive innovation and competition; increasing the share of SME financing provided by local banks; and achieving 70% cashless as part of its plans to develop Saudi's digital infrastructure.

Partnership aligns with Saudi's Vision 2030 agenda
These ambitions have led to an increase in the number of fintech collaborations – such as this one between Qashio and Alinma Bank – and, according to Mastercard, resulted in a near-1,300% increase in Saudi funding between 2020 and 2021. B2B expenses in the country amount to US$750bn a year, separate research from Visa shows, but one in five expense reports are reported to contain errors – something that highlights the growing need for innovative fintech solutions.
Commenting on the partnership, Abdullah Khalid Alsalloom, Deputy General Manager for Cards at Alinma Bank, says: "This partnership brings together Qashio's leading expense management platform along with deep technology and domain experience together with Alinma Bank's expertise in digital banking and local market knowledge of the wider banking ecosystem."
Armin Moradi, CEO and Co-Founder of Qashio, adds: "This partnership with Alinma Bank is a move to align with Saudi Arabia's efforts to adopt fintech-friendly approaches and increase the presence of fintech firms in its market, in line with its Vision 2030 initiative. Qashio is dedicated to helping companies eliminate manual finance processes, offering a solution that is secure, safe, and ready for use by both large enterprises and SMEs."

Qashio says its investors – which include Silicon Valley fund Rocketship VC and Dubai-based Iliad Partners – are excited about its entrance into the Saudi market. The firm, which was founded in 2021, raised US$12.5mn in pre-seed and seed funding rounds last year. It already boasts high-profile corporate clients including Nana, Swiss International, Alabbar Enterprises, Yaa Foods and Papa Johns.