North American banks could lose $88bn in payments to fintechs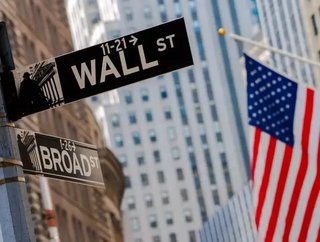 Incumbents find themselves on increasingly unstable ground, according to a new report published by Accenture. In 5 Big Bets in Retail Payments in North...
Incumbents find themselves on increasingly unstable ground, according to a new report published by Accenture. 
In 5 Big Bets in Retail Payments in North America, Accenture finds that the current roll that the North America payments industry is experiencing is expected to stop (payments revenue grew at 6% CAGR between 2015 and 2018). 
Over the next three years, it says, "most retail leaders in the top US and Canadian banks" consider it likely that they will lose between 11% and 15% of their revenue pool to emerging competition from fintechs and Big Tech.
All is not what it seems
According to Accenture, all is not what it seems. The basis for this somewhat ominous headline is a projected slowing of payments revenue growth to 4% CAGR between 2019 and 2025 (see below).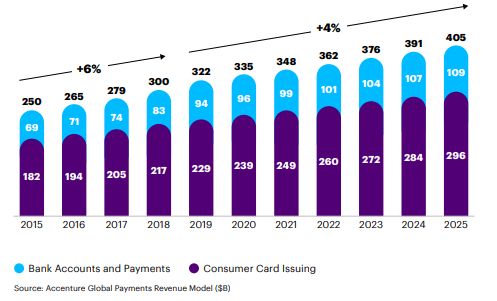 The driver of this slowing growth, says the report, is the increasing commoditisation of the transactional aspects of payments - in short,customer experience is the new driver of brand value and competitiveness. 
This evolving customer demand is being met by a growing number of new entrants to the market, all of which are challenging the position of incumbents. These include: non-banks, fintechs, Big Tech, and challenger banks. The differentiating factor between these market players and incumbents? Instant and invisible payment options in combination with pricing compression that, according to Accenture, mean "the future of materially free payments is taking shape today".
SEE MORE
Evolution is key
Understandably, against this context, banks are feeling the heat. The report advocates evolution for incumbents that constitutes "truly transformational change", whereby banks are imagined as mere funding sources rather than customer-facing retail payments providers.
Expanding on this, Accenture sets out five 'big bets' that incumbents must action: 
Reinvent revenue: a radical reconfiguration of the customer value proposition, away from transactions to experiences.
Jettison legacy tech: a change in mindset from technology as an enabler of the payments business to it being a product in its own right. 
Run with the unicorns:Embrace collaboration with fintechs and other new entrants to the market, buying into their innovative spirit and speed and agility.
Spin data into gold:data will become a product in its own right, one that incumbents must embrace.
Treasure trust: Preserve consumer trust, which will remain an essential aspect of success, by careful use of data and securing personal information.
Go big, or go home
That's Accenture's message. The time to action the above, and to respond to an evolving market, is now, with it urging transformational changes that can "deliver the next-level customer experiences to drive revenue and ensure they remain relevant in the market.
Will it work? Time will tell. However, the urgency couldn't be more pressing. After all, according to Accenture's global payments revenue at risk research: "By 2025, nearly 15 percent of retail payments revenue will be at risk from card displacement by real-time payments, competition from non-banks and digital disruptors, and pricing compression."
For more information on all topics for FinTech, please take a look at the latest edition of FinTech Magazine.
Follow us on LinkedIn and Twitter.