Luxury car-maker Mazzanti raises funds on STOKR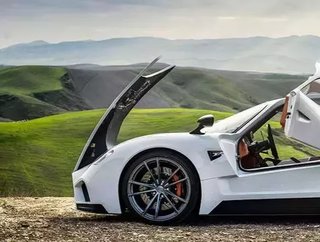 Italian automobile manufacturer Mazzanti is the first supercar brand to give investors a revenue share through an STO...
- the Luxembourg-based digital marketplace for alternative assets, has announced the launch of Mazzanti's security token offering (STO) on its investment platform.
The move makes the first supercar brand in the world to raise funds in the form of digital securities - and allow its investors a revenue share via an STO.
Mazzanti Automobili builds luxury, custom-made hypercars in Pisa, Italy and is one of the most sought-after hand-crafted hyper car-makers in the world. Founded in 2002 by Luca Mazzanti and Walter Faralli, the company offers three models, the Evantra, the Evantra 771 and the Evantra Millecavalli, each personalised and tailored to the individual requirements of enthusiasts from around the globe. The entry price for a Mazzanti is US$800,000 - but premium models routinely sell for $1.2m.
Mazzanti investors
Currently, the offering for a select number of European countries is capped at €999,999 (US$1.2m) and Mazzanti will further allow customers to purchase all editions of the iconic Evantra model with Bitcoin. The raised capital will be used to develop a special edition of Mazzanti's flagship hypercar - the Evantra Millecavalli R.
Investors on STOKR can purchase "MZZ," the token issued by Mazzanti, at €1 each, starting from a minimum investment of €50. MZZ entitles investors to a 50% revenue share in the sale of the special edition Evantra Millecavalli R. The token is issued via Blockstream AMP, a platform for the tokenization of securities built on the Liquid sidechain of Bitcoin, which has been directly integrated with STOKR.
Mazzanti's founder , described the STO launch as a great moment for the company. He said, "I am proud to be taking the growth of Mazzanti Automobili one step further and directly involving many passionate enthusiasts in the production of our hypercar. In our continuous pursuit of excellence and innovation, we immediately recognized the potential of security tokens for our goal of inclusion and expansion."
Investing on STOKR
According to reports, STOKR, which was founded in 2018, was selected by Mazzanti as the platform for the public investment round because it provides easily deployed solutions for enterprises to launch EU-compliant STOs. The digital marketplace also enables both retail and professional investors to directly engage with and fund projects through the user-friendly platform.
The startup venture opens up access to high-profile investment opportunities from the inner circle of traditional venture capital and all types of investors can engage with young and growing projects in a simplified and risk-reduced environment, without the need for middlemen such as custodians or brokers.
the co-founder of STOKR, told FinTech Magazine that Mazzanti's decision to tokenise its funding drive is a trendsetting move. "Almost every financial asset will be tokenised in the next few years. We believe that innovative small-cap companies like Mazzanti will be the early adopter of tokenisation of financial assets. Reasons being: simplicity of fundraising, cost-effectiveness, and access to capital markets-based finance without going to a bank or diluting heavily in front of a VC."
He said the company's turn-key solution was a major factor in attracting ventures to the platform. "We provide an end-to-end solution that includes technology and other allied services required for the issuance of such financial rights in a tokenised form. Choosing a platform like STOKR allows ventures to focus on creating investor relations and effective communication.
Naskar also believes the solution provides a good opportunity for small to medium-sized enterprises to compete on a global scale. He explained, "European SMEs require risk capital for their innovation which will help them to compete on a global scale. Financing by issuing revenue participation rights with no ownership dilution and fixed interest payment is a great opportunity. Previously, issuing such instruments was costly and time-consuming. STOKR has made it easier by streamlining and simplifying the process for the companies."
He added that blockchain technology has become an integral part of such transactions because it is more cost-effective. "Also, blockchain is not a buzzword anymore. Existing banking institutions and exchanges are using blockchain to reduce inefficient and costly middlemen. We are enabling this innovation for the 99% (SME companies of Europe)."