FinTech Profile: Gusto - the all in one people platform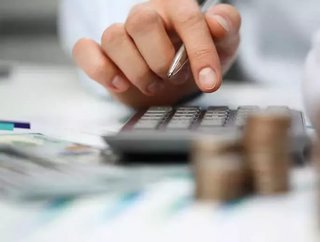 Gusto, the self-professed "all in one people platform" is a FinTech Unicorn on the rise. Here, we take a closer look. Launched in 2012 by Joshua Reeves...
Gusto, the self-professed "all in one people platform" is a FinTech Unicorn on the rise. Here, we take a closer look. 
Launched in 2012 by Joshua Reeves and Edward Kim, Gusto – formerly known as Zenpayroll – is a 'people platform' that makes the process of onboarding, payroll, HR and benefit solutions quick and easy. Gusto currently has a valuation of $US3.8bn and serves over 100,000 businesses nationwide processing tens of billions of dollars a year for small businesses and accountants in America.
In three words Gusto boasts its ability to be automatic, integrated and straightforward, to "tame the chaos of payroll, benefits and HR." FinTech Magazine has taken a closer look at what current features the platform offers to its users to achieve this.
Payroll
Gusto's flexible payroll feature gives its users the ability to automatically sync worked hours, calculate salary payments and easily amend fields for additional hours and earnings, sickness and annual leave.   
Payroll additionally, calculates and files all relevant taxes for its customers automatically, keeping track of changing tax laws and updating the calculations accordingly.
Gusto is compatible for integration with: Xero, Quickbooks, Clover, TSheets, Trainual and more.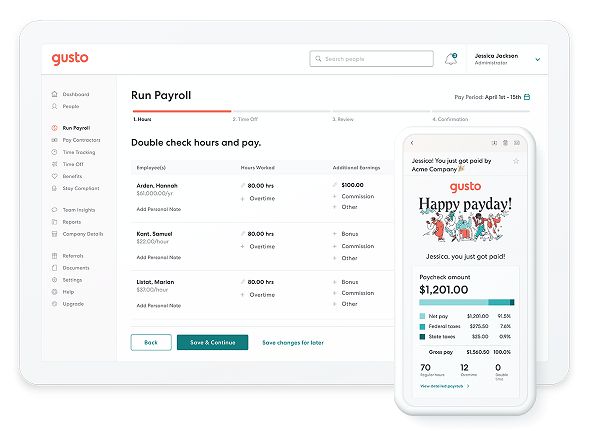 Image source: Gusto
Human Resources (HR) & Compliance
Gusto's platform has a multitude of easy to use HR and compliance features including:
Storage of important documents – payslips, contracts, job description etc. – that can, if needed, be signed online and viewed by employers and employees during their time at the company or after they have left.

The functionality to build welcome packs, handbooks and organisational charts for all new employees.

The ability to set up and sign a worker's compensation policy that users can pay-as-you-go rather than all at once.

Access to regular updates regarding new regulation and mandates.

Access to hundreds of professional templates and guides built by HR expects, as well as access to speak to the experts themselves.
Image source: Gusto
Benefits
Gusto has over 3,500 health insurance plans under its belt from organisations such as BlueCross BlueShield, United Healthcare, Humana, Oscar and Kaiser Permanente, as well as licenced advisors to help its users find the right plan for the user's team and budget.
Other benefits that Gusto can accommodate within its platform and provide guidance on include:
401(k) plans

Flexible spending account

Health saving account

Commuter benefits

529 college savings

Life and Disability
Image source: Gusto
Time Tracking
With Gusto's time tracking tools, its users can enter their worked hours, annual leave and sickness absence which – once approved by a manager – will automatically sync with Payroll.
In addition, users can set and customise public holidays and company holidays that can be integrated with: Google, Outlook and iCal.
Image source: Gusto
Overall a constant theme for the Gusto platform is its ability to be easy to use. Features that can be automated have the functionality to be, each feature has an 'at a glance option' and its processes are predominantly step by step and easy to follow.
In numbers – Gusto:
Founded and Launched: 2012
Head Quarters: San Francisco
Founders: Joshua Reeves and Edward Kim
Valued at: $US3.8bn
Sectors: payroll, SAAS, compliance, software, HR and benefits
Did you know? All Gusto employees take their shoes off when they are in the office. A tradition kept from when Gusto was first formed and operated out of Joshua Reeve's home.