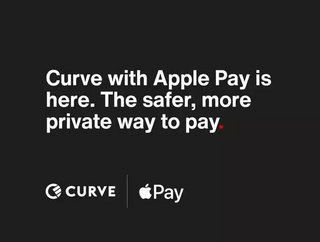 Curve customers across Europe can now add their Curve Card to Apple Pay, and pay with it anywhere Apple Pay is accepted Curve is a challenger bank that...
Curve customers across Europe can now add their Curve Card to Apple Pay, and pay with it anywhere Apple Pay is accepted
Curve is a challenger bank that is transforming payments. The UK-based banking platform, which consolidates multiple cards and accounts into one smart card - or, as Curve puts it: "your badass 100 cards in one" - is now bringing its customers Apple Pay.
The result of this new collaboration is that, together with the aforementioned 'badass' card, Curve's users can now pay with their iPhone or their Apple Watch across Europe.
With that capability, they'll have the opportunity to spend more freely without a limit on most in-store transactions, retain the benefits that already come with using Curve - 1% instant cashback, for example - and the chance to travel back in time and change the account that the previously spent with.
SEE MORE: 
Is that the first challenger bank to offer time travel as a standard? Well, yes, but that doesn't just come as a result of the pairing up with Apple. You see Curve offers time travel as an "ultimate flexibility". 
Curve: spend, send, see and save
These four words neatly summarise Curve's core offering. Curve users can spend from all their cards with one card; they can send money privately and securely with a simple tap; can see how much their spend; and they can save on excess fees when spending. 
The business was founded in 2015 by Shachar Bialick (above); it secured seed funding of $2mn in December of the same year. According to Bialick's LinkedIn profile, "he built Curve on the paradigm shift that financial freedom is the new way forward. One card for all your cards. One app for all your finances. Everything in one place, right at your fingertips".
Curve majors on security. It is, it says, bulletproof. The company uses advanced encryption algorithms to keep its customers' data safe. It also acts as a 'firewall' to each card owned by a customers - it can be frozen almost instantly, thus blocking all cards associated with it. 
Curve and Apple Pay 
Security and privacy are at the core of Apple Pay, too. When a credit or debit card is used with Apple Pay, the actual card numbers are not stored on the device, nor on Apple's servers. Instead, a unique Device Account Number is assigned, encrypted and securely stored in the Secure Element on your device. Each transaction is authorized with a one-time unique dynamic security code.
"We are thrilled to announce Apple Pay is here for all European Curve customers" said Diego Rivas, Curve's Head of Product-OS. "Curve's integration with Apple Pay is a magnificent addition to Curve's unique money management features, superbly complimenting Curve's commitment to simplifying and unifying people's financial lives and enabling even more ways for customers to pay with one of the most rewarding and feature-packed personal finance products on the market," added Rivas.
For more information on all topics for FinTech, please take a look at the latest edition of FinTech magazine.