Top 10 venture capital firms investing in fintech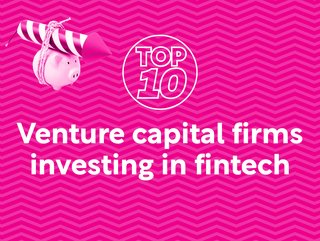 Top 10 venture capital firms investing in fintech
With fintechs needing access to capital, we take a look at the top 10 VC firms that are investing money into the sector right now
For startups, getting access to capital is one of the most challenging and demanding aspects of the founder experience. That's where venture capital firms come in. These titans of business bring knowledge, experience and resources to the party. Typically, they invest in high-growth, early-stage businesses with a view to much higher returns further down the line.
Who are the biggest VC firms investing in fintech today? We ranked some of the top 10 based on their total number of investments, according to industry database Crunchbase – bear in mind that this is different from the number of portfolio companies they currently have.
10: Global Founders Capital
Total investments: 930
Berlin-based Global Founders Capital is a rare anomaly in this predominantly Californian list, reflecting the continued dominance that Silicon Valley exerts over the world of venture capital. GFC describes itself as a "stage-agnostic" VC firm attracted to "gifted entrepreneurs". The firm clearly has good judgement; portfolio companies have included Revolut, SumUp, Moss, Spenmo, Tabby and Brex. Partners Roel Janssen and Matthias Müller previously worked for Rocket Internet, while GFC's Don Stalter is a former VP International for Groupon and Investment Banker at Credit Suisse.
9: Lightspeed Venture Partners
Total investments: 1,252
Lightspeed Venture Partners is the California-based investment firm looking to take its investments 'to infinity and beyond'. Its hands-on mission is characterised by its mantra that "the future isn't built by dreamers, it's built by doers". Among the 'doers' in Lightspeed's portfolio are private markets innovator Carta, social media platform Snap, food delivery site Grubhub, and cybersecurity company Rubrik. One of the company's values is to put people first; it has 250 of them managing assets worth US$18bn.
8: Bessemer Venture Partners
Total investments: 1,334
San Francisco-based Bessemer Venture Partners tries to support founders in laying strong foundations and building them up into high-growth companies – and it's working: Bessemer has overseen more than 135 IPOs and currently has 200 portfolio companies in the enterprise, consumer and healthcare spaces. High-profile investments have included Shopify, LinkedIn, Fiverr, Wix and Toast; while Zopa and nCino number among its fintech portfolio. It has US$20bn in assets under management with teams of investors and partners in seven regions from Boston to Bangalore.
7: Andreessen Horowitz
Total investments: 1,393
Andreessen Horowitz often shortens itself to a16z – 16 representing the number of oft-misspelt characters in between the first and last letters of its lengthy name! With US$35bn in assets under management, the California-headquartered investment firm has an A-to-Z of fintech investments, too – from buy-now-pay-later (BNPL) provider Affirm through to automated lead generation outfit Zuma, via the likes of CoinSwitch, Greenlight, OpenInvest, Payrails, Stripe and Wise. To this day, Andreessen Horowitz is led by the general partners who lend it their names.
6: Intel Capital
Total investments: 1,547
It's no wonder that Intel Capital has technology at its core; it is, after all, the venture capital arm of the California-based multinational Intel, which makes semiconductor chips and microprocessors. Indeed, Intel Capital boasts that its investment team is "backed with deep domain knowledge" and access to "the resources of Intel to assist companies in their paths to success".
It invests heavily in companies that align with Intel; from a fintech perspective, this means cloud-native infrastructure and data platforms, as well as mobile technology, applications, robotics and automation.
5: Bossanova Investimentos
Total investments: 1,685
Based in São Paulo, Bossanova Investimentos is a Brazilian venture capital firm focused on seed-stage technology companies, particularly B2B companies with a SaaS or mobile leaning. It is named after Bossa Nova, an enormously popular genre of music similar to a mellow version of samba. Bossanova's team comprises entrepreneurs who have already scaled or exited technology companies before, giving them greater insight into the founder experience; perhaps that's why they've been able to invest in almost 1,700 startups to date.
4: quoia Capital
Total investments: 1,807
Sequoia Capital is one of the most familiar names in venture capital, named after the towering specimen of tree that is iconic to the forests of California. The investment firm is based in Menlo Park – the same corner of Silicon Valley occupied by Facebook, which has acquired platforms moneyed by Sequoia including Whatsapp and Instagram. Other investments include Nubank, Stripe, Green Dot, Klarna and Block. Sequoia says it's constantly on the lookout for "daring" entrepreneurs – and it has found over 1,800 of them since the firm was launched in the early-1970s.
3: Accel
Total investments: 1,921
Accel is an American venture capital firm that has been investing in companies for over 40 years. Big-name portfolio companies include Facebook, Spotify, Slack, Dropbox and Etsy. The investment firm has a pedigree in the fintech sector, too, investing in the likes of Flywire, Funding Circle, Genesis, Monzo and Venmo. Its investments span the full lifecycle of emerging businesses from seed stage to Series B and even Series C – almost 2,000 of them in total, culminating in over 350 successful exits.
2: New Enterprise Associates
Total investments: 2,118
New Enterprise Associates is a venture capital firm on a mission to make the world better by investing in founders who improve the way society lives, works and plays. As such, its two core verticals for investment are healthcare and technology. It is just as likely to get involved with a seed or early-stage startup as with an established market leader. Its highest-profile investments include Databricks, Robinhood, Instabase, Plaid and Cloudflare.
"NEA stands out from other venture firms in two ways," says Matthew Prince, Co-Founder and CEO of Cloudflare. "The first is the breadth of experience brought by the entire team and their willingness to collaborate. The second is NEA's willingness to take on big challenges and help entrepreneurs achieve audacious goals."
1: SOSV
Total investments: 2,558
SOSV focuses on investments in transformational tech – including climate technology, digital health startups, female-founded businesses, and blockchain and AI. In total, it has invested in more than 2,500 businesses – including payments company ClearingPoint, DeFi data platform Credmark, and Bitcoin options exchange BitMEX.
The team is headed up by Managing General Partner Sean O'Sullivan, whose eclectic CV has seen him release two studio albums, co-found a humanitarian aid organisation, be a freelance photojournalist and cameraman, and hold senior roles in a couple of different technology businesses. This variety extends to O'Sullivan's academic accolades: he holds a degree in electrical engineering, a master's in film production, and an MBA from the University of Cambridge. At SOSV, he oversees a team of 500 employees investing assets under management worth US$1bn.