Top 10 most transparent BNPL fintechs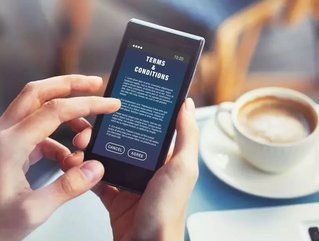 Buy now, pay later (BNPL) fintechs are transforming how customers manage payments, but do they truly understand what they're signing up for...
Data is one of the most valuable assets in business today, and every time a customer joins a new service they invariably must read and agree to that company's terms and conditions (T&Cs).
But how much attention do people actually pay to them? found that only 1% of us actually read what we're signing up for. Therefore, a question arises: is the onus strictly on the user, or should companies try harder to make sure their T&Cs are concise and comprehensible?
Using carried out by NerdWallet, we explore 10 BNPL and credit-based fintechs arranged by the clarity of their app's T&Cs.
Note: All images sourced from respective company's website
10: Payl8r
This UK fintech declares that it's "No.1 for millennial finance" and is currently available in over 1,000 retailers, both in-store and online.
However, has the lowest clarity score on this list despite neither being the most verbose or time consuming. This suggests that the text itself is simply too complicated and requires optimising. In fact, it could be argued that if something cannot be explained in simple terms it is not fully understood in the first instance.
Word count: 9,788
Average time to read (minutes): 41.13
Clarity: 39%
09: Klarna
As of August 2019 , Klarna was the largest fintech in Europe, following a US$460mn round of funding. Clocking in at a valuation of $5.5bn, the company continues to grow exponentially, with the addition of 50,000 new customers each week, who choose to pay for items 30 days later, or divide the cost across three months with Klarna's 1,500 retailers. One of Klarna's most notable partners is ASOS, the online-only retailer that is reputed for its free delivery and returns, providing the financial services company with access to an additional 80 million active customers across 250 countries.
Valuation: US$5.5bn
Headquarters: Sweden
06: DivideBuy
scored the same clarity percentage as Zilch, although it did so with far fewer words and a shorter reading time.
Customers' time is precious and they must not feel like it is being wasted. In this instance, it can be gleaned that if terms are going to be a difficult read they should at least be concise.
Word count: 7,282
Average time to read (minutes): 30.6
Clarity: 54%
05: Clearpay, Laybuy, Average
Although there is some variance in their word count and reading time, this was apparently not significant enough to impact these three companies' T&C clarity.
Word count: 8,673 to 9,290
Average time to read (minutes): 36.44 to 39.03
Clarity: 60%
02: PayPal Credit
Self-described as "a credit card without the plastic", enables customers to gain 0% interest for four months on purchases of £99 or more. This can be repeated on as many qualifying purchases as desired.
Despite being almost 50% longer than our #1 entry, PayPal's T&Cs still achieved an admirable 74% clarity rate. This seems to illustrate that the quality, as well as the quantity, of the language is important.
Word count: 8,262
Average time to read (minutes): 34.71
Clarity: 74%
01: Zip
is an Australian fintech specialist in the rising BNPL market.
It's no surprise that the company with the shortest word count is also the most comprehensible. Evidently, Zip understands that the T&Cs of BNPL are crucial for this new form of credit.
Word count: 4,917
Average time to read (minutes): 20.66
Clarity: 92%