FinTech Magazine attends Money 2020 at Amsterdam RAI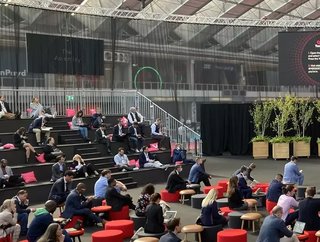 FinTech Magazine flew to Amsterdam for the biggest fintech event of the year, Money 2020 conference at the Amsterdam RAI, and spoke to industry leaders
It was the first overseas trip of the year for FinTech Magazine. Attendees from across Europe came together at Amsterdam RAI for the Money 2020 fintech conference this week and attendees, speakers and companies exhibiting at the event were all graced with the ability to communicate with clients, suppliers and even colleagues, in person. Many of the attendees at the event spoke about how exciting it was to experience an event once again. 
Walking the conference
There's no doubt that the attendees of Money 2020 hit their target number of steps over the three days at the event. The enormous Amsterdam RAI provided space for around 100 exhibitions on the main floor including sponsorships from digital payment providers, banking, reg tech and financial management platforms and other technology companies within the industry. From startups to larger corporations, Money 2020 presented ample opportunities for networking, private meeting and social interaction. 
Digital and in-person connections at Money 2020
One of the exciting features for all business owners was the Connections Hub. In the true spirit of digital transformation, attendees could arrange meetings via the dedicated app, which secured their table in the Connections Hub. The comprehensive platform also provided a list of attendees, speakers and the events taking place throughout each day, proving it difficult to miss a thing. 
Talking all things FinTech
Full of a variety of different fintech companies, we had the chance to discuss industry developments with many of the leaders. We spoke to Gabriela Giannattasio, Director of Business Development for EMEA at VeriTran, to learn more about the VeriTran product and how the company has leveraged artificial intelligence and low-coding for its platforms to provide clients with an easy-to-use interface. 
'It will offer you things that according to your interests. For example, if you need life insurance because you're going to Hawaii or to a country where you don't know what can happen to you. So our aid will even give you offers related to your trip, to your interests. You have to decide if you want to share that information, but once you decided to share it, the idea is that the information would be useful for offering hyper-personalised things that you are interested in. And not because you are male, you are a certain age, you live in this part of the country or the city', says Giannattasio. 
Giannattasio also spoke about the experience of attending an event in person and the importance of face-to-face conversations for VeriTran. 'It's the first venue we have been to in almost two years. So it's really exciting and I'm happy to be here because there are many video calls to be had, but we need to see each other face-to-face and just begin to meet and to exchange ideas and to help each other. I believe, and our company believes, in collaboration, in helping each other and teaming up, working together with partners', says Giannattasio.


For information about the next Money 2020 conference, check out the Money 2020 website.