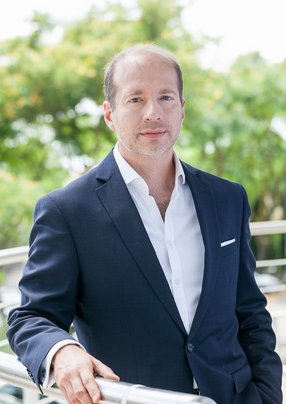 Ângelo Guerra Vilela
Director of Digital Assets & Journeys for Grupo Ageas Portugal

Ângelo Guerra Vilela, Director of Digital Assets & Journeys for Grupo Ageas Portugal, talks digital transformation and customer care
Ângelo Guerra Vilela, the Director of Digital Assets & Journeys for Grupo Ageas Portugal, explains the process of digital transformation from a customer services and processing perspective. As leader of the team, Vilela concentrates on innovating and implementing new digital journeys that better serve both the commercial and consumer insurance marketplaces.
For Vilela, who joined Grupo Ageas Portugal 27 years ago with a background in teaching literature and Latin, the most recent changes have been the most groundbreaking. During his tenure at the company, he's worked across many areas, from commercial and marketing to financials, reengineering and strategy. The scope of his experience with the company also includes launching new products, processes and brands.
"It's been a very enriching experience," he says, "because I've been involved in doing things from the ground up. Before launching our first digital department, I spent around four years as a Strategy and Performance Management Director. It was a very challenging period – along with the sovereign debt crisis that severely hit Portugal – and we had to adjust quickly and change the organisation's profile to cope with the challenges ahead."
That period enabled Vilela to develop a robust field experience in corporate strategy, financial analysis, reporting, M&A and business development. "Digital started as a small team of five people, concentrating essentially on ecommerce. But our vision was clear: we wanted to expand as we learned, in secure steps, towards a holistic practice aiming at providing great customer experience, leveraging on Digital. The team I lead is one of the five first line technology areas of the Group in Portugal."
The future is digital
Grupo Ageas Portugal's ethos is committed to digitisation, both for its processes and work force – and for the customer. But that doesn't mean the human element will be erased from the process. Instead, more technology will enable staff to concentrate on different aspects of their work.
Vilela explains: "If digital transformation opens a window of opportunity for insurers to continue to create economic value in a consistent and continuous way, it also creates the opportunity to leverage the human factor as a distinctive feature, as well as to be a generator of value, both tangible and intangible.
"Technology makes it possible to free people from automatable tasks and re-allocate them to human relationships, bringing emotion to the relationship between client and insurer. Only people are endowed with reason, which underlies ethics. Ethics and reason cannot be synthesised and transferred to machines."
He concludes: "Digital transformation is an opportunity for people to make a difference. Natural or artificial, there is no intelligence without people. At Grupo Ageas Portugal, that's what we believe in."
Read the full story HERE.
You can only be successful and impactful on innovation when it's linked to the mission and strategy of your organisation.