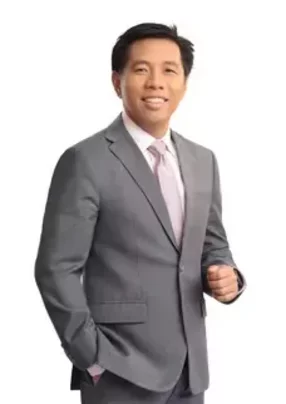 Henry Aguda
enior Executive Vice President, Chief Technology and Operations Officer, and Chief Transformation Officer at Union Bank of the Philippines Chairman at UBX Philippines
Union Bank of the Philippines is leading the way in terms of digital banking in the region. Henry Aguda, Union Bank's dynamic CTOO and CTO, tells us more
Henry Aguda hasn't always worked in finance. In fact, the charismatic banking whizz who is currently both Chief Technology and Operations Officer and concurrently the Chief Transformation Officer at Union Bank of the Philippines, says that it was his experience as a customer, first, that led him to his career in the banking sector.
"I joined the bank five years ago. I'm originally a telco guy, but five years into the banking industry I could call myself an aspiring banker," he laughs. 
Aguda spent his former years working as a merger of technology and finance, but mostly in the telco space. He then joined the bank and two years into the banking tenure, the board decided to create the fintech spinoff venture for UnionBank, which is UBX. Since then, he has been able to mix both technical and financial experience to create a unique banking subsidiary that is focused on creating technology innovation around financial services.
Pandemic and digital services
The pandemic and the ease of use were the biggest contributing factors to customers seeking digital banking alternatives. As Aguda points out, culturally speaking, such services have been welcomed because they have made moving money around so much easier for users. He also believes the pandemic has been instrumental in changing transactional behaviour in the Philippines.
"There's a lack of extended family in the Philippines, and there's a cultural nuance where we take care of our extended families, whether they're living with us or living overseas, or in the rural areas. Because of that need, people had to adapt to the platform that allows them to extend their assistance to those extended family members."
Managing the pandemic
While many companies and organisations globally had crisis management strategies in place prior to 2020, the unexpected pandemic still managed to throw them into disarray. Having previously implemented innovative technology strategies to handle situations as wide-ranging as earthquakes, active shooters in the building, floods, and terrorist attacks, Aguda says the transition to the entire organisation working from home, was carried out with relatively few bumps. 
He explains, "In 2017, we started a massive shift to future-proof our business by using emerging technologies. We started retiring most of our desktop computers and started giving laptops to our employees. The world is a volatile, uncertain, complex, and ambiguous place even before a pandemic, and we'd prepared for everything from earthquakes, tidal waves, shooters in the building, terrorist and attacks. 
"We also went into an aggressive programme, giving cell phones with data loads to our employees. And we've created an infrastructure that is scalable as people start using the network. When the pandemic hit, it was just the right disaster that tested all of the readiness that we prepared for. So because of that, 87% of our people immediately were able to work from home, and they can work securely with VPNs and secured connections. And this allowed us to ensure that our employees are working safely from their homes while we continue servicing the public."
Customer-first philosophy
The world of play-for-pay is where the future lies in terms of progress for Union Bank of the Philippines, says Aguda, who explains that play-for-pay gamers often struggle to get bank accounts. "And because they don't have bank accounts, the yield on their conversion falls and they end up paying huge transfer fees. But by providing banking services, their earnings are immediately accessible and offer them a way to improve their lives."
Ultimately, banks and the people they serve are inextricably linked, which is why financial systems must be more people-friendly, says Aguda. "What inspires me in banking today is the way that it is affecting people's lives. If you give customers a facility that allows them to borrow money with competitive rates, nothing that would prevent them from repaying, that impacts people's lives. So that continues to sustain my interest in the banking industry."