UK fintech start-up Nude raises £3.3mn from Seedrs campaign
2 min
Fintech start-up, Nude has announced it has surpassed 96% of its £3.5mn target in its recent round of funding...
is the home savings app that has been created to help change the way people save for and buy their first home designed to make the process easier, faster and fairer. Up to 13 million 18-35 year olds in the UK want to own a home, and Nude wants to make that happen. It was formed to stand up for first-time buyers, improve the outdated home-buying experience and change a part of society that they believe is unfair.
"We don't think the financial world is very friendly, or easy, and it definitely doesn't make you feel as good as you should when you're managing to save up a house deposit — we're here to change that. Nude is like having a friend that's really good with money with you, all the time." - Marty Bell, CMO and Co-founder of Nude
The new savings account, financial coach and app have been designed to help aspiring home-owners better understand their finances and the home-buying process, so they can save for and buy their home faster.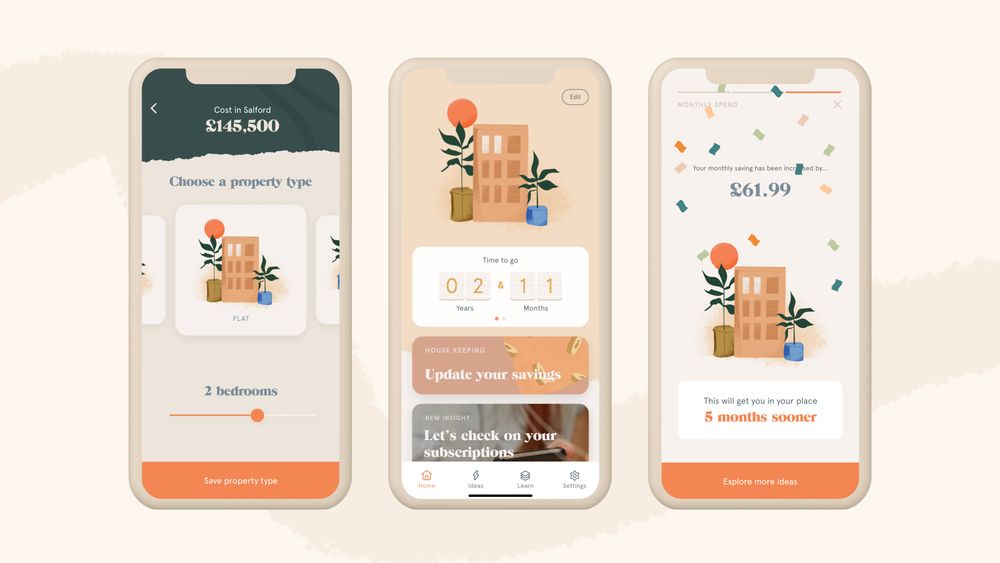 Since going live on 6th July, it has raised £3.3mn on its , most of which was secured before the campaign was fully launched to the public.
"The challenges facing young people are huge, with a massive wealth imbalance, a complex financial system and little help. We've been planning, testing and building Nude to make the financial world fairer and easier, starting with helping people buy their first home faster and easier than ever before." - Crawford Taylor, CEO and Founder of Nude
The business raised £1.7mn last year in growth capital last year, secured backing from the government's Future Fund and benefited from an innovation grant from Scottish Enterprise.
What comes next?
Nude is ambitious for the future; it has plans to apply for a banking license to launch a fully-fledged mortgage. Part of its exciting journey to become one of the most exciting fintech companies in the world also includes introducing children's accounts, retirement savings and much more.
Crypto strategies: Timing the market vs time in the market
3 min
Wooller investigates the prevailing market trends in cryptocurrency and analyses the different strategies of big-time and small-time investors
There is a lot of surface noise in the cryptocurrency space and most of it is the psychobabble of investor sentiment. One week it is the sound of everybody rushing towards a feeding frenzy. The next the wailing and gnashing of teeth as those near the surface (the ones most exposed) get spooked and rush the other way, falling over each other in the race to escape. 
Watching crypto markets in the last few weeks has been brutal viewing; best done on a strong stomach and ideally through your fingers!  It's impossible to know what drives lemmings off a cliff, when they run, they all run the same way at once. 
The speculative crypto investor is not always a logical beast, and there seems to be a lot of sentiment where the money is either 'all in' or 'all out'.  Crypto is exquisitely volatile, and annoyingly can sometimes defy logic – no-one really knows what is going on.  Thankfully the blockchain data has some answers on what the smart money is doing.
Essentially scared sheep are trying to 'time the market', traders who are buying and selling short term on a hunch the market is running in their direction, going with the flow in a world where cash is king. Recently the sheep got spooked, their time was up. Unsurprisingly, when the market run is to sell 'coin', it turns the asset back into what it sees as the comparative safety of fiat.
Pictured: Katharine Wooller
There is another investment philosophy, one aimed not at spinning-off short term cash but on the principles of accumulating long-term wealth. A far less noisy space where deeper strategic thinkers are quietly building crypto portfolios of significant size, this is where the 'whales' (a crypto industry term for those who hold at least 1,000 BTC) hang-out.
Whales have no interest in timing the market, rather their focus is 'time in the market'. Not driven by market sentiment, their focus is buy-and-hold. 
So where does this leave the minnows, the small investor who might be wondering if now is the time to think about cryptocurrency as an asset class to add to a pension or an ISA. Somebody looking to diversify out of equities. A prudent saver who thinks structured saving in a digital wallet is something that would add value to a retirement strategy. Where does the minnow look?
Currently if the minnow looks below the surface, at what the whales are doing, he or she would see something very interesting. Since 19 May's price crash, the bottom feeding whales have been hoovering up BTC. Quite simply, they are 'buying the dip' – as the sardines rushed to sell, the whales were happy to hunt in the bargain basement. They have been accumulating wealth.
To my mind, the smart, forward thinking retail investor, with a buy-and-hold mentality, might consider this a buying signal. In which case the question becomes how to dip a toe in the water. 
This article was contributed by Katharine Wooller, Managing Director, Dacxi UK and Ireland
Dacxi has established one of the UK's leading cryptocurrency wealth platforms, where small to medium investors can buy individual coins or 'bundles' of Blue Chip or selected altcoins to build a diversified cryptocurrency wallet.