Financial Services (FinServ)
Sustainable fintech startups: CIRCA5000 and green investing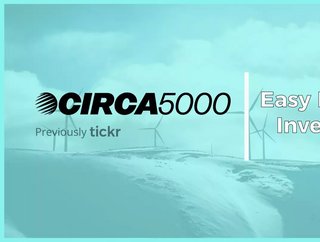 We caught up with CIRCA5000's CEO and co-founder, Tom McGillycuddy, to find out more about the newly-founded grassroots sustainable investment platform
As ESG figures increasingly large in the futures of developing fintechs, startups in the space are increasingly gearing there core practices, and indeed, their entire purpose, towards a more sustainable future.
CIRCA500, a UK-based sustainable investment platform providing B2C investment opportunities was founded in 2019, survived and thrived during the stormy pandemic conditions, and has grown 500% since its launch. Tom McGillycuddy, the fintech's co-founder, tells us what it's been like, getting a sustainable fintech off the ground in the midst of a global crisis.
Tell us what inspired you to launch CIRCA5000 and have you long been a proponent of sustainable practices?
TM: When I started working in financial services, about 11 years ago, I started work at Barclays, on one of the grad schemes there, and I met Matt, who's the founder of the business, on our first day, we were the same intake basically. And about a year into the industry, the climate became a big issue to me in my personal life. I was trying to do everything I could day today to have an impact on that issue, and it became really important for me for my job to reflect that as well.
I wanted to give everything I could to solve that problem and I couldn't really see a way of expressing that in financial services at the time. So I joined a US investment firm called Wellington Management, really as a temporary stop-gap to leave the industry.
I got introduced to the concept of impact investing, investing for positive impact, and financial return on my first day when I arrived. It was the way to marry my financial skills with the things that I cared about and so that's been central to my career really for the past 10 years, really. Eight years of my 10-year career have been spent in impact investing, sustainable investing.
I see it as a way to change the future, basically. If we can tilt capital markets in a more positive direction, then you can have on the ground, real-world impact, then we can start to kind of making progress on these problems.
That was my kind of entrance into this way of thinking, this way of investing and then along with that journey, when I was at Wellington Management, I was part of a team of four people that invested about a billion dollars around the world. Half in America and Europe, and then half in the rest of the world.
What kind of initiatives is CIRCA5000 currently supporting, and can you give us some examples?
TM: In the background, we're investing in listed businesses. So businesses that are listed on the stock market are directly addressing one or more big pressing issues that are linked to either the planet or climate. Then it's people, so social issues and human empowerment issues.
For example, one of the investments we make in the planet theme is Vestas Wind Systems. They are one of the biggest wind energy providers in the world. Another example - a new entrant into that theme is Beyond Meat. We're offering investment opportunities in the future of energy, which is where Vestas Wind Systems come in, and then the future of food and sustainable agriculture, which is where Beyond Meat comes in.
We're always looking for companies that are using technology to scale solutions to big problems.
What is CIRCA5000's take on cryptocurrency?
TM: I think it's fascinating. And I am personally, exceptionally interested in that innovation and that part of the financial ecosystem. However, for us as a business, the guiding light is thatall the investments that we make have to have a clear and measurable net positive impact.
So would we offer certain cryptos in the future if that was evident? Potentially. But as it stands today, I don't think we can honestly make that argument about the major cryptocurrencies. There may be some that are clean cryptos or linked to the environment in a certain way, but they're very, very new. They're very volatile. They're very liquid. So we'll monitor those and see how they develop to see if it's an offering that we could develop in the future for our customers.
You've described the company as twice carbon neutral. How does that work?
TM: Each year for the past two years, we've measured the carbon footprint of our company. That includes employees' work journeys, the energy we use to power our office, etc. Then instead of just offsetting our footprint, we've twice offset our footprint.
Basically, we calculate our footprint, times it by two and then we buy carbon offset projects or fund carbon offset projects that equate to twice the amount of our individual footprint as a company and then we retire those credits from circulation so they can't be bought and sold and traded, which is the kind of the cop out route of offsetting. It's so that we're showing our customers and the community that we're not just talking about what we do. We're actually living by our own principles.
The company's grown 500% since the lockdowns began. What challenges has that presented you with, and do you think the pandemic contributed to this in interest?
TM: So many potential answers to that question. We were already a half remote culture because half our teams are product and software engineers and they work from home half if not three-quarters of the time anyway.
So, we were kind of set up to adapt to that environment, but it's not without its struggles to an extent because I think there is still some benefit, especially when you're a small team and you're a startup, of in-person relationships. Having to make a conscious effort to overcome that gap has been something that we've worked on over the past 18 months or so. Then obviously hiring people without ever meeting them and then doing funding rounds with investors that we've never met, we've only spoken to on zoom has been actually way easier than I thought, but something that if you'd told me we'd be doing 18 months ago, I would've said absolutely never, so adapting.
In terms of investment in the company, I think it has contributed to a surge in interest. There's also now a very pronounced desire to invest amongst our target demographic in Europe. It's always been the case in the US, but I think that post-lockdown, interest has really risen in Europe.
Survey data shows that three in four millennials are now considering investing for the first time whereas previously it was much, much lower than that in Europe.
The desire to have a positive impact with your money has gotten stronger through the pandemic.
Has the market been more welcoming than you imagined?
TM: Maybe from the outside looking in, it looks like fundraising has been easy for us, but it's not. I think the difference now versus two years ago, is that two years ago when I was pitching for investment in the company so we could expand the business and launch the business, everyone thought that this form of investing was just going to be a niche idea. It was very, very difficult in the early days to get over that with people, now that's flipped on its head.
I think that's flipped massively in the past 24 months, 18, 24 months. You could say COVID has been a tailwind for that and I think that's the big difference now.
Has the increased pressure to adopt ESG practices across all industries contributed to that?
TM: Absolutely – and not just from a consumer point of view. I think our customers only want to invest this way because it's becoming more and more publicised and they care about these things tremendously. The asset management investment industry is also waking up to this and dedicating huge resources to it, which validates our reasons for starting. You've got both sides of the equation now coming together.
What would you say the very best things and worst things have been about launching a company at this point in history?
TM: We've undergone a rapid aging process, myself and CIRCA5000 co-founder Matt. I think, honestly, the best thing is almost related to the worst thing. I would not wish to go through that environment ever again, because when COVID first hit, March 2020, we thought the world was ending, that our business was ending and we thought the entire world would change. So we had to hunker down, make decisions and it really strengthened us as operators of a business to go through that environment.
And that's probably the best thing. We are now much more equipped for any environment in the future. I would say, because of that first few months of COVID. So even though the customer growth and the attraction of the platform were still good during that period of time, people thought the world was ending for two or three months. The decisions that we made during that time period stood us in really good stead for the future. And I think that learning from that environment is probably the best thing.
What's new on the horizon? What more can we expect from CIRCA5000?
TM: We're just about to launch a crowdfunding campaign in the UK as part of our next round of funding. This is happening for two reasons, namely, financial inclusion, fundamental to who we are, and nothing would be greater for us than to have our customers owning our own business and helping us chart our future path. The second reason is, our customers ask us a lot when are we crowdfunding. We wanted to get on there and give them the opportunity to invest in us, and then from that, we'll be launching our first pension product before Christmas.
The main thing we'll be doing is bringing out our own CIRCA5000 investment funds into the market, so they'll be distributed outside of the app. We'll create our own thematic future impact investment funds along with different themes. There'll be accessible for customers in the product itself, but then they'll be distributed outside the product so people all around the world could buy really high-quality impact investment funds built and designed by us.
That's the big thing that we're working on next year.
Image credit: Tom McGillycuddy, co-founder of CIRCA5000