Financial Services (FinServ)
Sarah Williams-Gardener on The Future of UK Fintech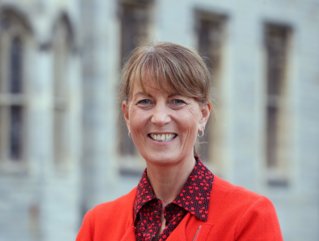 As part of our 'Women in Fintech' series, Sarah Williams-Gardener talks to us about the future of fintech in the UK and why innovation is essential
Sarah Williams-Gardener is the CEO of FinTech Wales - an independent membership association and champion of the fintech and financial services industry in Wales. The entity brings together entrepreneurs, small, medium and large enterprises, tech suppliers, universities, higher and further education, schools and the public sector. We caught up with her to find out how she arrived at her current role - and what the future of fintech looks like to her.
Q: You're the CEO of Fintech Wales. Describe your journey to your current position. How did you get there?
I've always been in the tech space having started out at IBM, predominantly working as part of teams across Government relations, comms and stakeholder and client management. My strengths have always been to look at issues through a customer lens and in solving challenges from a consumer perspective. My first major venture into fintech came as a founding member at Starling Bank.
During my time as part of team at Starling we were able to secure investment, our UK banking licence and brought our first product to market, gaining millions of happy customers in the process. It was an immensely rewarding process and helped set them on the path to the success and recognition within the industry that they now enjoy.
Those four years at Starling, as well as my time working as a trustee at Surviving Economic Abuse and as part of the founding team at Fair4All Finance, really instilled in me a belief that finance – and specifically fintech – can be a force for greater inclusivity and a solution to socio-economic challenges. Ultimately, it's this that lead me to my current role as CEO at FintechWales."
Q: You're clearly passionate about fintech. What is it about the industry that inspires you?
For me it's about how we use the ever-growing wealth of data that we have, as well as the success of open banking, to drive democratisation of the financial world and tackle historic barriers to entry, be they barriers to investing, credit, saving or simply banking itself.
Take credit ratings for example – we have more data points on businesses and consumers than ever before. This has allowed us to completely shift how we conduct credit reviews, minimising risk for the big lenders and opening up the credit market to businesses and consumers who may previously have been frozen out.
The same can be said of investing. Where previously people needed to have the money to pay a financial advisor and significant capital to invest on public markets, fintech has allowed your average person on the street to do it all from their phone. In Wales we have businesses like Wealthify that are truly championing this. It's also a sure-fire way to making investment more diverse and levelling the playing field – opening it up to historically under-represented social groups and ethnicities.
Price comparison sites are often overlooked in all this, but ultimately they're the original fintech disruptors. Confused.com – another huge player based here in Wales – has been a trailblazer for demystifying the insurance market for consumers and encouraging transparency and greater competition between the big insurance brokers.
Overall these have all been major factors in driving a more inclusive finance sector.
Q: There have been so many changes in the financial industry over the past two years. Which ones would you say, have been the defining ones that have driven fintech growth?
Ultimately, the biggest trend of the past two years has been the rapid acceleration in the adoption of digital finance solutions. I think that ultimately, we would eventually have seen the levels of digital banking and payments adoption that we're currently seeing, but the pandemic has just supercharged that transition.
Of course, it's not just banking though that we've seen benefit. Fintech is increasingly creeping into very traditional sectors as a result of pandemic circumstances. We may all be familiar with digital ordering platforms now, but two years ago the idea of ordering food and drink in a restaurant without speaking to a waiter was nearly unheard of. Welsh business Yoello has been a pioneer in this space as one of the first platforms to provide contactless ordering via customers' smartphones without the need for an app.
In the automotive space, we're also seeing fintech drive and support a shift in the very concept of car ownership. Increasingly, motorists who aren't needing to use their cars as much – largely through greater flexibility of working location and working patterns – are looking to new models for car use that don't involve owning an asset that sits on their driveway depreciating. Fintech platforms such as Wagonex and Voltric, are at the forefront of the car-as-a-service trend, offering flexible car subscriptions as an alternative to leasing and ownership.
These are trends that undeniably have been driven by both or focus on the planet and as a result of the pandemic, but there's no doubt that they will endure.
Q: What are the biggest challenges facing fintech right now?
The ability to effectively and efficiently source inward investment and seed investment for start-ups and scale-ups is a perennial challenge for the fintech sector. Invariably there are potential investors out there for every innovative idea, but connecting those investors with fledgling fintechs isn't always straightforward.
At Fintech Wales we're beginning to change that though through our Fintech Foundry – putting the most unique and innovative fintechs based in Wales or looking to move to Wales, in front of prospective investors. One of our first cohort of businesses – Shipshape – is even providing us with incredible algorithmic tools to help identify the right investors for fintechs coming to Wales. It's certainly an exciting time to be a part of the fintech space in Wales."
Q: We're seeing much more activity in terms of cryptocurrency right now. What opportunities does this present to the fintech industry?
There's no ignoring the rising influence of cryptocurrency and it has potential to impact all corners of the fintech industry. We've seen the conversation develop much further beyond trading and coin values and I think, as recent events have demonstrated, there's a lot to be said for a decentralised currency in a world where fiat currencies often aren't as stable as they once were.
And, while NFTs are attracting their fair share of sceptics, they're one of the most exciting current applications of blockchain technology and are here to stay.
In Wales, we have some really interesting companies in the crypto space including Coincover who is building the world's safety standard for cryptocurrency. It's a daunting space for the uninitiated and they ensure that users and businesses never lose access to funds due to user error, business or infrastructure failure."
Q: How do you see the UK progressing in terms of fintech, and its positioning globally as other countries embrace fintech?
I can't see the UK's fintech boom slowing down. The UK is galvanising its resources and the collaboration that's taking place across regions, not just in London, is a major asset for the industry as a whole.
Since the start of the pandemic there's also been an important recognition of how we can maintain high productivity whilst operating effectively remotely. The increase in digital adoption, the ability to live anywhere, to be kinder to our planet with flexible working patterns being normalized has seen Wales become an even more attractive prospect for a wider, diverse workforce across the entire sector and is a great thing for the sector.
We're looking with interest to developments from the Kalifa Report as well which is moving into its next stage, just over a year on from its initial publication. Again, touching on that point around collaboration, I'm looking forward to working closely with the Fintech Scotland CEO, Nicola Anderson, to take the report forward and drive prosperity and collaboration in the fintech space for the devolved nations.
Q: Lastly, what major changes would you like to see happen in the space?
I think there's more potential in the concept of open banking. Not everything that's possible with open banking has been realised yet – we're just scratching the surface.
We also need to be giving more prominence to the skills agenda. Investment in closing the digital skills gap is desperately needed, and in fact was a key concern raised in the Kalifa Review. At Fintech Wales we're being proactive in this space, encouraging collaboration between academia and the private sector to ensure that talent is being developed with the skills that established and fledgling fintechs need. The digital skills gap needs long-term solutions that engage students from a young age too. This is why we've just launched our fintech debating schools programme with Cardiff Council and DebateMate, which partners participating schools with Fintech Wales members, helping students to see fintech as a viable and exciting career option upon leaving school.
Broadly though Wales is already providing a strong blueprint for investment in skills. The Welsh Government-supported National Software Academy, USW Centre for Financial and Professional Services and Cardiff University Data Science Academy are amongst a number of growing academic organisations ensuring that the sector gets the talent it needs to thrive."