Financial Services (FinServ)
S&T Group CEO on the IoT and its Business Impact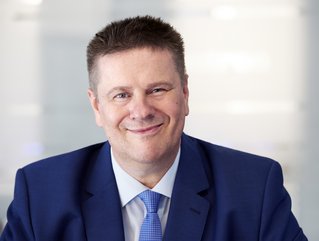 Hannes Niederhauser, CEO S&T Group, tell us why the IoT is so transformative and how it will impact upon the business and fintech landscape
Hannes Niederhauser joined S&T Group in 2011 as its CEO. Following his studies in electrical engineering at the Graz University of Technology, the Austrian-born IT expert began his career as a developer of microchips in the embedded computer segment. Niederhauser has also been the main shareholder and CEO of Kontron AG from 1999 to 2007, which became the world's largest provider in the field of embedded computing. We caught up with him for a discussion on the development of the IoT and where it is leading the fintech industry.
How important are digitisation and the Internet of Things for the industries in your view?
Whether we are in our cars, walking down the street or in our homes, we have surrounded ourselves with devices that join us to other people, sources of information and entertainment. In my house alone we have over 300 registered IP addresses and yet there are only 4 of us living there! With half of the world's population connected to the Internet - around 4.2 billion people – there is an immediate potential market to connect the vast amount that remain unconnected. Digitalization and the Internet of Things (IoT) will play a critical role in a host of industry verticals.
For companies to take advantage of the benefits of digitalization in the Industrial Internet of Things (IIoT) sector, they must have a digitalization strategy in place. Companies may have a strategy on paper, but the challenge remains when it comes to bringing this to life. S&T Group has the expertise and capabilities to help businesses unlock their full potential.
What added value and which benefits does IoT bring to businesses? What is the potential here?
We are all used to being connected wherever we go. Whether we like it or not, the future is going to see us all become more connected, not less. S&T Group sees the biggest amount of growth potential not just in our homes, but in our places of work. With just 1% of machines currently connected to the Internet, the growth of the IIoT will continue to heighten in the years ahead.
IIoT can provide greater levels of control and efficiency in addition to accessing data in real-time. By deploying a reputable IIoT solution with real-time networks, operations can for example be routinely monitored, and issues can be identified before they have a potentially detrimental effect on performance in the automated workplace. It can often be difficult to have the visibility necessary to monitor large amounts of machinery simultaneously but working with the right partner like S&T and utilizing the most efficient IIoT solutions can be of great benefit.
Production sites across Europe require high levels of automation and state-of-the-art technologies to perform as optimally as possible – and to stay competitive. S&T Group is ideally placed to support these businesses to securely connect specialized innovative machines such as robots and vehicles to the Internet, enhancing their overall efficiency. With new applications and standards helping to simplify communications between man and machine, we are helping our customers in the IIoT sector flourish and creating new business opportunities.
Does S&T Group have a reference project that clearly demonstrates the benefits and added value of IoT?
Amongst IoT solutions at the S&T Group, we provide a scalable IIoT solution, SUSiEtec IoT toolset, that helps businesses combat the challenges ahead in automation. By enabling the integration of Information Technology (IT) with Operational Technology (OT), this cloud-based solution allows for predictive maintenance, real-time monitoring, self-optimization, fleet management, asset tracking - and much more. The special feature of the solution is that it can be personalized for each respective customer. SUSiEtec ensures seamless customization and flexibility for a variety of industries.
One of our reference projects that clearly demonstrate the benefits and added value of IoT is the one we undertook with RAMPF Production Systems, an international dispenser supplier. In order to provide the highest quality service, RAMPF wanted to offer a digital, easy to access communication portal to its customers. RAMPF required assistance with customer interaction, feedback for data processing and enhanced service and self-service functionalities. Seeking a viable solution, RAMPF opted to use the EquipmentCloud digital service solution from S&T Group acquired company Kontron AIS.
Since the implementation of S&T Group's solution, more than 50% of the company's excel lists have been replaced by the EquipmentCloud IoT service portal and over two-thirds of all RAMPF customers are actively using the service portal. By providing the organization with a suitable IoT customer communication service, it reaped significant competitive advantages, from increased customer loyalty through improved service, to cross-functional time savings.
You have released a "Vision 2030": What is it about and how shall the company look like in nine years from now?
The S&T Group is a multinational IoT leader, supporting the development of Industry 4.0 innovations and becoming a key contributor to the benefits this will bring to economies around the world.
Currently we are one of five key players who dominate the IIoT market and account together for 27% of the total market share. With our advanced technology and the partnership with our anchor investor Foxconn, S&T is well-positioned to be one of the leaders in the IoT world far into the future. There is a lot of diversification currently ongoing amongst the companies in the IoT market and, as we pivot towards full IIoT service provision, we too need to ensure that we expand accordingly. But the market is growing so fast that all players simply need to grow with it, and it is not about taking market share from others.
Still, to be successful in the global IIoT marketplace of the future, companies need highly educated and flexible workforce – especially with regards to their R&D capabilities. Thanks to careful investment and long-term strategic thinking, S&T Group already has a deep pool of well-educated and excellent engineers, with more than 4,000 having academic technical or engineering degrees. Between now and 2030 we will continue to invest in our people so that we can remain at the cutting edge of the latest developments in smart technology and connected device management.
But as we change and grow, we also want to make sure that we follow the right path in terms of corporate responsibility. We will continue to strive for adherence to best-in-class environmental, social and governance procedures at the same time as we adjust our business model to take advantage of growth opportunities in the IIoT market.
S&T Group will need to focus more on higher-margin IoT products to help us undergo our business transformation. This would be a major step forward to achieving the title of a leading, pure IoT company. Today, we mainly operate in Europe. In the future, we seek to be truly global, which means we will be increasing our current presence in North America and Asia.
Digitalisation will change the world, and it is already here to stay. We developed our Vision 2030 with this in mind, and we seek to help our customers evolve to a smarter world. We foresee further organic growth accompanied by inorganic growth through acquisitions. With mergers and acquisitions (M&A) being one of our core competences, we calculate that approximately 50% of our future growth will be organic and the other 50% achieved through M&A. The future will see us undertake bigger acquisitions, become truly global and move up the value chain IoT-technology-wise.
What do you think are the biggest challenges your industry will face in the next five years?
During the pandemic, a lot of computer chip (semiconductor) factories backed up due to a lack of investment. The aftereffects of the global chip shortage will be experienced by the entire industry. The demand has been driven by digitalization, and the recovery of the industry after the pandemic. With chip producers increasing their capacities from 11 percent to 17 percent in 2021, they remain behind the curve.
There is no problem getting expensive and new chips, but there are problems with getting older chips. We expect higher prices during the crisis in 2022/23. Our strategy to combat the problem is that if the old chips are hard to source, we will redesign our products to replace critical chips and increase our inventory this year for an emergency stock of critical chips and semi-finished products. We plan to buy the rest on the spot market, and accept price increases up to five times the usual value.
We are in the sellers' market. That not only means the sellers of the chips to S&T Group, but from S&T to our customers. After the adaptation of the market to the current situation, the chip crisis impacts the revenues but not necessarily the profit margins. Security is another challenge that faces the industry, as more customers seek to scale their IoT deployments. It is critical that they work with a trusted partner and implement a secure solution with the most optimal procedures and policies in place. With digitalization set to change the world, and 5G connectivity enabling lots of new IoT applications, businesses need to invest in the right technologies and resources otherwise they run the risk of being outdated in the market.