Financial Services (FinServ)
International Women's Day: Lessons from a woman in finance
By Alpa Lally, Vice President, Experian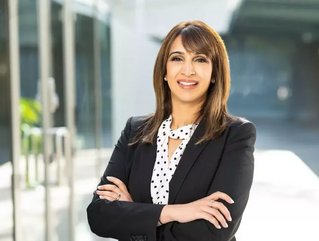 Alpa Lally at Experian shares her perspective on how women in finance can advance their careers and find an organisation that matches their values...
While the financial services industry has made strides to close the gender inequality gap, female talent continues to be underrepresented in leadership roles, with women accounting for only . Even in 2021, many women continue to face challenges when it comes to advancing their careers in financial services or finding an organization that aligns with their values.
Because it can be difficult to navigate these waters, I found that having someone to serve as a career guide is essential. Partnering with someone who will support your career trajectory and advocate on your behalf can make the world of a difference. Your mentor does not have to be older or hold a senior ranking within your organization's hierarchy. A reverse mentorship program, which allows junior team members to guide senior leaders, can be just as impactful and helps instil confidence in the mentor and mentee. 
Another important lesson I've learned is to be confident and never apologize for being ambitious. All too often women are labelled as ambitious, and it's seen as a fault. Women should feel empowered to be vocal about their goals, conditions, and their opinions in the workplace, whether it's for a salary raise or advocating for a better work-life balance. With the face of financial services changing, there is an increasing number of companies and organisations that reward female drive and perspective, and I encourage women to seek out work environments that recognize their potential. 
That's a large part of what drew me to Experian. I feel fortunate to be a part of an organization that prioritizes diverse thinking and uses data for good to help drive financial inclusion. Experian also empowers employees to bring their whole selves to work every day. An example of this is our eight Employee Resource Groups (ERGs), which bring together people of diverse backgrounds to empower them with meaningful opportunities and discussions in the workplace. The "Women in Experian" Employee Resource Group is comprised of both women and men and helps employees establish mentorships, networking, and ways to reach their potential. 
If your organization lacks ERGs, starting one specifically aimed at women's advancement is a great first step. Being active in our ERGs has allowed me to learn from other leader's experiences, pathways to promotion, and how to ask for opportunities that I know will help drive my career growth. ERGs also allow employees to collectively ask for changes to procedures, policies, and management. 
All of us in the financial services industry have to work together to ensure long-lasting and meaningful change, including equal representation for women. Encouraging diversity of thought and experiences must start at the top and cascade throughout the organization. To ensure a healthy pipeline for strong hires, companies should invest in educational and career opportunities for girls and women specific to their workforce. 
Whether inside or outside the workplace, it is through our actions that we will eliminate bias and achieve equality within organizations that ultimately benefits society at large.
This article was contributed by Alpa Lally, Vice President of Data Business at Consumer Information Services, Experian