Financial Services (FinServ)
How the Bank of England Is Embracing Fintech Innovation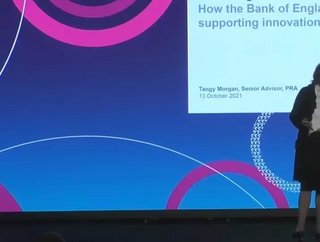 During her keynote address at the FinTech & InsurTech Live event, Tangy Morgan, an independent BoE advisor, discussed how the central bank's innovations
The Bank of England (BoE) has been around for over 300 years. It was founded in 1694 and is the oldest central bank in the world. The history of the bank has seen many changes, but its mission has remained constant: to promote financial stability and provide a safe environment for the use of money. It has also gained a greater emphasis on innovation in recent years.
The BoE has shown a strong interest in fintech, connecting with startups and businesses to develop new services and applications. As part of this effort, they have created a lab that fosters innovation within their own walls, including three important initiatives: The Fintech Accelerator Programme, Project Innovate, and The Regulatory Sandbox.
As we will see below, the BoE recognises that innovation can come from anywhere – not just other banks or large corporations. They are encouraging changes in how people think about finance by reaching out to innovators worldwide who may be able to help them achieve their goals. To stay on top of fintech trends, they are also teaming up with universities for research and development projects.
The Bank of England is interested in several emerging technologies, including machine learning and artificial intelligence (AI). This field has received a lot of attention from the bank. Two examples of its present-day applications are AI for forecasting and faster indicators to get real-time insights. It has also developed chatbots and an in-house cognitive search engine.
The central bank, however, is also concerned about the risks associated with cutting-edge technologies. There's a possibility that AI algorithms could lose their effectiveness when the data they're based on changes. There's also a danger that they will become less effective when new data sets are incorporated. Furthermore, AI has biases as a result of those who constructed the data, owing to its human origins.
Additionally, there are substantial reputational dangers for businesses that experiment with new technologies in the fintech ecosystem. In some cases, new technologies have been known to fail spectacularly. In 2016, a decentralised autonomous organisation called The DAO collapsed after hackers had stolen cryptocurrencies worth around $50m at the time.
It is crucial for financial institutions and innovators alike to be aware of these risks as they explore new frontiers in fintech. AI raises other ethical challenges too. For example, risk profiling, which may cause financial exclusion for some people. What exactly are the tradeoffs between risk and return? Both startups and multinational businesses must ask themselves this question when adopting emerging technologies.
The Bank of England is actively interacting with the fintech sector and is eager to help promote safe innovation. It is also keeping an eye on crypto-assets and cutting-edge technologies in other countries, such as the United States and China. They want to improve customer experiences and make financial systems safer for everyone involved. Tangy Morgan even envisions the world may someday create a one-size-fits-all legislation for artificial intelligence that all nations could apply across the board. This idea is clearly a long-term goal, but one that she will keep in mind.
In summary, the Bank of England's commitment to embracing innovation despite having a lot of responsibility as a central bank is admirable. It must oversee the whole banking sector, yet it embraces cutting-edge technologies and wants to encourage development with a balance by ensuring safe fintech rules are in place. In the area of regulation and innovation, it is leading the way for other banks.