Financial Services (FinServ)
Finance's new normal must include more female leadership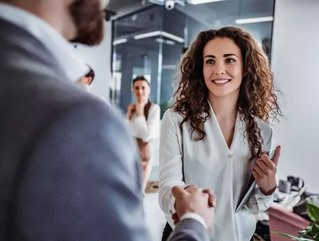 Speaking with I. Javette Hines from Citi, we explore the reasons why supporting female-led business could be critical to finance's new normal...
Falling on the eighth of March every year since 1913, International Women's Day is a global reminder that, although progress has been made over the last century, women still do not enjoy complete parity with men in terms of rights, wages, opportunities and more.
The world of finance, unfortunately, is no different: that only seven per cent of startup founders in the sector are female, despite the same research revealing that the same demographic was more likely to deliver higher ROI. Furthermore, even though 50% of university graduates are female, they constitute a mere seven per cent of Fortune 500 CEOs. Clearly a disparity exists in the industry as it stands today, but it doesn't need to stay that way. If the pandemic has taught the world of business anything, it's that dynamic changes must be made to corporate operating philosophies if they are to survive in the new normal. To find out more and learn how a leading bank is addressing this critical issue, we spoke with I. Javette Hines, Director and Head of Supply Chain Development, Inclusion and Sustainability at Citi.
A licensed attorney in the states of Georgia and New York, Hines joined Citi in 2008 after previously gaining seven years of supply chain management experience. "At Citi, I'm focused on diversity and inclusion with respect to suppliers, making sure that they get an opportunity to have a seat at the table and we're able to integrate them into our sourcing and selection process." In practice, this means setting well-defined goals concerning diversity on an annual basis. From the perspective of Citi's supply chain, Hines states that the nature of conversation is changing, "It's a great time to be focused on diversity as the conversation morphs from a compliance and social issue to a strategic consideration. The surface has been broken; meaningful conversations are taking place."
Making gender equality your business
Gender equality is a discussion that's being raised on several fronts and seeks to address key areas of inclusion, not least of which are creating more opportunities for women in finance and spurring on female-led business' development worldwide. We asked Hines for example of how Citi is addressing gender equality in three aspects: leadership, staff, and community:
Leadership: Jane Fraser's succession to the role of CEO was significant not just to Citi but also in terms of history. The first woman to occupy such a role at a leading Wall Street investment bank, Fraser's appointment is a clear demonstration of the company's commitment to addressing gender inequality. "There's still work to be done," states Hines. "When we consider women of colour in leadership roles, there are even fewer. However, we're always pushing beyond our comfort zone." This is further attested by Citi becoming one of the first companies to disclose its unadjusted pay gaps in a bid to redress wage inequality.
Staff: Citi has been actively improving the representation of women in Assistant Vice President and other management roles. To date, the company has managed to allocate 40% of such roles globally to women, up from 37% in 2018. 
The community: "We engage with suppliers and communities to close gender and race equality gaps in the areas of the world we operate. In particular, Citi is aiming to increase spend with the historically under-represented black community to US$250m over the next year."
Between 2015 and 2019, fintech startups founded by men received almost double ($15.6m) in average investment than those founded by women ($8m). Although 'increasing equality' is generally a goal most financial services companies view as important - McKinsey's article '' found that 90% of those surveyed indicated such a commitment - Hines adds that the importance of action and practicing what one preaches is essential. That is why emphasising the strong business case for increased female leadership is so essential. McKinsey's research found that for companies in the top 25% of gender diverse leadership teams:
They were 21% more likely outperform in terms of profitability
27% more likely to demonstrate superior value creation
33% more like to have industry-leading profitability when also factoring in strong commitments to ethnic and cultural diversity
Ultimately, these encouraging figures point to one thing: enhanced inclusivity equals improved capacity for innovation. Deloitte even speculates in '' that a flood of new ideas on par with the post-2007/08 financial crisis acceleration could take place under such circumstances. This is what underscores Hines' supply chain focus, "you can only have a seat at the table if someone opens the door for you." Unlocking value and gaining a competitive advantage can be the prizes for those who give priority to equality.
Collaborating on a solution
It could be argued that there has never been a greater need for gender equality in the workplace than now: on women, with one-third reporting losing work opportunities because of childcare responsibilities - a figure which rose to 44% among BAME women. In recognition of this, Citi has given over $100m in COVID-related community relief and economic recovery efforts, including participation in the US' PPP (paycheque protection programme).
Citi's example also underscores the importance of establishing partnerships to address large-scale issues. One such partner is non-profit organisation : "We've been involved with it for a number of years and it's been an amazing partnership," Hines explains. "Citi initiated the goal not just to spend more with female-led companies, but those specifically in developing countries. As a business, we needed to know where those opportunities were, and, in situations where there are none, how to work and connect with others to build capacity." This is where WEConnect comes in: it enables female business leaders to compete in the global market by breaking down old barriers through the self-reinforcing principles of 'connect, educate and assess'. "By collaborating with WEConnect, Citi has been able to engage in some very meaningful partnerships," says Hines.
Hines makes it clear that Citi has made significant strides in tackling the issue of inequality, even if significant work remains to be done. But what about those companies which aspire to enhanced inclusivity but don't know where to begin? Hines states that it is simple: set realistic goals. "You really need to understand your baseline and work from there. How many women are you already doing business with? Once you know that, you can put together a plan for improvement. You can always do a little bit better." Next, she advises seeking out stakeholders who share mutual goals, whether it be hiring more women to leadership roles, increasing spend with female-led businesses, or something else. Widening your ecosystem will open up opportunities for both individuals and organisations, and setting informed goals will allow you to measure success accurately. "It really comes down to, 'How do you want to be seen?' Do you want people to visualise an amazing firm that's doing wonderful things with women and female-owned businesses? If the answer is 'yes', the right amount of communication will let others know your objective and enable the right stakeholders to engage with you."
As more and more factors continue to shape the post-COVID-19 normal, leading companies in financial services have an obligation to make increased gender equality a priority. From greater levels of operational performance and profitability to increased innovation at a time when old business models are being swiftly replaced, the case for greater female empowerment is overwhelming. Change, Hines suggests, is both eternal and inevitable, and the sooner companies embrace it the better. "2020 was a year of growth and it was a year of change. At the start of 2021 there's been a lot of anxiety, apprehension and fear surrounding whether we'll ever return to 'normal'; we've gone from normal to not exactly a 'new normal', but just a normalised way of learning to be innovative, thoughtful and more intentional globally." Diversity, she concludes, will continue to be a central lens through which to measure the shifting socio-economic landscape. "We all need to rethink who we are and how we can make this world a better place. That will mean thinking about new ways to engage people through innovation and leadership."
, Director and Head of Supply Chain Development, Inclusion and Sustainability,
Hines' significant experience has included being a Guest Speaker for UN Women and Rutger's Business School, a Committee Member for the New York State Bar Association, and a Moderator at the Women's Leadership Institute. She holds a BSc degree from Clark Atlanta University (1985 to 1989) and won the 1987 Coca Cola Oratorical Content.
In her current role, she collaborates with Citi's Corporate ESG team to identify environmental, human rights and governance goals for more sustainable operations. Prior to working at Citi, Hines worked for 11 years at IBM in a procurement manager capacity.