Financial Services (FinServ)
Dr. Anna Becker, CEO & Co-founder of Endotech, talks AI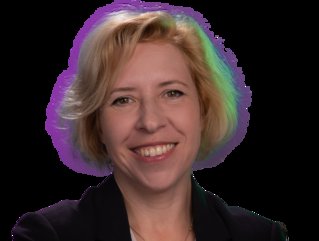 As a pioneer in AI and algorithms, Dr Anna Becker, CEO and Co-founder of Endotech, is an industry leader and expert in risk management
Dr Anna Becker is a leading expert in AI and algorithms. She took the scientific route into finance after her career in research took a turn into hedge fund management. An author, immigrant and single mum, her rise to success as a company founder and CEO for Endotech has seen her battle for both her science and her gender. We caught up with her to find out more.

Tell us about your role and how you got there. Is there a story to be told?

My journey to fintech began in academia, not the traditional route, especially for a woman. I was first inspired by a visit to the lab in 1989, where I encountered theories about immortality and using computers to change humanity for the better.

When I was twenty-one I resolved an NP-complete approximation algorithm that had been unresolved for over twenty years and I later concluded my studies with a Ph.D. in Artificial Intelligence from Technion University. I developed an approximation technique by a factor of two, which today has widespread uses in operating systems, database systems, and VLSI chip design.

A few years later, while working for the Gilboa Fund, as algo class director, I adapted advanced modeling and algorithmic trading to optimise returns, applying scientific principles to 50 successful hedge funds. My expertise lies in AI and finance, I co-authored a book at twenty-six and have published extensively in this field.

Being an immigrant prepared me for the challenges of starting my own company. Entrepreneurship is about forging your own path, creating a unique vision and leading a team toward a goal. Women don't envision themselves as leaders, men assume that they have those skills with little evidence to back it up.

As a single mom, I know the challenges of leading through complex situations. So when II founded Endotech, I knew my mission: making quant trading more accessible and using my knowledge to mitigate risk while trading in high volatility markets. Our funds reflect the work of more than two decades of team AI pioneering and learning in volatile financial markets.
You work in trading and risk mitigation. How do those two spaces tie up?

Risk mitigation techniques turn volatility into opportunity, but you need to be smart. My philosophy is not 'luck of the draw', you can mitigate risk using mathematical principles and artificial intelligence.
We apply a full risk management construct that manages 6 different risk factors - from market to trade risk. We use multi-level risk management safeguards as key components of our high-risk, high-return investment approach. Market, liquidity, system, and execution risk are just a few of the safeguards we put in place. This gives our fund a risk-adjusted edge. The fund employs dedicated risk managers and trade oversight teams to ensure protocols and technologies are working.
What differentiates Endotech from its competitors and how have you leveraged that advantage?

Endotech harnesses a suite of advanced technologies for identifying and capturing these market moves. I lead a quant team of more than 30 mathematical developers that have created a system of AI projects that are used through a multidimensional 'market states' approach.
This artificial intelligence has optimized local capabilities (like establishing dynamic resistance/support and assessing market momentum) and is contextualized through a 'market states' model that establishes relative priorities and risks.
As a woman in the trading space, what has your experience been like so far, and how can the industry attract more women?

There is a stereotype of aggressive men in finance. This shouldn't be the case. It is time to change the narrative. Plenty of very talented individuals, women included, are leading change. However, it is important that we tell and continue to tell the stories of successful women in fintech to inspire the next generation and dispel those stereotypes.

What's your opinion on the current marketplace and the use of AI?

There have been significant advances in other arenas of AI this past year, yet we haven't seen much in the fintech space. It's very elementary. Today we are seeing short-lived success in quant strategies but the potential of AI is far greater but it does require breaking down the different parts to be able to actually accurately predict.

If you could offer advice to your younger self, what would you say and why?

By nature I am very driven and I pushed myself hard at a young age. I had this idea that more commitment would solve everything but it ended up causing more mistakes. I would say 'find yourself mentors that can help you, you will learn faster and avoid making too many needless mistakes'.
How can the industry attract more women into the space? What is needed to improve the gender balance?

Women are savvy in social situations and can also be very technical. Today, women still don't usually see fintech as an option. If they are in tech, they stay in programming. Quant trading is viewed as opportunistic, aggressive and similar to gambling. That is not attractive but fortunately not always true. The narrative of finance has always been male dominated - Warren Buffet, Carl Icahn or Bill Ackman. We need to hear more about innovation from women to close the gap.
What's new on the horizon for you and your team over the coming year?

We are working toward breakthroughs in fintech, AI and quant trading, similar to those we have seen in other industries. We've already taken small steps forward, but the goal now is to make it big enough and robust enough to start running. ChatGPT has, in many ways, shown just how fast we can accelerate - we need to apply that same model to finance and quant funds.